With Sirius XM (NASDAQ:SIRI) closing Friday at $2.78 and hitting $2.80 in after hours, investors must be asking themselves "when is this run going to end?" It's another 52-week, and likewise, multi-year high for the satellite radio company, which has seen its fair share of critics over the years. Presently, all those critics stand wrong, and if those critics followed their opinions with conviction and shorted the stock, they may not even be standing at all. If I were them, I'd be hiding my head and laying low, hoping not to be called out.
Funny how the usual suspects have been so silent as Sirius XM has gone on a massive bull run, gaining over 50% from June's lows in the $1.80s.
If the bears are sitting there scratching their heads wondering how they could have gotten this so wrong, they shouldn't be. The writing has been on the wall for Sirius XM for some time now. Consider my article from earlier in the year, "Bullish On Sirius XM? Good, You're Paying Attention." With Liberty Media (LMCA) seeking to increase its position to over 50% and going on a buying spree throughout 2012, it's no wonder that the share price has taken off. With analyst upgrades, company beats on guidance, and expectations of what could be considered a massive multi-billion dollar share buyback in the near future, the shorts are fleeing, while the longs are holding strong and piling in.
(click image to enlarge)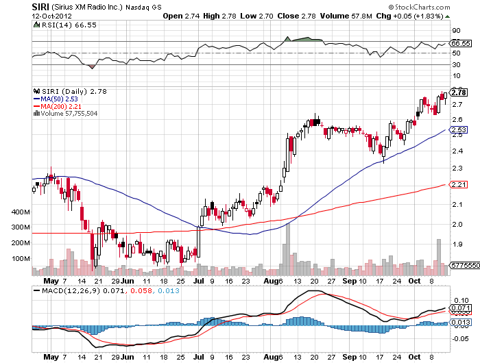 And that means a continuation of this bull run. Some may argue that the impending release of Mel Karmazin's shares into the market next week will drive down the share price. If it does? Use it as a buying opportunity. In the grand scheme of things, these sales -- although in the millions of shares -- are like grains of sand on a beach. Given that Liberty Media must purchase at least 50% of these sales in order to maintain its stake in Sirius XM and not be diluted, the sales' effect is essentially halved. Long story short? (No pun intended!) Don't worry. These sales don't matter.
What matters is the underlying story of Sirius XM. What matters is the coming Q3 conference call due on October 30, where it is expected Sirius XM will issue 2013 guidance. Sirius XM has a history of issuing conservative guidance, and the Street is well aware of this. Expect conservative guidance yourself, and realize that numbers issued may appear good, but not stratospheric. That's okay. It's far better that the company issues conservatively instead of shooting for the stars, only to reach the moon.
What's important for investors here is Sirius XM's long-term story, and that course is the same as it has been for years now. Up, up, and away. As Mel Karmazin is fond of saying: "Sirius XM is running on all cylinders." I see continued short-term upside for Sirius XM, and I feel that the share price could continue to appreciate up near $3 per share in anticipation of 2013 guidance in the next two short weeks.
Do investors need to be cautious? In the short term, perhaps. I'll admit that this has been an exceptional run, and if there are investors out there who may need to sell soon, I would say now is as good a time as any. For longer-term investors, I remain of the opinion that these prices in the $2.70s will look very attractive one and two years from now, just as the $1.50s from last year look extremely attractive right now.
That doesn't mean throw caution to the wind. Investors still need to keep a very close eye on facts and figures to be released on the Q3 call. I often find that fellow Seeking Alpha contributor Crunching Numbers keeps me well grounded on the bearish side of things, and his knack for searching every nook and cranny on the flip side of the coin can prove valuable to investors. Consider his article today, which outlines some very good points that investors should keep an eye on moving forward as Sirius XM's third quarter facts and figures are released in full.
For now, enjoy your weekend longs, and if you're a subscriber, crank up the tunes on your Sirius XM radio on the ride home. It's okay to celebrate a little bit!
Disclosure: I am long SIRI. I wrote this article myself, and it expresses my own opinions. I am not receiving compensation for it (other than from Seeking Alpha). I have no business relationship with any company whose stock is mentioned in this article.