Current Natural Gas Fundamentals
Demand for natural gas continues to run approximately 5-6 BCF/per day higher than last year. Lower prices have encouraged a great deal of new demand for power generation, as natural gas is able to undercut coal. This is the face of continued low coal prices. Coal supplies remain plentiful, though the past hot summer we predicted certainly cut into the record high stock piles at many utilities.
While we are in the "shoulder month" of natural gas demand, natural gas pricing remains favorable to sustaining the current fuel switching levels. Currently, nuclear maintenance is roughly 1,000 MW higher than last fall, and hydro output is also running lower by about 600 MW. Hence, weather adjusted switching levels could increase 1-2 BCFs per day heading into early winter. This is sort of what happened this spring, when gas powered loads did not fall off as they usually do in shoulder months.
Other reasons for the recent break-out in natural gas prices include:
1) Industrial demand is slowly improving
2) Retooling for industrial plants is nearing completion, allowing further gains in industrial gas demand
3) Exports to Mexico have been a bit higher, thanks to their growing industrial demand and recent hot weather
4) Rising natural gas prices in the face of the hot summer and cuts in production from producers such as Chesapeake Energy and several smaller producers. This has helped the total supply to hold steady
5) Replacement wells are no longer drilled, and existing wells are not being refracked. This is a huge difference from last year, when supply was increasing rapidly
6) El Nino not forming, and a couple of early fall cold snaps are beginning to create ideas of increased winter power generation
7) Speculative short-covering in the natural gas market, and commercial/producer hedging
8) A large portion of production shut-ins and reduced drilling programs that have occurred in Canada. Weather adjusted injections into storage have averaged 4.4 BCF/day lower than last year
(click images to enlarge)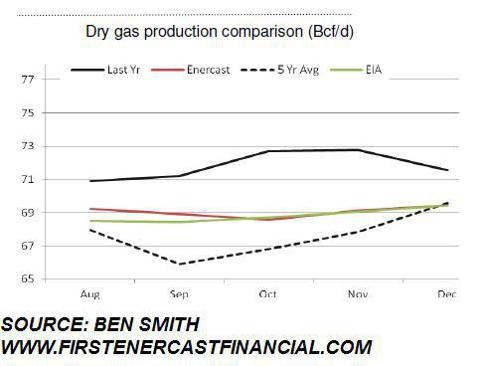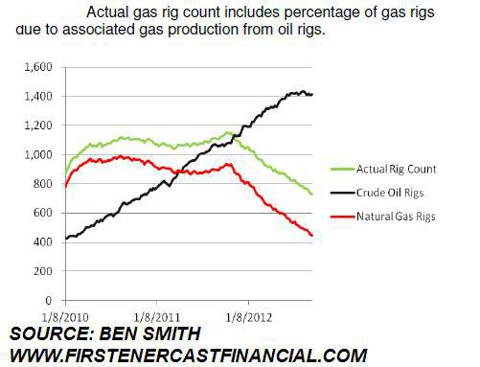 One serious problem that may prevent a precipitous major rally in prices is Marcellus and Utica shale, which may keep total supply from declining sharply the next four to six months, unless we have an unusually cold winter. While there has been a recent pull-back in rig activity, there is a backlog of completed wells, in which there could be 1 BCF/day of new pipeline and gas processing infrastructure going online in the Northeast. In addition, the high amount of recent drilling activity in the shale and oil wet fields threatens to create a newly forming over supply situation.
What About the Winter Weather and Natural Gas Price Action?
In coming weeks, the weather will begin to have a greater impact on natural gas prices again, as they did much of last winter. As the chart below shows, weather has had a huge impact on the overall price pattern of natural gas, with several significant price gyrations due in part to the extreme warm winter last year (bearish), a record warm March (bearish), and a near record hot June/July (bullish).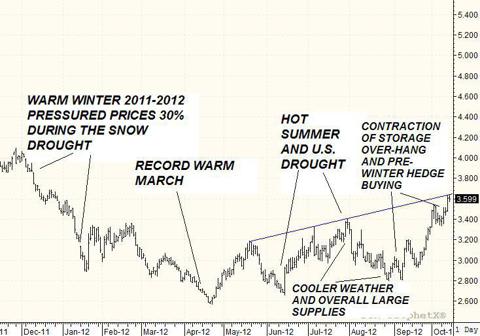 Source: DTN PROPHET X (Comments: Jim Roemer)
So what are the factors we will begin looking at to determine this winter's weather?
First of all, contrary to many forecasters out there a month ago, we played down the influence of El Nino. We feel it will not form, but that we will remain in a neutral ENSO situation (neither El Nino nor La Nina). This is because the eastern N. Pacific is so cool that it is prohibiting normal warming near the equator, and hence, El Nino is having a hard time forming.
In addition, upper level stratospheric winds were so strong this year out of the east that they have not allowed the trade winds to weaken as much west of Peru. The lack of El Nino could result in a colder than normal winter this year. However, conflicting signals exist with respect to the potential influence of record breaking sea-ice melt over the Arctic, global warming and very warm ocean temperatures off the New England coast and near Greenland.
The warm ocean temperatures you see in the North Atlantic on the map below is suggestive of a very positive AMO index, and generally does not bode well for cold winter weather. However, at the same time, the warm North Atlantic can sometimes result in what we call a negative -AO/NAO index (Arctic Oscillation/ North Atlantic Oscillation Index). This means that wind flow currents over Greenland to the Arctic may be weaker than normal this winter, allowing off and on bouts of cold, stormy weather to blast the eastern U.S.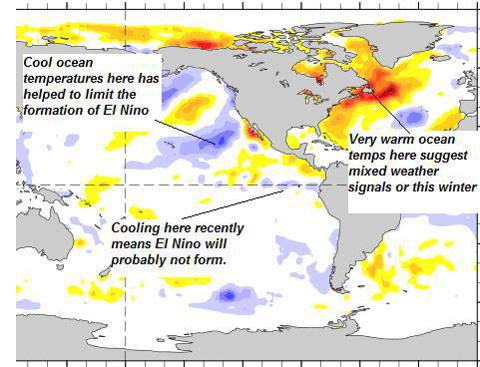 Source: NOAA/ESRL/PSD
We are already beginning to see what we call "blocking" occurring near Greenland and the North Pole. These warm currents aloft in the mid and upper atmosphere are in contrast to what was happening last year at this time. This has resulted in a more negative -AO/NAO, and was a key reason for the cold snap across the U.S. last week.
If this -AO/NAO setup is the dominating climate influence this winter, then natural gas prices have the chance to rally another 10-20% in coming months. Otherwise, if the winter is not cold, another modest sell-off in prices would occur due to continued oversupply, with prices falling back to $3.00 in the deferred contracts.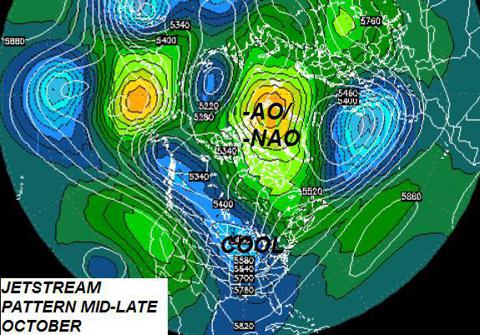 Source: WSI
The weather for later this month cold see some occasional cool snaps, exciting some natural gas traders ahead of winter. The warm block, above, (-AO/-NAO) will be critical this winter and if it remains, could suggest a lot more snow and more frequent outbreaks of cold.
Disclosure: I have no positions in any stocks mentioned, and no plans to initiate any positions within the next 72 hours. I wrote this article myself, and it expresses my own opinions. I am not receiving compensation for it (other than from Seeking Alpha). I have no business relationship with any company whose stock is mentioned in this article.