Combing through REITWatch 08-2012, my eye was caught by Government Properties Income Trust (NYSE:GOV), a fairly recent property REIT with seemingly interesting financials, as shown in the table below: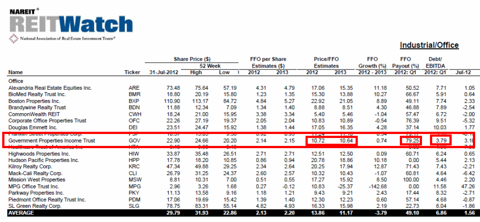 A property REIT's Price to FFO (funds from operations) ratio is the proper equivalent of P/E for this type of company.
The usual Price to Earnings ratio is not really applicable to REITs because:
Net earnings are "artificially" lowered by significant depreciation and amortization linked to the sizable real estate assets owned by the REIT.
Net earnings are increased by nonrecurring gains on sales from properties. In the case of an actively managed REIT (frequently buying and selling real estate), net earnings will be considerably affected.
By removing depreciation and gain on sales on properties from earnings, FFO (a non-GAAP measure) facilitates comparisons between REITs.
An intuitive way to look at it is to consider that FFOs are the collected rents, net of all charges whether from operations or financing. Basically, it's what is left in your pocket as a landlord/shareholder.
When a REIT shows a low Price to FFO, one would expect that to be a good sign (like a low P/E), but could also potentially indicate some difficulties in running operations, or too much debt, or some other significant negative. Looking at what seems like a no-brainer, our job as rational investors is to check that there are no red flags hidden somewhere.
Description
Government Properties has a $1.1bb market cap, and offers a 7% dividend yield at current prices. It is the product of a spin-off in 2009 from HRPT Properties Trust, now called CommonWealth REIT (NYSE:CWH), which still owns 21% of GOV.
GOV's management is externalized and carried out by REIT Management and Research, which also manages CommonWealth REIT, Hospitality Properties Trust (NYSE:HPT), Senior Housing Properties Trust (NYSE:SNH) and Select Income REIT (NYSE:SIR).
Properties
As you might have gathered from its name, GOV owns offices that are for the most part rented to the U.S. Government, U.S. States, or Agencies:
Source : Investor Presentation
GOV owned 74 distinct properties as of Q2 2012.
This REIT does not publish a fair value assessment of its properties, but we can come up with an estimate based on their acquisition prices, which we get from the balance sheet. According to this, its properties are worth $1.376bb: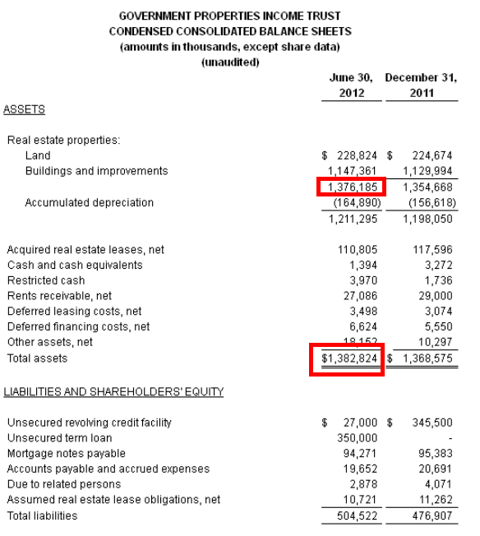 Source : Earnings 2Q 2012
Assets' value estimate with Capitalization Rate
One way of getting an up-to-date estimate of the properties' value is to take rents net of charges (not of all charges, only those related to owning the property and renting it out), and multiply them by a capitalization rate.
To get the annualized net rent, we take the operations result from the last quarter, add in depreciation, admin charges, acquisition costs, and multiply all that by 4:

Source : Investor Presentation
Hence: ( 16 + 12,1 + 2,7 + 0,2) * 4 = $124mm = annual net rental income
Where do we get the cap rate?
We just use that of recent acquisitions, and get 8.4%:

Source : Investor Presentation
From these results, our first estimate is: 124 / 8.4% = $1.476bb in real estate assets.
These figures are close enough to the $1.376bb shown in the balance sheet.
Note that our estimate is on the conservative side as it does include the cost, but only part of the rents from the properties purchased over Q2 2012.
Assets' value estimate - With Average Price per Square Foot
Another way to price these properties is from their square-footage.
Indeed with the prior method, we did not fully factor in the rents from four very recent acquisitions and vacant properties.
From their numbers, GOV owns 9.1mm office sq-ft. From the table below, we see that the most recent transactions traded at $167/sq-ft:

Source : Investor Presentation
This would imply a total real-estate valuation of 9.1mm x $167 = $1.519bb.
Note that this valuation, just like the previous one, is akin to a liquidation value, since it does not include acquisition-related costs.
Liquidation Net Asset Value per Share
We have three figures that matter here on the assets side:
Property priced at purchase cost: $1.376bb
Property priced from a cap rate: $1.476bb
Property priced from square-footage: $1.519bb
Not being sure which one is the most applicable, we take the average = $1.457bb.
To this we add another $170mm in various assets (from the balance sheet), and we take out the debt. We obtain 1457 + 170 - 504 = $1123m in net asset value. Then divided by the number of shares outstanding, we get $23.84 per share in NAV.
But we should also consider FFO for July, August, September, with a retention ratio of 20% (see Dividend Sustainability Section):
Hence: 23.84 + 20% x 0.51 = $24 per share in NAV.
Debt
The company's total debt is worth $504mm, and there are no preferred stocks outstanding: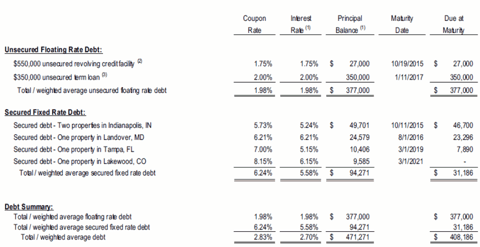 Source : Annual Report 2011
The amount of debt relative to the real estate assets is 34%, and just 31% relative to total assets. This is a rather conservative amount of financing, given who this REIT is renting its property to.
The financing cost of the debt is under 3%, which is fairly low. 80% is unsecured and variable rate, with 20% fixed-rate and secured with properties. The main term is in 2017, but its amount is not large relative to the rental income that GOV is entitled to.
Revolving debt can be increased to $500mm, but remains essentially unused. The main financing effectively used by GOV is the term variable rate loan.
Capital raise
Just like its REIT peers, GOV must distribute 90% of its earnings and therefore needs to issue equity in order to refinance part of its debt. GOV has been doing this since 2009.
When done at the right time, this is not a negative. For example, the latest capital raise was done in June 2011 at $25.40, close to historical highs.
Dividend Sustainability
Dividend payment started at $0.40 / share / quarter, and was subsequently raised to $0.41, and then $0.42. It is largely covered by the FFO of $0.51 / share / quarter, and amounts to about 80% of that FFO.
The U.S. Government's credit is as strong as what one could hope for a REIT customer.
Conclusion
GOV currently trades around $24, which is right on top of our NAV/share estimate.
GOV's cheap Price / FFO ratio can be explained because of the relatively high rental yield on its property, but that would also lead us to believe that its real estate is not particularly prime and/or located in the best of places.
In addition, externalized management brings potential conflicts of interest, and I think this justifies a discount on NAV in the order of 10 to 20%.
Hence, in spite of the particular story attached to GOV, and its apparently attractive price to FFO ratio and reasonably high dividend rate, I do not think it is that attractive and am not looking to buy it at current prices.
Disclosure: I have no positions in any stocks mentioned, and no plans to initiate any positions within the next 72 hours. I wrote this article myself, and it expresses my own opinions. I am not receiving compensation for it (other than from Seeking Alpha). I have no business relationship with any company whose stock is mentioned in this article.