If there is one thing that high school teaches very well, it's that the social capital has real worth. The mere idea of being the "one people talk about" or "the one who has it all" drives millions of teenagers every year to buy trending clothes from companies like Abercrombie & Fitch (ANF) and Aeropostale (ARO) for example. It's the very reason why you must have the latest iPod or iPhone from Apple (AAPL). Having the latest clothing and the latest gadgets can keep you inside the loop of your social circles. Trending items can bolster identity, they can increase conversation topics, and they can even increase social activity.
When we look into this new age of social networking, we're looking into the very economy of social capitalism itself. Online social network Facebook (FB) has become the medium of keeping in touch, seeing what's popular, and trying to stay current in the lives of those who matter most to us. With messages flying left and right and a rapid succession of news feed updates, interaction may be getting complicated. But finding a way to profiteer off of the chaos of others wouldn't be the first time a poor man is made rich.
The Wall Street Journal recently published an article found here that states Facebook's latest advertising invention of "promoting" status updates only confirms their ongoing clutter problem. While this may be true, I would go one step further in asserting that Facebook not only has the problem of a social jungle, but in offering this ability to "promote" updates means that they offer a profitable solution to it. By allowing individuals to "promote" their own expressive content, Facebook not only created the environment for social competition, but sells the effective tools for dealing with it.
Facebook's latest ability to "promote" status updates should seem far from controversial. Hidden away on the top status update with a simple text link, the ability to promote becomes a noticeable and yet easily avoidable option for most users. Nevertheless, the math may prove to be astounding. Facebook's active user base continues to grow around the world as seen in the graphic below. If even just 1% of the consumer base decides to promote their status, the effect could become astronomical.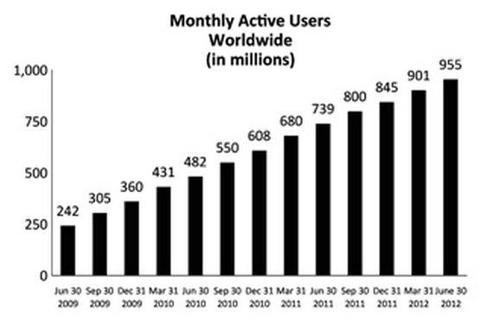 Currently, the company charges an astounding $7 per status update promotion. Dan Rowinski of ReadWriteWeb illustrates just how it works on his article found here. Perhaps a more appropriate consideration could be in looking at just how many status updates are posted every year. According to Cara Pring in early January 2012, there were 293,000 status updates every minute. This results in 154,000,800,000 status updates every year. What if 1/100th of 1% of those updates were to be promoted at the current price? If this were the case, we're looking at additional annual revenues of $107.8 million at the current level of activity.
Yet Facebook retains the ability to control demand for its advertisement option by setting the price like a market maker. Imagine if the company somehow implemented a free-market economy of advertising such as that found in Google's (GOOG) AdSense system. What if demand could set itself? Regular individual users like you or me might not yet be interested in promoting their status updates for $7 a pop, but would you do it for $1? How about $0.01?
Indeed, with an advertising tool such as the "promote" feature, Facebook joins the ranks of popularity-based companies like Abercrombie, Aeropostale, and Apple by offering a product that users can integrate into their own lives in the war for obtaining social capital. It might not be a pair of jeans here or a new phone from there, but it will be the ability to subtly raise your voice in a crowded room without anyone being offended. How can they, if it appears like it normally would?
Facebook now provides the ability to buy just a little more attention. While it's currently setting the price in this test phase, it may not always be the case. Nor would it always stay at this price. Just how much is the world willing to pay for this ability? If the capability catches on and Facebook maximizes demand through price, I think this is one important feature of the company that investors should not take lightly.
Disclosure: I have no positions in any stocks mentioned, and no plans to initiate any positions within the next 72 hours. I wrote this article myself, and it expresses my own opinions. I am not receiving compensation for it (other than from Seeking Alpha). I have no business relationship with any company whose stock is mentioned in this article.