There is a reason that we have written about Clearwire (CLWR) more than any other company here on Seeking Alpha. It is because we believe that it is one of the most misunderstood companies in the market, and that its long-term potential is bright. Readers of our articles on Clearwire no doubt know that we have articulated this view for some time. Our last several articles noted the fact that the next 12 months will be transformative for Clearwire, a notion backed up by comments from Erik Prusch, Clearwire's CEO, and Hope Cochran, the company's CFO. Both have made clear that the company is working on a "strategic solution," something larger and more meaningful than a simple wholesale deal. And this week, investors had their strongest signal yet that such a solution is in the works.
On Thursday, October 11, word leaked that SoftBank (OTCPK:SFTBF) was in advanced negotiations to acquire a majority stake (of around 70%) in Sprint (NYSE:S), thereby acquiring an immediate presence in the United States. The talks were confirmed by Sprint that day, and were confirmed by SoftBank on Friday. Sprint shares rallied over 10% during the previous trading week on the back of this news. The real winner in all of this, however, was Clearwire, whose shares rallied over 70% on October 11, and over 4% on October 12.

Both Sprint and SoftBank have confirmed that they are in talks, but Clearwire has issued no statements regarding the matter. However, Clearwire helped fuel speculation about a deal when it abruptly cancelled CFO Hope Cochran's appearance at a Deutsche Bank conference on October 11 at the last minute.
So where does Clearwire stand in the Sprint/SoftBank drama? In this article, we will outline the state of play, and where we think that Clearwire shares will go over the next several trading days and weeks.
Overview
For SoftBank, Sprint represents the best way to enter the American wireless market, and at a national level. By taking a controlling interest in Sprint, SoftBank would give Sprint the capital it needs to shore up its balance sheet and keep its network investments on track. We have owned Sprint shares in the past, and while we have preferred shares of Clearwire relative to Sprint, we didn't see anything wrong with being exposed to Sprint. While we were (and are) bullish on Sprint, it is tough to deny that from a financial standpoint, Sprint is still far weaker than AT&T (NYSE:T) and Verizon (NYSE:VZ), even if it is slowly recovering. Sprint's financial state has made it much more difficult for it to acquire spectrum as easily as AT&T and Verizon can. And with less than half of the spectrum that AT&T and Verizon have in the top 100 wireless markets (as measured by MHz), Sprint has to be more creative with its spectrum needs. Enter Clearwire. Since the company was reorganized in 2008, when Sprint's broadband division was merged with legacy Clearwire, Sprint has relied on Clearwire to augment its spectrum portfolio.
Initially, reports had stated that SoftBank was looking to take control of both Sprint and Clearwire. However, as new developments were reported by various news outlets on October 11, it became clearer that the likelier outcome as a 2-tier deal, in which Sprint takes over Clearwire, and then cedes control to SoftBank in exchange for a capital infusion. The long-term synergies in such a deal are clear. Clearwire and SoftBank both happen to have chosen TDD-LTE as their choice of LTE technology, and both companies are part of the Global TDD-LTE Initiative. Taking control of Clearwire's TDD-LITE network would give SoftBank increased buying power with both telecommunications equipment vendors, as well as smartphone manufacturers. In our view, that is one of the strategic rationales behind SoftBank's interest: control of Clearwire's spectrum combined with SoftBank's capital would go a long way towards enhancing TDD-LTE's status in the marketplace. While this potential deal with Sprint would likely require government review, due to the fact that it involves telecommunications networks, we believe that it can pass a CFIUS (Committee on Foreign Investment in the United States) review. Japan has been an ally of the United States for decades, and regulators are likely to look kindly upon a deal that is almost certain to give AT&T and Verizon their fiercest competition yet.
Attacking the American Wireless Duopoly
According to research done by Goldman Sachs, AT&T and Verizon together control 75% of the postpaid wireless market, which gives the 2 companies economies of scale and the most negotiating power with smartphone manufacturers. But a combined Sprint and Clearwire, backed by SoftBank is likely to present these 2 companies with meaningful competition for perhaps the first time. And investors are on edge. Shares of AT&T lost 5.9% over the past week, and Verizon lost 5.2%, their worst weekly losses since the depths of the recession in early 2009. Blue chip stocks such as AT&T and Verizon are not supposed to see such declines over the course of an entire year, much less a week. To us, this decline suggests that investors are taking the competitive threat of a resurgent Sprint seriously. An analysis of their relative spectrum positions shows that AT&T and Verizon need to, at a minimum, pay serious attention.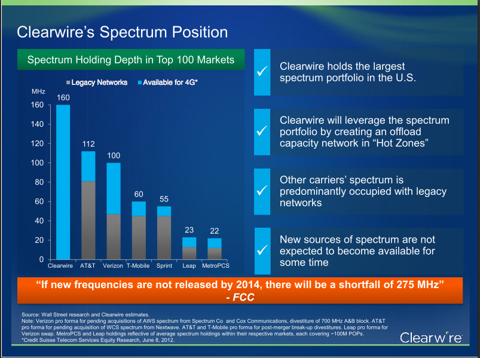 On its own, Clearwire has more spectrum than AT&T or Verizon. And Clearwire's spectrum has the benefit of being wholly available for 4G uses. Sprint, AT&T, and Verizon must all support legacy networks, with Verizon publicly stating that it will take until 2021 to shut down its 2G and 3G networks. As Tero Kuittinen, an analyst at mobile diagnostics company Alekstra Oy stated, "This must be causing chills to run down the spines of AT&T and Verizon executives. They are ripe for an aggressive new challenger to attack." A combined Sprint and Clearwire would control more spectrum in the 100 largest wireless markets than AT&T and Verizon combined. And that is without even mentioning T-Mobile, or MetroPCS. There have been conflicting reports as to what the role of those 2 companies will be in a potential Sprint/Clearwire/SoftBank transaction, and for the time being, we believe it is best to not factor those companies into our analysis.
In our view, this deal will usher in a new era of the American wireless industry. While AT&T and Verizon will certainly remain profitable, the risk to their duopoly has never been greater.
The Financials and Valuing Clearwire: Could the Monetization of Clearwire's Spectrum be at Hand?
So far, the biggest loser in all of this has been SoftBank, whose shares fell 17% in Tokyo once Japanese markets opened. Investors are worried about the effects of this deal on SoftBank's balance sheet, and S&P has placed SoftBank's credit ratings on review for a downgrade. Before we address the issue of Clearwire's monetization, we believe that it is prudent to assess the state of the debt of these 3 companies (data will be from Q2 2012, as Q3 results have not yet been released).
Clearwire ended Q2 2012 with $3.033328 billion in net debt, while Sprint ended Q2 2012 with $14.502 billion in net debt. As for SoftBank itself, the Japanese company ended its Q2 with 476.206 billion yen in net debt (counting equity investments). SoftBank has also taken on $2 billion in net debt from its recent takeover of eAccess. At current exchange rates, that is equivalent to $8.073281469 billion in net debt, which is quite good for a top tier telecommunications company. By comparison, AT&T ended its Q2 with $57.995 billion in net debt (counting its equity investments), while Verizon $38.074 billion in net debt (also counting equity investments).
In the 2-tier deal structure that most observers expect, Sprint will assume the debt of Clearwire. What remains unclear is whether or not SoftBank will be assuming any of Sprint's debt. For the moment, we will assume that it does, for that would be the primary factor that could derail financing of this deal. We will assume that Sprint will be issuing stock to take control of the remainder of Clearwire, as that is what most analysts expect. Sprint would end up with $17.535328 billion in net debt if and when it takes control of Clearwire. And SoftBank is reported to be in discussions for a $23 billion loan to finance its end of this deal. SoftBank has seen doubts about its ability to finance large deals before. In 2006, SoftBank acquired Vodafone's (NASDAQ:VOD) Japanese unit, and the company used bank loans back then as well to finance the 1.7 trillion yen (about $21.68 billion at current exchange rates) takeover. In the past 5 years, SoftBank has reduced its debt by 1 trillion yen, putting to rest concerns about its ability to handle large spikes in its debt levels. All together, that would push SoftBank's net debt to $48.60860947 billion, which would still be in the middle of the range relative to AT&T and Verizon. While these debt levels are a source of worry to both S&P and SoftBank investors (including ourselves; we own shares of SoftBank through the Baron International Growth Fund), there is a wild card here that cannot be forgotten: Clearwire's spectrum.
A combined Sprint and Clearwire would control 215 MHz of spectrum in the 100 largest wireless markets. Frankly, that is an unnecessary amount. Even if a combined Sprint and Clearwire had every single postpaid customer in the United States outside of AT&T and Verizon, they would still have 25% of the market, with 1.415% more spectrum (215 vs. 212 MHz at a combined AT&T and Verizon). Clearwire itself has stated that it has more spectrum than it needs to roll out its LTE network. A combined Sprint and Clearwire would likely sell off at least a portion of the company's spectrum to help with the financing of any deal. Clearwire has 46 billion MHz-POPs of spectrum, and while the majority of its spectrum is leased, those leases are transferable, and require the same FCC approval as a sale of owned spectrum would. Assigning a conservative valuation of 26 cents/MHz-POP [the price that Dish (NASDAQ:DISH) paid for spectrum from DBSD and TerreStar in bankruptcy court], Clearwire's spectrum is worth $11.96 billion. Selling half of the combined company's spectrum would bring in $5.98 billion in cash, and still leave the combined company with 107.5 MHz of spectrum.
The question now is what are shares of Clearwire worth? An analysis by BTIG shows that Clearwire shares could be worth as much as $5 in a takeover, and that the company's investors have reason to hold out for that level. BTIG uses a 26 cents/MHz-POP value for Clearwire's spectrum, which is 23.529% lower than the 34 cents/MHz-POP valuation we have used in the past to value Clearwire (that number itself is a discount of 50% to the valuations that we have used in the past to value Clearwire). Below is our own valuation of Clearwire, utilizing BTIG's 26 cents/MHz-POP value for Clearwire's spectrum. For the sake of conservatism, our valuation eliminates all of Clearwire's cash and investments, and marks down the company's remaining assets by 50%. All liabilities are left intact (the figures below come from Clearwire's latest 10-Q filing).
Clearwire Valuation, 26 Cents per MHz-POP
| | |
| --- | --- |
| | |
| Spectrum | +$11.96 Billion |
| Other Assets | +$1.4742185 Billion |
| Long-Term Debt | -$4.243473 Billion |
| Other Liabilities | -$1.408539 Billion |
| Total Value | $7.7822065 Billion |
Based on Clearwire's 1,459,210,832 outstanding shares, Clearwire is worth $5.33 per share, even when utilizing a very conservative valuation, removing over $1 billion in cash and investments, and marking down all other assets by 50%. Clearwire's board is neither under the control of Sprint nor ignorant of the value locked up in the company's spectrum. And while Sprint is both Clearwire's largest and most important investor, the board has a fiduciary duty to Clearwire's outside investors, a duty they must not forget. Holding out for a deal for $4-$5 per share is reasonable, in our view.
Sprint needs to take control of the 52% of Clearwire it doesn't own, and a $5 per share price tag would imply issuing 18.6% of the company in new shares, in line with NYSE regulations that a company can issue up to 20% in new stock without shareholder approval. Even at $4, Clearwire investors would see a sizeable return, for that would represent a premium of 72.4% to where the stock is trading as of this writing. We believe that Clearwire's investors have realized (or will soon realize) that in this scenario, it is likely that Clearwire's spectrum will be used to pay for a portion of the deal. Given that AT&T and Verizon have made it very clear that they want more spectrum, we believe that there will be no shortage of buyers if and when Clearwire's spectrum is sold off.
Conclusions
The question now is this: what should Clearwire's investors do? Should they cash out now, or wait? And what about new investors? Is there still a buying opportunity? In our view, current investors should hold on. Even at $2.32, we believe that Clearwire's stock is undervalued. We have not sold a single share of our Clearwire holdings. But, we believe that investors not yet in Clearwire should hold off on buying shares, at least for the moment. While indications point to a deal being in the works, it is not a 100% certainty, and there may not be an announcement on Monday (or during all of next week for that matter) that Clearwire is being bought. Should the stock decline, we would view that as a buying opportunity, for we believe that Clearwire's standalone value is a good deal higher than $2.32 per share. Our record regarding Clearwire speaks for itself (returns are based on Clearwire's current $2.32 share price).
Performance of Clearwire Buy Recommendations by Article
*Clearwire's stock price is defined as the closing price on the day that the article in question was published.
Out of the 11 articles we have published on Clearwire before this one, the buy recommendations included in 10 of them have outperformed the S&P 500 as of this writing, an average that we believe is decent.
From the beginning of our coverage of Clearwire, we have been consistent in our views regarding the company. This is a company that is deeply misunderstood, and whose shares, even at these levels, do not reflect the company's full long-term potential on a stand-alone basis. We do advise investors to be cautious about buying shares here, for the stock could decline if there is no announcement of a deal. But, as we stated in our August 6th article, we continue to believe that the next 12 months will be transformative for Clearwire. Admittedly, this development involving Sprint, SoftBank, and Clearwire has arrived sooner than we had anticipated, but that is not a bad thing.
Investors who have stood with us in our views on Clearwire have been rewarded for their conviction, and even those who bought shares on the back of our first article could have done well if they chose to add to their position at lower price points. In the long run, we continue see Clearwire as a winning investment. If the company is taken over, we believe that a deal will be struck at a higher price than $2.32. And if there is no deal, Clearwire's standalone value is still higher than $2.32 per share. Clearwire is one of the most misunderstood companies that we have come across, but we continue to believe that its best days are ahead of it, either as a part of Sprint, or in its present form.
Disclosure: I am long CLWR, OTCPK:SFTBF. I wrote this article myself, and it expresses my own opinions. I am not receiving compensation for it (other than from Seeking Alpha). I have no business relationship with any company whose stock is mentioned in this article.
Additional disclosure: We are long shares of SoftBank via the Baron International Growth Fund