Time for an update on the performance of data center related stocks, that include companies operating colocation facilities and CDNs.
As a reminder, we do not track larger companies, like Amazon (NASDAQ:AMZN) or Google (NASDAQ:GOOG), as their revenue/stock performance is mainly influenced by their retail or advertising platforms, rather than their data center (or cloud computing) operations.
Here is a short summary of how the companies under our radar screen behaved in August and September 2012: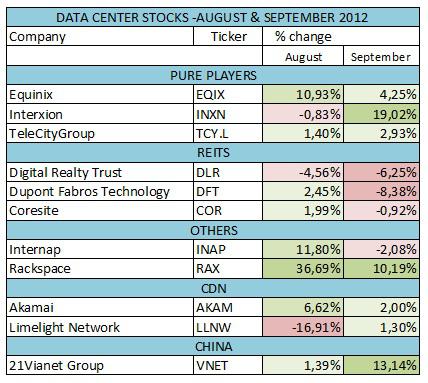 Full Q3 performances
Looking at Q3 results, pure players emerge as the clear winners, with all companies belonging to this group exceeding gains of 10%. Interxion (NYSE:INXN) achieves the best performance, up 25% in the last quarter alone: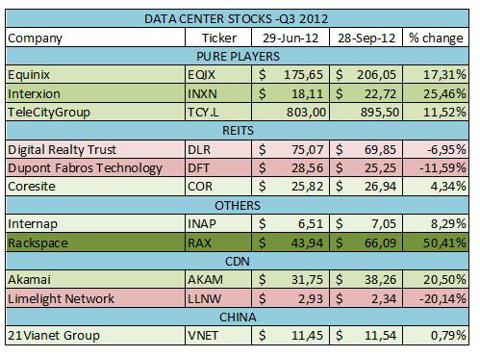 The clear winner in Q3 2012 is Rackspace (NYSE:RAX), with a 50% gain in the quarter, mostly obtained in August after announcing positive numbers in Q2, healthy metrics and after receiving some analysts upgrades. Cloud computing remains one of the strongest themes among Wall Street investors.
Special situations
Although operating in the same market, Akamai (NASDAQ:AKAM) and Limelight Networks (NASDAQ:LLNW) obtained very different performances in Q3 2012, as a patent infringement suit filed by the former was remanded for further judgment.
After a good performance in the first half of the year, REITs retrace in Q3, with Dupont Fabros Technology (NYSE:DFT) losing more than 10% and Digital Realty (NYSE:DLR) down almost 7% in the quarter.
A strong performance YTD, mostly exceeding market indices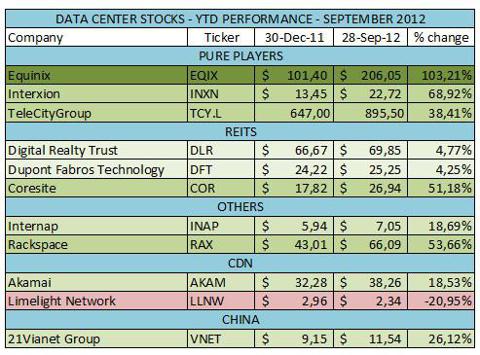 With the only exception of Limelight Networks, all stocks under our coverage are in the green year-to-date (all data at the close of September 28th).
Network neutral data center operators easily exceeded all market indices, as investors recognized the key importance of their interconnection business for the development of cloud computing platforms.
As a reminder, the Nasdaq Composite increased slightly more than 19% and the S&P was up slightly more than 14% YTD.
Coresite (NYSE:COR) is up more than 50%, reaching the best performance among all REITs. On a related note, Equinix's (NASDAQ:EQIX) performance (up more than 100% YTD, best in the sector) is strongly influenced by the company's decision to pursue REIT conversion.
Has the sector reached its peak?
Data center stocks enjoyed, on average, very strong growth both in 2011 and in the first half of 2012. There is little doubt that some companies might experience some sort of consolidation in their stock price, after such a strong run up, and some subsectors seem to have already been hit by investors' profit taking in Q3 2012.
Data center REITs, in particular, have shown some kind of weakness recently, in spite of delivering strong revenue growth. As these stocks came out of 2011 with positive performances of roughly 30%, we do not see this trend as a worrying sign for the future of the whole sector, but more like a due correction as some investors rebalance their portfolio.
We wouldn't be surprised to see a similar pattern, before year's end, affecting other stocks in our radar screen, but we remain confident that the sector will remain a sweet spot in terms of revenue growth for the next few years, with further upside.
Disclosure: I am long EQIX. I wrote this article myself, and it expresses my own opinions. I am not receiving compensation for it (other than from Seeking Alpha). I have no business relationship with any company whose stock is mentioned in this article.