When stocks are cheap they either represent a great buying opportunity or will ultimately be a nasty value trap. This article will take a close look at Sequans Communications (NYSE:SQNS) and review both the investment case and the competitive landscape.
Business model
An investment is SQNS is a pure play on 4G and the secular growth trend of the mobile internet. Founded in 2003 the company was formed to address the WiMAX opportunity where it is now a global leader, SQNS expanded in 2009 to address the LTE market.
King of WiMAX
SQNS currently enjoys healthy market share in the 4G WiMAX space and the lion share of the smartphone market. SQNS early success in WiMAX was attributed to the following factors;
Highly integrated chip, ideal for smartphones.
Successful relationship with smartphone maker HTC.
The HTC EVO 4G smartphone released on the Sprint (NYSE:S) network in June 2010 was a smash hit for SQNS and key behind the company's revenue ramp last year. Then in July last year SQNS largest customer HTC signaled softness in demand and since then WiMAX sales have fallen off a cliff.
LTE is the way forward
LTE comprises of two main standards, TDD-LTE used in China, India, Russia, Japan and Australia and FDD-LTE used in USA and Europe. SQNS initially positioned itself to compete in the TDD-LTE space and is currently in trials with wireless carriers in India and China.
I believe management made a mistake betting their chips on TDD-LTE rather than FDD-LTE. We have seen delays in the rollout and commercial deployments in China and India and this has affected SQNS. Whilst SQNS has announced CPE and embedded device wins in Australia and Brazil the real action is in the US FDD-LTE market with smartphones embracing LTE. SQNS was late to the party with their SQN 3110.
LTE handset market
As I am unable to source market share data for the LTE market I will refer to the top selling smartphones in the US as a barometer for this market.
| | |
| --- | --- |
| Smartphone | 4G ChipSet |
| Apple (NASDAQ:AAPL) Iphone 5 | Qualcomm (NASDAQ:QCOM) MDM9615M |
| Samsung Galaxy S III | US market QCOM built in LTE System on a chip, other markets Samsung's own chip. |
| HTC One X | QCOM built in LTE System on a chip |
| Motorola Razr Maxx | Motorola's own T6VP0XBG chip |
QCOM is the leading independent 4G chip vendor with key design wins for the Iphone 5, Samsung Galaxy S III and HTC One X. Samsung and Motorola have taken a vertically integrated approach and use their own chips. Vertical integration amongst handset providers may not leave much room for independent providers outside of QCOM making it very difficult for SQNS to achieve design wins in this market.
Industry
According to ABI Research, the number of 4G chipsets shipped annually will increase from 14.5 million in 2010 to 245.9 million in 2014, representing a CAGR of approximately 103%. Most notably the growth will be in LTE and not WiMAX.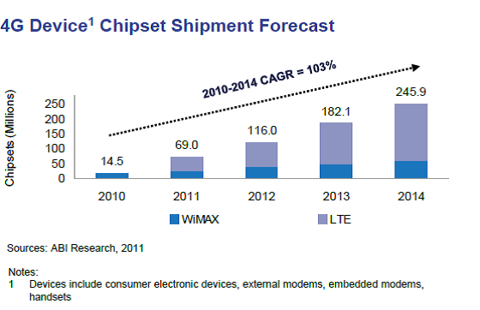 Turnaround story: What to look for before investing in SQNS
It's tempting to look at SQNS with a market value of just $60million and think its super cheap. After all they are a pure play on 4G and the forecasts provided by ABI Research are staggering. In order for SQNS to turn around their business investors should look for one of two catalysts;
LTE smartphone design win with a Tier 1 handset vendor: This would secure their future and lead to a massive revenue ramp. As mentioned smartphone vendors are using a vertically integrated approach and this is a competitive market.
Revenue growth: SQNS has announced CPE and embedded device wins in LTE. Time will tell if these and future design wins actually lead to any material revenue growth. Ideally we would need to see strong revenue growth as evidence of success in the non-smartphone/tablet market.
Summary
WiMAX sales have dried up for SQNS, and so far they haven't been able to replicate their success in WiMAX to LTE. Management's strategy was to initially focus on TD-LTE particularly China and India, rather than FDD-LTE and the US smartphone market. This was a mistake as the US smartphone market has started supporting LTE.
ABI Research is forecasting strong growth for 4G device chipset sales with most of the growth in LTE. QCOM has a strong foothold in the US Smartphone market, and numerous smartphone vendors are using their own 4G chips making it difficult for SQNS to compete.
Investors should look for one of two catalysts before investing in SQNS; an LTE smartphone design win with a Tier 1 handset vendor or a strong ramp in revenues from their non-smartphone business. Until then investors may be better served with QCOM as the preferred play in the fast growing 4g chip market.
Disclosure: I have no positions in any stocks mentioned, and no plans to initiate any positions within the next 72 hours. I wrote this article myself, and it expresses my own opinions. I am not receiving compensation for it (other than from Seeking Alpha). I have no business relationship with any company whose stock is mentioned in this article.