By Ishtiaq Ahmed
Seadrill Limited (NYSE:SDRL) is an offshore drilling company providing services to the oil and gas industry worldwide. The principal business of Seadrill is the operation and ownership of tender rigs, jack-up rigs and semisubmersible rigs. In addition, the company uses drillships for operations in deepwater, mid and shallow areas. Through a number of acquisitions and contracts for newbuildings, the company has developed into one of the world's biggest offshore drilling contractors. Seadrill has 59 offshore drilling units, consisting of nine drillships, 13 semi-submersible rigs, 16 tender rigs and 21 jack-up rigs. The company has 16 units currently under construction, which consists of one semi-submersible rig, five drillships, five tender rigs and five jack-up rigs.
Dividends:
Seadrill offers juicy dividends and has an impressive history of dividend hikes. The company has been paying regular dividends, and in some quarters, extraordinary cash dividends have also been offered. Seadrill recently announced a dividend hike 2 cents in its quarterly dividend, which took its dividend yield to over 8%. At the current stock price of $39.48 and annual dividend of $3.36, the company offers a dividend yield of 8.5%. However, it is important to gauge whether the firm will be able to maintain its dividends in the future. In order to determine the dividend stability, I take a look at the earnings, cash flows, debt and the business prospects of the company.
Dividend Plus Dividend Yield:
image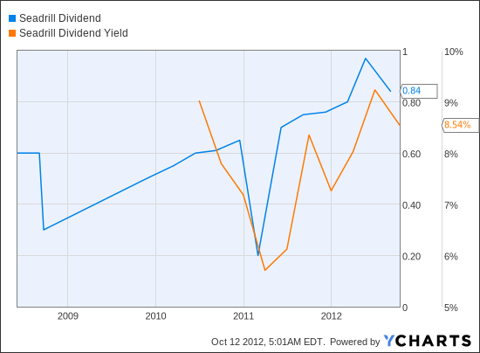 SDRL Dividend data by YCharts
Note: The chart above shows a dividend nosedive in 2011. However, that is due to a special additional dividend payment of 20 cents in 2011. Otherwise, the regular quarterly dividends in 2011 amounted to 67.5 cents, 75 cents, 75 cents, and 76 cents, respectively, in each quarter of 2011.
Earnings:
Seadrill has demonstrated impressive revenue growth over the past three years. The firm has been able to increase its revenue by almost 29% during the past three years. At the end of 2009, Seadrill's total operating revenue stood at $3,254 million, which went up to $4,192 million by the end of 2011. For the most recent quarter, the company posted extremely impressive results, which exceeded market expectations. The company reported EBITDA of $634 million for the quarter and net income of $554 million.
In addition, Seadrill announced that it had started operations with the ultra-deepwater newbuilds West Capricorn and West Leo in the Gulf of Mexico and Ghana respectively. Furthermore, North Atlantic Drilling Ltd [NADL] secured a two-year extension for the semisubmersible rig West Alpha, with a total revenue potential of US$410 million. In total, the company had secured commitments and contracts of $7.6, which took its total backlog to $20.3 billion.
Cash Flows:
Seadrill generates impressive cash flows from operations and has recorded significant growth in the past three years. At the end of 2009, cash flows from operations for Seadrill stood at $1.45 billion which jumped up to $1.816 billion by the end of 2011. However, the firm has been spending a significant amount of cash in newbuildings and rigs. As a result, the free cash flows of the firm have been under pressure during the past three years. For the most recent quarter, Seadrill reported cash and cash equivalents of US$276 million. In addition, cash flows from operations for the period were US$936 million while cash used in investing activities for the same quarter was US$687 million, mainly due to additions to newbuildings.
Debt:
At present, Seadrill's total debt stands just above $9.8 billion including the debt from related parties. Over the past two years, the debt has been fairly stable for the company. Out of $9.8 billion, $1.46 billion is the current portion of the long term debt, which will be paid during the year. Total long term portion of the interest bearing debt for Seadrill is $8.37 billion. Most of the debt is in the form of bank loans and facilities, which account for almost 73% ($7.128 billion) of the long term debt. The company has one convertible bond worth $553 million outstanding along with other bonds of $569 million. A total of $6.661 billion worth of long term debt will mature for Seadrill by the end of 2015. Remaining portion of the debt will mature beyond 2015.
Summary:
There has been a strong link between demand for energy, including oil and gas and the world economy. With the recovering economy, demand for energy will remain high, and Seadrill will be able to generate healthy revenues. As I mentioned above, the company has the biggest backlog of its history and expects to achieve solid growth. The debt of the company is under control, and the firm generates enough cash flows to meet its debt servicing requirements.
Seadrill has impressive cost control mechanism and the company expects to crew and run the new units without considerably increasing the cost base. By 2020, offshore oil production is will account for 34% of the worldwide production opposed to 25% in 1990. Naturally, higher demand will translate into elevated daily rates, which will increase earnings for Seadrill. I believe the future prospects are bright for the company, and it should be able to maintain its current dividend levels. However, it is worth to note that the dividends are highly dependent on the future business prospects in the oil industry.
Disclosure: I have no positions in any stocks mentioned, and no plans to initiate any positions within the next 72 hours.
Disclaimer: EfsInvestment is a team of analysts. This article was written by Ishtiaq Ahmed, one of our writers. We did not receive compensation for this article (other than from Seeking Alpha), and we have no business relationship with any company whose stock is mentioned in this article.