A combination of factors - better U.S. economic reports, slowing growth in China, new concern over a Spanish bailout, and a stronger U.S. dollar - drove precious metals prices sharply lower for the second Friday in a row as gold and silver have now seen their most substantive retracement since concluding an impressive late-summer run last month.
But, while there may be more downside to come over the very near-term, it is shaping up to be another exciting year-end as the stars seem aligned for new record highs for the gold price and much higher silver prices amid growing demand from investors around the world.
For the week, the gold price fell 1.5 percent, from $1,781.30 an ounce to $1,754.30, and silver fell 3.0 percent, from $34.51 an ounce to $33.48. Gold is now up 12.0 percent for the year, down 8.8 percent from its high last fall, and silver is 20.2 percent higher in 2012, down 32.4 percent from its high 18 months ago.
Following a similar decline one week earlier, gold tumbled about one percent on Friday as shown below, after better-than-expected U.S. economic reports again had traders questioning how long the Federal Reserve's recently announced open-ended QE3 stimulus program might run and how much money may be printed during that time.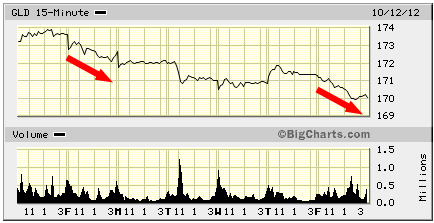 The declines for silver were even more severe, however, it's worth taking a closer look at recent developments to see if they merit this kind of selling.
To be sure, Fed money printing (along with similar actions in Japan, China, the U.K., and continental Europe) were largely responsible for the big price gains gold and silver have seen since early-August and, should those efforts be scaled back in a big way or prove unnecessary at some point in the months ahead, then there would seem to be little reason to bid precious metals prices higher.
Clearly, as detailed by the International Monetary Fund last week, Europe is a mess and growth is slowing sharply in Asia (Singapore barely side-stepping the technical definition of a recession just last week), so the only good economic news of late has been coming from the U.S., namely, the September labor report ten days ago, the plunge in jobless claims last Thursday, and then the five-year high in consumer sentiment on Friday.
But, all three of these reports were severely flawed in one way or another as detailed to readers in recent weeks here and here, so, while it may take a few weeks for a clearer (i.e., worse) picture of the U.S. economy to emerge (during which time metal prices could move lower), betting on less Fed money printing as a result of an improving U.S. economy will likely only be successful over the very short-term.
The problem right now for gold and silver is that, with the world's central banks having laid out their plans and with the European sovereign debt crisis perhaps taking a turn for the worse as Spain balks at applying for a bailout, there are more potential catalysts for lower metal prices than higher prices in the days and weeks ahead.
One of the most important near-term catalysts could be continued strength in the trade-weighted dollar that has helped to push the price of almost all risk assets lower in recent weeks and, like it or not, with more strength in the dollar, precious metals are likely to move lower.
Fortunately, investors don't seem deterred by these developments as money continues to flow into precious metal ETFs as evidenced by holdings at the SPDR Gold Shares ETF (NYSEARCA:GLD) reaching a new all-time high of 1,340 tonnes last Monday per data at the company's website and as shown below.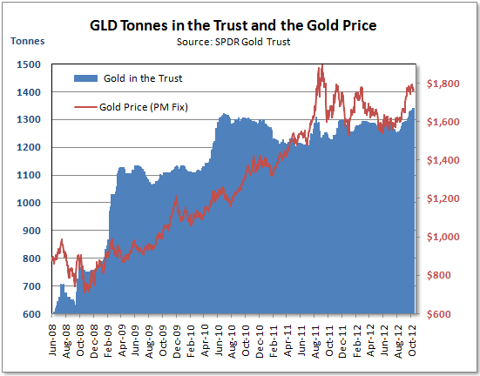 Overall gold ETF holdings reached a new record high last week at over 2,300 tonnes with nearly 150 tonnes being added in just the last two months as central banks contemplated and then announced that they'll again use their printing presses.
While holdings at the iShares Silver Trust ETF (NYSEARCA:SLV) have recently seen a modest decline of about a half percent, higher premiums for the Sprott Physical Silver Trust (NYSEARCA:PSLV) - now at about 4.8 percent - indicate that investor demand for silver remains strong after the recent price gains.
October has not always been kind to precious metals and, given what has transpired over the last ten days, prices now seem likely to go lower in the weeks ahead, but November brings seasonal strength and, with the U.S. election soon over, attention will quickly focus on the fiscal woes on this side of the Atlantic.
That is not likely to be a positive development for the dollar and any gains it makes in the weeks ahead are likely to be given back in November and December as the world watches a lame duck Congress attempt to deal with budget problems that they may find can no longer be "kicked down the road".
Add to this the very real possibility that the Federal Reserve will revert to more outright purchases of long-dated Treasuries in January after its "Operation Twist" duration swap program (i.e., sell short-term debt, buy long-term debt) comes to an end, and investors around the world could be looking at a U.S. central bank that is printing more than $80 billion a month, a development that is sure to be favorable for precious metals.
Disclosure: I am long GLD, SLV, PSLV. I also own gold and silver coins and bars. I wrote this article myself, and it expresses my own opinions. I am not receiving compensation for it (other than from Seeking Alpha). I have no business relationship with any company whose stock is mentioned in this article.