The USAF tanker contract bidding process added yet another wrinkle Friday as Boeing (NYSE:BA) asked for an extended deadline before it submits a bid to the Department of Defense. As we have posted previously, the contract was originally awarded to Northrop Grumman (NYSE:NOC), but after an extensive lobbying effort that greatly politicized the deal, the bidding was re-opened. Boeing has traditionally been the Air Force's supplier of previous tanker fleets, and many in Washington began to whine about a non- American country benefiting from the $35-$40 billion contract. Now, Boeing contends that because the government amended the way it plans to price the planes as well as the long-term expenditure of operating the tankers, that it is essentially an entirely new bid. If they were to submit the same modified 767-200, which is likely too small with too little capacity, the Boeing bid would again be defeated.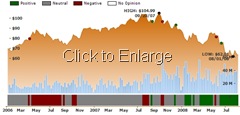 Boeing may have a point that they need to adjust their design and bid for the tanker in order to compete, but they also run the risk of pushing too hard on the Department of Defense. Boeing has made it clear that they will not submit a bid if the deadline is not extended beyond the original October 1, and they say they need six more months in order to properly bid. They are confident that the government, after all of the mess this contract has created, will not be in favor of letting this become a no contest bid. According to the Wall Street Journal, it is rumored that a compromise could be reached to extend the timeline by 15 days. This would be the second time that Boeing and its political clout have been able to bend the will of the Air Force and Department of Defense. At what point does the Secretary of Defense tell Boeing to buzz off? That remains to be see but it appears Boeing is itching to find out.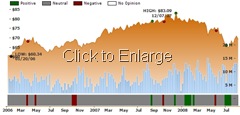 Clearly, whoever wins the contract will benefit from a guaranteed stream of revenue for many years to come; remember that the current fleets is approaching 50 years and must be phased out over a course of years. Looking at the stocks of Boeing and Northrop Grumman, we still rate Boeing a Buy and find it to have the more compelling valuation. One of the tools we use to value companies is looking at what the market has historically been willing to pay for each stock, based on a variable level of revenue and cash flow. For Boeing, the market has normally paid 9.8 to 14.8 times cash flow per share, but it is currently only getting 8.1 times. NOC, on the other hand, is currently trading at 9.5 times cash which is well within their normal range of 8.8 to 11.4 times. Both BA and NOC are trading within their normal range for price to sales but Boeing is closer to the low end.