Let me start off saying that on September 7, I wrote an article titled: Apple: Take The Money And Run. Boy did I get a beating from Apple and iPhone fans. I mean some of the comments were relentless. However, be it what it may, the fact is that I stand my ground on the thesis of that article.
Before I continue, please note that since I wrote that article, Apple (NASDAQ:AAPL) is down and not up, as the excitement of the iPhone 5 launch in the air was indicating.
You all know the saying "buy the rumor, sell the news." In Apple's case, it turned out to be "buy the hype and sell the release date." And as you can see from the chart below, that's exactly what has happened. A few days after the iPhone 5 release, the stock was all downhill from there.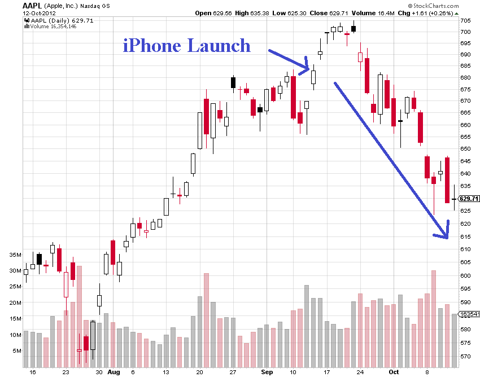 This of course does not mean that the market has thrown in the towel with Apple's stock, far from it. A few weeks of price action is not indicative of the long term trend of any stock, especially Apple. But it does mean that there was a lot of hype leading up to the launch date. From my experience, hype and short term expectations usually lead to declines, not new highs.
Having said that and continuing from my previous article on Apple, Nomura securities also thinks that past performance is not indicative of the future. Nomura initiated Apple with a neutral rating and a price target of $710.
For those who don't know it, let me give you some insight on what a neutral rating means on Wall Street. Unless a stock is labeled a buy, it means sell. So a neutral rating is essentially a sell. Neutral does not mean a stock will fall, it simply means dead money.
Stuart Jeffrey of Nomura says that sales growth of Apple beyond 2014 will hover around 10%. In his words:
as a company predominantly driven by mobile phones, an industry prone to volatility, [there is] little scope for upside given our single-digit earnings growth forecast beyond 2014."
Furthermore, he thinks margins due to competition will be squeezed by about 10 percentage points. I totally agree with him. But if you ask me, I think 10% is conservative.
Stuart Jeffrey says that in order for Apple to continue its current growth trend, Apple will have to penetrate Asian markets beyond 2014. But that's easier said than done. Emerging markets are dominated by Android phones that cost around $100 or less. In order for the iPhone to take off in Asia, carriers will have to subsidize the iPhone the same way they do in the US. However, something like this is unlikely, for the average monthly bill in emerging markets is considerably less than what the average monthly US cellular bill is.
While Apple's iPhone will continue to dominate the company's earnings and sales growth, it does not mean that other components of Apple's product line are not important.
On October 23 Apple will host an event to unveil their smaller 7-8 inch iPad. It is the first sign that Apple wants to take on smaller rivals in order to backstop any future loss of market share. However, since we all know that both Amazon (NASDAQ:AMZN) and Google (NASDAQ:GOOG) don't plan on making any money from selling tablets, Apple will have to squeeze those fat margins if it wants to make a dent in the lower priced tablets market. Yes, Apple still has the advantage and it is still a value added product that people will be willing to pay more for, however there will be a margin squeeze any way you slice it and dice it.
Also note, Apple is not immune to the PC sales slump either. As I said on Friday in my article on Hewlett-Packard (NYSE:HPQ) and Dell (DELL), PC sales are falling off the cliff. And while Apple gained market share in 2012, going from 11.8% to 12.5%, quarterly shipments y-0-y were fewer by 7%. Yes, they won't impact the bigger picture by much, however with the the way the economy is going, one has to wonder if that Apple margin magic will continue.
Another thing to watch for is Apple's divorce from Samsung. It is no secret that the two companies are at each other's neck, but little is known of the fact that Apple has been seeking a replacement for Samsung and has probably found one. As reported by an Asian source, Apple is in the middle of turning to Taiwan Semiconductor Manufacturing (NYSE:TSM) for Apple quad-core processors. As a result, future A6 chips might be made by TSM and not by Samsung. While this is probably for the better long term, there is a supply risk associated with any vendor change in the short term.
In another recent development a U.S. appeals court overturned a pretrial sales ban against Samsung Electronics's Galaxy Nexus smart-phone. The overturn won't have a significant impact on the smart-phone market, for the Galaxy Nexus is an older model, however, as many observers note, this decision might make it very hard in the future for companies to impose a sales ban on other products based on patent infringement alone. Again this does not mean much at the moment, however maybe Apple might not have the patent edge anymore.
On a technical note (for what's it's worth), if the trend is your friend, then for those that are playing Apple very short term, this trend (as indicated by the chart below), is on the borderline of breaking down.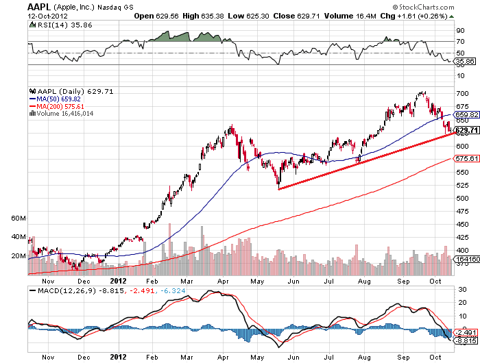 And if it does break down, next target is around $575.
Yes Apple will have a few spectacular quarters ahead of it. However we all know that markets look ahead and not behind. And if I am right, the sales and earnings growth of Apple will fall significantly in the next several quarters.
Please note Apple is not an expensive stock. However, I would not buy it and I would not short it either. If I had it, I would simply sell. If I am right about future growth prospects, it will probably under-perform and disappoint long time shareholders from here on in.
Disclosure: I have no positions in any stocks mentioned, and no plans to initiate any positions within the next 72 hours. I wrote this article myself, and it expresses my own opinions. I am not receiving compensation for it (other than from Seeking Alpha). I have no business relationship with any company whose stock is mentioned in this article.