In recent years, thin-film solar manufacturer First Solar (FSLR) has suffered from increasingly negative sentiment as the company endured blow after blow from its Chinese competition. The rapid expansion of supply inside the polysilicon market led to a collapse of input costs from its competitors, and First Solar's competitive advantage in costs evaporated into thin air. This left many to question the company's long-term viability. First Solar's stock plummeted, with the market deluged by a fire sale of cheap solar panels that were hitting the market through competitors' actions. Yet with the company's stock now bouncing around a new support in the $20/share range, speculative investors may wish to reconsider this former industry giant.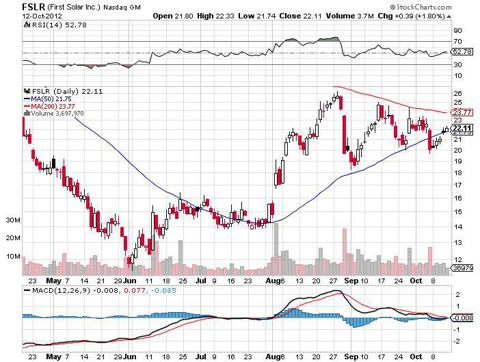 The company has managed to transition into a provider of turnkey utility-scale solar power plants. This has allowed the company maximize the profits in its services and effectively put its large scale manufacturing capacity to efficient use. Because of the company's existing project pipeline throughout this transition, First Solar had essentially been able to stay profitable as the solar market deteriorated. Barring the temporary restructuring costs of the last year, First Solar continually outperformed its Chinese competition found in companies like Trina Solar (TSL), Suntech Power (STP), Yingli Green Energy (YGE), and JA Solar (JASO) as seen in the graph below.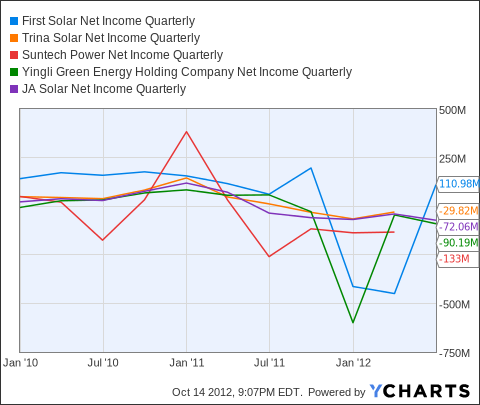 FSLR Net Income Quarterly data by YCharts
The company has also recently inked increasing wins in international markets including Australia and India. This has further bolstered confidence in the company's ability to secure demand under its new business model. Additionally, with the United States raising tariffs on Chinese solar firms as seen in an article found here, First Solar has found increasing support domestically. As if rising from the dead, even bankrupt solar powerhouse Solyndra appeared to offer unlikely and unintended support for First Solar as it lashed out against China's solar companies with a $1.5 billion antitrust lawsuit.
The company now trades with a market capitalization of $1.92 billion. Despite carrying total assets of $5.48 billion and a book value per share of $38.65, First Solar continues to record a price-to-book ratio of 0.56 as it currently stands at $22.11 per share as of October 14. Average analyst estimates continue to believe the company can make $3.96 in earnings per share for 2013 thereby giving the company a forward price-to-earnings ratio of 5.58. Now selling at a price-to-sales ratio of 0.61 and supporting a price/earnings to growth ratio of 0.20, it's clear that the company remains severely discounted to its future growth potential and current operations.
The above metrics therefore support the idea that the company's current valuation is strongly correlated to investors' belief in First Solar's dimming growth prospects. This remains somewhat surprising considering that not too long ago, First Solar was implicated as possibly being the only manufacturer large enough to supply a gigawatt worth of panels to NextEra's Blythe project as seen in the article found here. Therefore, with the market still recovering from the fear over the global solar meltdown, it appears investors have unfairly discounted First Solar into a valuation that neglects the actual conditions of its niche market. Provided the company continues to execute in future project wins, it would not be surprising if First Solar's stock prepares for an ensuing breakout in order to realign its valuation to a more reasonable level near its book value
Disclosure: I am long FSLR. I wrote this article myself, and it expresses my own opinions. I am not receiving compensation for it (other than from Seeking Alpha). I have no business relationship with any company whose stock is mentioned in this article.