U.S. homebuilders continue to beat a drum of optimism. KB Home (NYSE:KBH) is no exception. In its July earnings report, KBH established a strategy of "Going on Offense". KBH provided more details on its aggressiveness in its latest earnings report, calling this strategy a "rally cry for growth…to be bold and aggressive in pricing, gross margin enhancement, model opening timelines, land acquisition and compression of cycle times."
I read through the transcript for the KBH earnings call looking specifically for more evidence of the strengthening demand for housing. It appears that KBH's good fortunes rely heavily on continued strength in some of today's hottest housing markets in the U.S.
First of all, KBH management made it clear that the business has turned the corner and is ready to ramp:
The most encouraging theme I want to express during this call is that we are making real and substantial progress towards our objective of profitable growth…our path to profitability is now clear, and we are turning our focus to also driving top line growth…In fact, now that we have a clear path to profitability, we are ready to leverage our current structure and business model for meaningful growth.
KBH's "Going on Offense" strategy features buying land in constrained markets and opening more communities in 2013. The long maturity on debt and ample cash on hand gives KBH room to be aggressive. KBH will continue reinvesting cash back into the business.
KBH has logged some impressive statistics in the third quarter to back-up its confidence:
Revenues increased 16% year-over-year.
Positive operating income.
Net income of $0.04/share versus -$0.13 in the third quarter of last year.
Backlog potentially worth $745M: "a 33% increase over the prior year and the highest third quarter backlog level since 2008."
Value of net orders increased 16% year-over-year.
$467M in cash, expected to continue to grow even with more spending on land. This cash will also enable future acquisitions.
$187M invested in land and land development. Community count will start increasing again in 2013 as this land gets converted into homes.
For 9 straight quarters, average selling price has increased year-over-year (now $245,000). Over this time, first-time buyers have remained 67% of all deliveries. Based on the backlog, KBH expects average selling prices to continue increasing. KBH was careful to note that ASPs are increasing not from market conditions, but from their own community repositioning.
One of KBH's enablers is the ability "…to be profitable at much lower delivery levels." KBH's markets are some of the strongest in the country and promise substantial growth as the housing market's recovery gains steam. KBH is #1 in California "by a wide margin" and #2 in San Antonio and Austin which KBH describes as "…arguably 2 of the best real estate markets in the country." The market in Arizona is improving faster than expected, and KBH is now scrambling to invest there again. All this strength has generated predictability in KBH's sales pace and represents a dramatic difference from the days when KBH would "flog" a community and demand would still fail to materialize.
The mortgage underwriting system is still a caveat, hitting KBH's core business of median income, first-time buyers. If underwriting improves, banks will "…unlock incredible demand at the median for the first-time buyer." Labor costs are another factor to monitor. In an earlier piece, I noted how labor constraints are showing up in the strongest housing markets, driving up labor costs. KBH confirmed this dynamic, along with rising material costs. The company has so far been able to cover increasing costs with pricing.
One notable feature of the growing recovery in California is the budding comeback in regions away from the coast, particularly the Inland Empire in Southern California. Out there, inventories have dropped dramatically and prices are increasing.
Understandably, KBH went to great lengths to describe the market in California. For example:
Even in the peak years, the housing industry does not meet demand within California. As many homes as we started, most of the markets are land constrained or process constrained and it takes time to bring lots to market. So we never caught up with the demand and the demographic of the state…
Inventories have plummeted in the San Francisco Bay Area from a year-over-year 40% drop in San Jose to 60% drop in Oakland. KBH notes that these kinds of declines "…are normally a precursor to strong price gains."
KBH claims that the recovery in California will continue its momentum based on population growth, lack of inventory, and (relative) affordability. The traditionally strong growth on the coast is starting to trickle inland as marginal buyers look for cheaper homes. KBH even thinks that housing is once again becoming "a growth driver and a job creator."
This bullishness caught the attention of Bloomberg. In a recent article titled "California Leading U.S. Out of Housing Bust: Mortgages," Bloomberg includes some choice quotes from KBH's conference call. The article provides an accumulation of data from different sources that support KBH's bullish claims in the state:
"A plunge in new defaults in California helped push U.S. foreclosure filings to the lowest level in almost five years…
Initial filings in September fell in 31 states, led by California…, which dropped to a 69- month low…
Home sales in California's biggest population centers climbed in August to the highest level since 2006…
Median house and condominium prices in six Southern California counties jumped 11 percent from a year earlier to $309,000, while values in nine counties in the San Francisco Bay Area gained 11 percent to $410,000…
A 3.2-month supply of homes statewide that's about half the historical average of a 'balanced inventory'…At the height of the housing crisis, inventory stood at more than a 16-month supply…
Bulk-buying of foreclosure properties by firms such as Colony Capital LLC and Carrington Holding Co. LLC has soaked up some of the housing excess in inland counties…"
The investor-driven buying of foreclosures in inland counties presents a note of caution for KBH. It suggests the firming market the company sees there is not yet a sustainable force that will support the purchase of NEW homes. Moreover, projections for California in 2013 are quite modest. While 2013 is expected to deliver a third straight year of gains, it is only a 1.3% jump in unit sales. Unit sales for 2012 are expected to deliver a 5.1% jump from 2011. For California to continue to lead KBH's performance, the company will need to increase its dominance in the market in sales and/or pricing power.
While I am waiting for 2013 guidance to make a judgment on valuation for KBH, Seeking Alpha contributor John Giluly estimates a $20 fair value for KBH based on book value, a 37% increase from the closing price at the time of writing (for more details see "The Disputed Book Value Of KB Home"). In the meantime, I still think hedging existing holdings makes sense. I also like buying into any sell-offs in the near future. My covered calls on KBH were surprisingly assigned almost two weeks ago despite an October 19th expiration. I am left extremely under-invested in the housing market, and I will be looking to correct this positioning through the end of the year.
Finally, KBH's brief under-performance relative to the SPDR Homebuilders Index ETF (NYSEARCA:XHB) ended at the market lows in early June. KBH is up 128% since then (117% year-to-date) and is just off 29-month highs.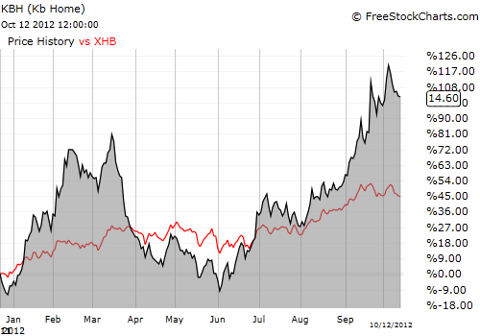 KBH is out-performing XHB again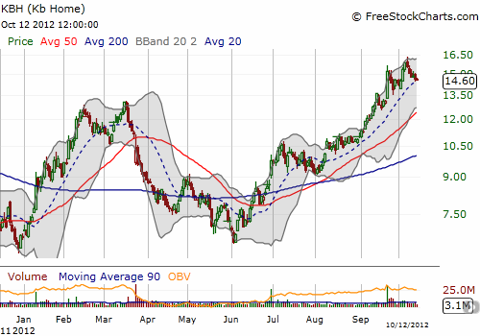 KBH has had an outstanding 2012 but with extreme volatility
Source: FreeStockCharts.com
Be careful out there!
Disclosure: I have no positions in any stocks mentioned, but may initiate a long position in KBH, XHB over the next 72 hours. I wrote this article myself, and it expresses my own opinions. I am not receiving compensation for it (other than from Seeking Alpha). I have no business relationship with any company whose stock is mentioned in this article.