Westport Innovations (NASDAQ:WPRT) keeps making great business deals with larger companies. From its interesting and educational website you can learn about their "partners" and find the following:
Westport leverages its proprietary technologies by partnering with leading diesel engine and vehicle original equipment manufacturers (OEMs) to develop, manufacture and distribute natural gas engines to a diverse group of global vehicle OEMs. Westport commercializes its technology in markets where demand for clean, low-emission engines is prevalent, including light-, medium-, and heavy-duty.

Westport currently has strategic alliances with three of the world's top four engine producers and supplies or has strategic alliances with six of the world's top ten truck producers.
That being said, if you're interested in owning shares of WPRT you may want to carefully study the chart I've created below showing the remarkable correlations between the Relative Strength Indicator [RSI] and the share price. We recently experienced another low point for both the RSI and the share price. Then, as the chart illustrates, both rallied with the stock price moving up over 20% from its Sept.26th intra-day low of $25.92.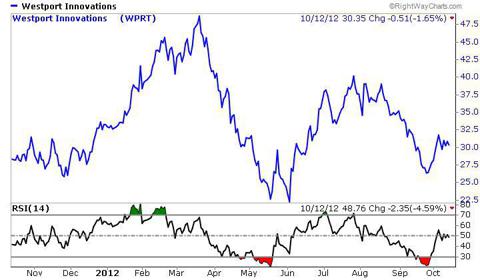 Currently shares of WPRT are consolidating and following a similar pattern to how it traded in May and early June of this year. If this pattern is consistent, we may be approaching another good entry point for WPRT shares before the next big move higher. It's worth watching. The very popular RSI or Relative Strength Indicator, is a momentum oscillator that compares the strength of gains against the strength of losses over a given period. RSI always ranges between 0 and 100.
Values below 30 and above 70 are typically taken as oversold and overbought respectively. A strengthening RSI indicates that gains are tending to dominate losses. Once the RSI climbs above 70, however, the sustainability of the gains is called into question.
Two of the "partner" companies that WPRT is building its future with are Caterpillar Inc.(NYSE:CAT) and Cummins Inc.(NYSE:CMI). Since both CAT and CMI are in similar industries, it's no surprise that their shares move in tandem, as the chart below illustrates (CAT's share price is the black line and correlates to the right axis share prices. CMI is the red line correlating with the left axis).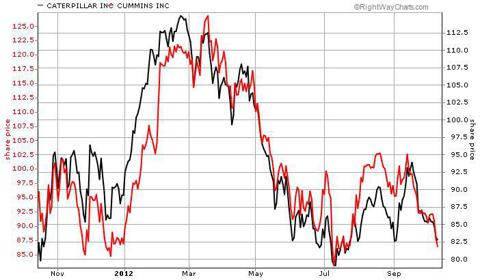 The RSI for both CAT and CMI are below twenty. Both appear to be oversold, with CAT's RSI at an extremely oversold level (around 7). Caterpillar manufactures and sells construction and mining equipment, diesel and natural gas engines, industrial gas turbines, and diesel-electric locomotives worldwide.
CMI has global operations in which they design, manufacture, distribute and service diesel and natural gas engines, as well as engine-related component products. It operates in four segments: Engines, Components, Power Generation, and Distribution.
CMI offers a 2.3% dividend with a payout ratio of only 16%. At $87.49-per-share, CMI is trading at a trailing PE ratio of less than 9 and a forward PE ratio of slightly above 9. Its PEG ratio (5-year expected) is low at only 0.76. CMI reports its most recent quarterly earnings on October 30th.
CAT's dividend yield is 2.5% with a payout ratio of 21%. Its forward PE ratio is only 8.24 and the trailing PE ratio at 9.26. Its PEG ratio (5-year expected) is also at an attractive level of 0.63. CAT reports quarterly earnings on October 22nd. The downside risks with both CAT and CMI are mitigated with the depth of the current correction in both companies' share price. The global economic fears seem priced in as well.
Analysts consensus 12-month target price for shares of CAT is $103 and for CMI close to $101-per-share. Of the two, my preference is CMI, based on its lower debt levels and positive levered free cash flow of over $536 million.
Both companies have guided lower for their upcoming quarterly earnings reports. They both have the potential to meet or exceed earnings expectations, but if either misses, its shares will suffer.
That's why if you want to be a buyer of CAT and CMI, you may find it more prudent to accumulate some of the shares you want now and wait to buy the rest after the upcoming earnings reports.
Disclosure: I have no positions in any stocks mentioned, and no plans to initiate any positions within the next 72 hours. I wrote this article myself, and it expresses my own opinions. I am not receiving compensation for it (other than from Seeking Alpha). I have no business relationship with any company whose stock is mentioned in this article.