Mr. Market has hit an important juncture. The last few months have been a fun ride if you have been a Bull. With the specter of "unlimited" money printing on the table and sentiment hitting extreme bearishness over the summer, a major countertrend rally was inevitable. Indeed, with the S&P500 gaining over 10% (and speculative indices up significantly more) since the Battle ended, our P&L is looking pretty good in what has been an otherwise tough year for trading oriented investors.
However, the recent stall in the market is beginning to have us concerned, and to be honest, we are a little surprised at how quickly it has come. When we became constructive in the summer, we thought that a major coordinated QE program by the ECB and Fed would have provided a market rally similar to what we saw after the QE announcement in 2010, but it hasn't. In fact, this appears to be the weakest response to "bold" monetary policy action since the 2009 bull market began.
In this article, I will summarize key data points which have us sharpening our pencils. Before that, let's summarize our view on the most important factors in our Market evaluation model, the Market Thermometer: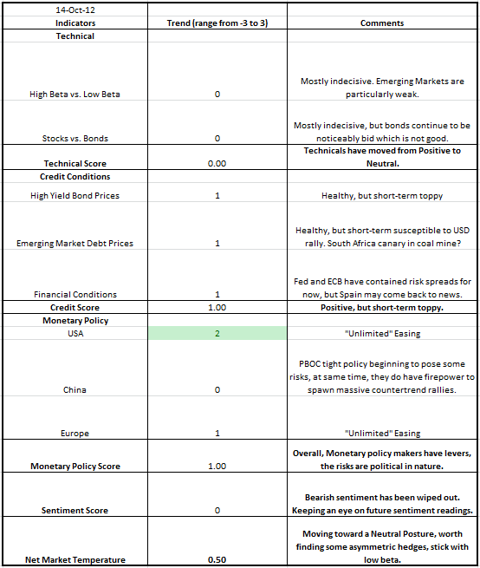 On the technical front, the rally has seen incredible strength in safe, defensive sectors. In a healthy rally, we should see rotation into cyclicals from defensives. The lack of traction in Industrials is confirmation of what we all know - the global macro economy is in the doldrums and hasn't been meaningfully improving over the past few months.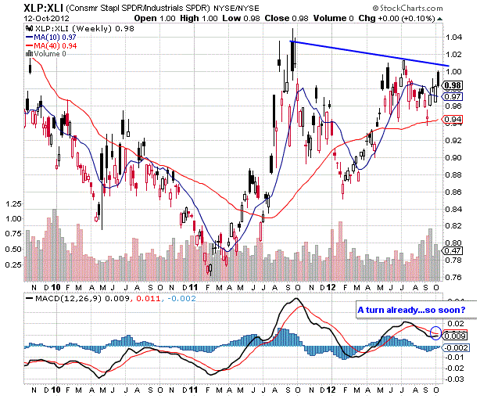 Weak global conditions have manifested in incredible strength across developed market treasury bonds. U.S. bonds in particular have barely sold off from each new high this year, kept up with the rally in share prices, and in the past couple of weeks appear bid versus stocks just as they were in the spring. We've quite frankly never seen anything like this.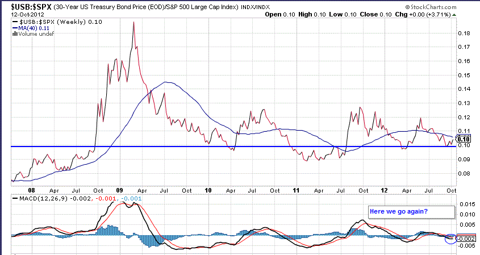 On the credit front, there is better news. Unlike 2011, where we saw measurable weakness in credit conditions, this year, corporate credit has been well behaved, with both yields and spreads down on a year over year basis. In our experience, bear market moves have not occurred under strong credit conditions. But given the ferocity of the recent rally, we may be due for a pull back in credit.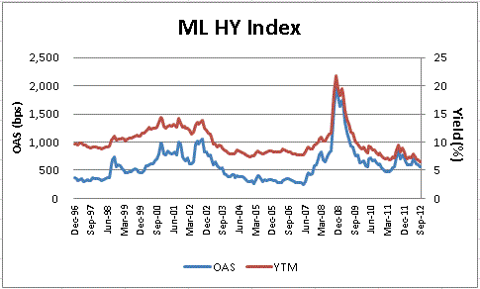 Source: BAML
Our Monetary Policy efficacy score is an interesting one and the most subjective. First, we view the world in three major zones: the U.S., E.U. and China. The accommodative stance of the Fed is well known, and as such, we rate the Fed's ability to continue to jawbone and frustrate both bulls and bears as high.
The E.U. is tricky. We know that Mario Draghi will, "do what it takes," but countries will not willingly give up their sovereignty and be bailed out by others without the market forcing their hands. The next saga will likely come from Spain which has seen sovereign yields come down on the expectation of a bailout from the ECB, but has not yet actually entered the bond buying program. At some time - most likely soon - markets may again test Spain by pushing yields back up. Should that sequence of events transpire, we expect it to be a buying opportunity.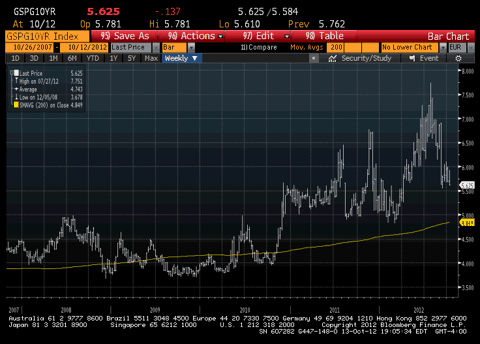 Finally, when looking at China, we see a Central Bank that has been far more hesitant with loosening its policy than in the past. One blunt measurement of this view is M1 policy. Historically, M1 growth dropping below 10% per year, coupled with inflation below the official target, has been a good risk/reward entry point for a reflation trade. Indeed, in recent months, we have seen M1 stay at very moderate levels despite inflation running at 2% and prices of key staples such as pork very well contained. But there may be several scenarios folding which pose short-term risk. Some pundits argue that the PBOC may be purposefully waiting for the new leadership to take control before engaging in a pro-cyclical monetary policy. Others speculate the PBOC is looking ahead, recognizing that major global austerity is imminent and that it is prudent to save its firepower for rainier days. In either event, the PBOC's lack of decisive action is bearish for Emerging Markets, namely commodity producing countries and currencies such as the Australian Dollar (NYSE:FXA).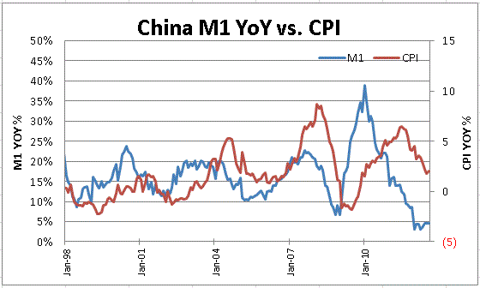 Trading Strategy:
Though we are in a late stage bull market, we do think there is one more major bull leg left which could take the S&P500 to new all time highs. It's overall quite difficult for us to see how key factors within our Market Thermometer can meaningfully change until mid 2013 or even after. At the same time, the risks of an accident are very real and market participants need to keep alert.
The downshifting of the Market Thermometer has us cognizant of a short-term pullback, but not yet concerned that a new bear market has begun. Overall, we think Emerging Markets continue to be the most susceptible to risk off moves and the consequences of slow global growth. The technical deterioration in that space is also quite apparent, with the MSCI EM index (NYSEARCA:EEM) entering year 3 of its bear market vs. the S&P500 (NYSEARCA:SPY).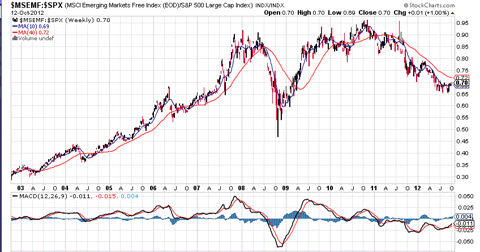 As our Macro Musings portfolio is tactical in nature, we have opted to use the playbook from this spring by keeping long exposure in U.S. equities through defensive sectors like XLP and XLV. We have also tactically rotated back into TLT. Unless you are a very gifted trader, we think shorting under neutral market environment conditions will be a tough trade. Our base case is for a decline more similar to Spring 2012 as opposed to Summer 2011 and we will be licking our chops to increase exposure into our favored sectors when the time comes.
Disclosure: I am long XLP, XLV, XLU, TLT. I wrote this article myself, and it expresses my own opinions. I am not receiving compensation for it (other than from Seeking Alpha). I have no business relationship with any company whose stock is mentioned in this article.