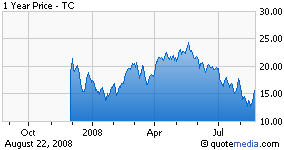 On the surface, Dundee Securities analyst Mike Collison likes what he sees in Thompson Creek Metals Company Inc.'s (TC) option agreement to buy up to 75% of the Lucky Jack molybdenum deposit in Colorado. After all, the historic data suggests mineralization worth between $6.1-billion and $25-billion. Those are huge numbers.
So Mr. Collison raises the obvious question: if it's so good, why isn't it a mine? That's where things get tricky.
The problem is permitting. The last company that optioned the Lucky Jack (a junior called Kobex Resources Ltd.) worried that regulatory initiatives, including proposals to give local authorities veto power over mining projects, could harm development of the property.
As he pondered whether you can build a mine "in the playground of the stars" near the Crested Butte and Aspen ski resorts, Mr. Collison wrote:
We would expect that there will be lots of out-of-state opposition to the project on principle. The secret will be building local support for the mine, and the high-paying jobs and state and local taxes it would provide. 
He pointed out that Thompson Creek has a history of building mines in high-profile areas. It also recently moved its head office to Denver, which should help with lobbying.
He wrote:
Thompson Creek is far more likely to be able to advance this project than any junior company, and quite possibly most majors.
He noted that Thompson Creek could really use this project in order to maintain a growth profile past 2011. And the terms of the deal are good, as the rewards are high and the upfront cost is very low.
Mr. Collison has a "buy" rating on the stock and a target of C$22.50 a share.