Integrated aluminum company Alcoa (NYSE:AA) kicked off earnings season Tuesday afternoon, reporting a surprise profit for the third quarter. Revenues fell 9% year-over-year to $5.8 billion, which was stronger than consensus estimates. Earnings increased to $0.03-adjusted for one-time items-down from $0.15 per share during the same period last year, but a few cents better than the consensus expected.
Perhaps the most unusual fact about the firm's revenue growth was that volumes remained relatively strong despite fears of a global slowdown. Weakness came from pricing, as realized alumina prices fell 17% and realized metal prices dropped 20%. CEO Klaus Kleinfeld noted that the supply/demand situation for aluminum remained fairly balanced, with inventories declining. On its conference call, the company addressed a clear issue of the price recently being divorced from fundamentals. Please view the 'Decoupled' area of the chart below that shows price declines despite supply and demand remaining in balance: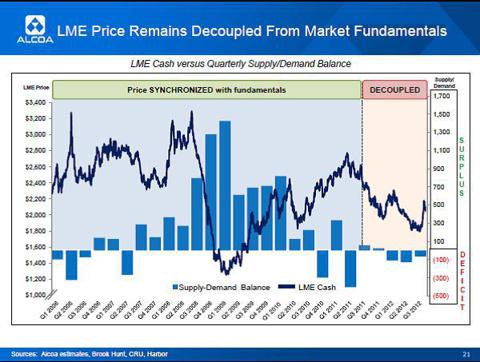 Source: Alcoa Q3 2012 Earnings Presentation
Kleinfeld specifically noted that fears of a slowdown in China, the ongoing recession in much of the Eurozone, and the looming fiscal cliff in the US as being the major drivers behind the pricing fluctuations (instead of market fundamentals). Interestingly, management highlighted the volatile pricing experienced during the ECB bond buying, QE3, China stimulus plan, and the German bailout court ruling, which all occurred over a matter of ten days. We expect the market to revert to supply/demand fundamentals over the long run, but the near term scenario will certainly be choppy.
Alcoa's downstream business remained relatively strong thanks to the enormous backlog in aerospace and better-than-expected strength in the North American automotive recovery. We expect the huge backlogs at Boeing (NYSE:BA) and Airbus (OTCPK:EADSY) to continue to be a strong source of aluminum demand for many years to come (even with composite being used more and more on aircraft). The firm expects both end markets to remain strong for the remainder of 2012, and we're bullish on both markets in the near- to intermediate-term. The firm's Global Rolled Products and Engineered Products and Solutions segments benefited the most, with operating income growing 63% and 16%, respectively. Unlike the upstream business, these segments benefit from value-adds rather than simply aluminum pricing.
Alcoa provided some additional insight into the global economy, as it reduced its global aluminum demand growth outlook to 6% from 7% as a result of weak expected growth in China during the back half of 2012 (13% in the first half to 7% in the second half). However, the firm reiterated its call for aluminum demand to double from 2010 to 2020, which seems attainable, even if we encounter a number of economic cycles (peaks and troughs) during the interim.
Overall, we thought the firm's results were pretty strong-especially given the negative sentiment regarding the state of the global economy. Downstream and midstream markets were solid, and we suspect aluminum prices will eventually recover, especially if sentiment with respect to Chinese industrial spending improves. We're not huge fans of its upstream business, but Alcoa could become tempting if the stock falls below the low end of our fair value range. For a read on what the low end of our fair value estimate range is and how we derive our intrinsic value estimate of Alcoa via an extensive discounted cash-flow process, please click here.
Sentiment with regards to global growth and Alcoa are so negative right now that any upside surprises could send shares of the aluminum maker soaring. Still, the company currently scores a 3 on the Valuentum Buying Index (our stock-selection methodology), suggesting more downside valuation risk remains and that its technicals aren't great. We continue to keep a watchful eye on developments.
Disclosure: I have no positions in any stocks mentioned, and no plans to initiate any positions within the next 72 hours. I wrote this article myself, and it expresses my own opinions. I am not receiving compensation for it (other than from Seeking Alpha). I have no business relationship with any company whose stock is mentioned in this article.