UBS analyst Jeffrey Fan remains bearish on Telus Corp. (NYSE:TU), although he has bumped up his rating on the stock to "buy" from "neutral" on share price depreciation.
In a note to clients, Mr. Fan wrote:
News concerning fresh wireless entrants to the Canadian market and the potential Telus will build a next-generation HSPA network over its current CDMA one could weigh on shares in the short term.
He maintains his short-term "sell" rating on the stock.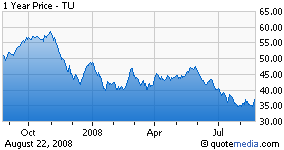 Telus shares have lost a third of their value since peaking at a 52-week high of C$58.95 last September.
Mr. Fan also noted the company has a four-year track record of announcing dividend increases alongside its third-quarter results. He believes this trend will continue and projects a three-year dividend CAGR of 10% through 2011.