McDonald's (NYSE:MCD) will report Q3 results on October 19th.
The Street expects:
Revenue: $7.1 billion
EPS $1.48
Q4 revenue guide: $6.96 billion
Heading into the earnings, investors can expect continued headwind due to weak macroeconomic environment and declining consumer confidence in the US and Europe, which negatively affected the company's global comps over the past several months.
image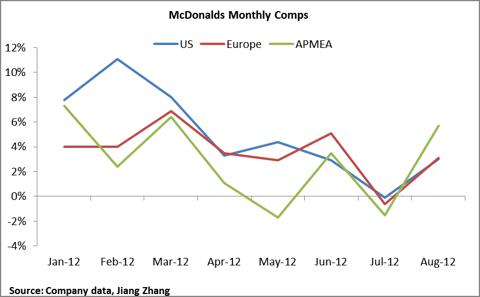 In the US, McDonald's is facing intense competition from other QSR chains due to lack of product innovation. To attract consumer traffic, the company has been aggressively promoting the Dollar Menu by adding McDouble burger on the menu and pushing the $1.99 Daily Double deals.
Europe, which accounts for 40% of the company's operating profit, continues to experience weak consumer confidence and worsening economic environment. In Germany, where McDonald's has over 1,400 stores and derive 20% of its European profits, comps was slightly positive (+1.3%) but declining transaction (-2.8%) was a major concern. France was also facing some headwind in store traffic as it is taking longer than expected time for franchisees to introduce value items when they are accustomed to selling high-margin items.
To combat the weak traffic in Europe, management has indicated that it plans a widespread emphasis on value through aggressive marketing and pricing. For example, some of the menu items that are promoted by McDonald's include 2 Euro McRoyal (Quarter Pounder), 5 PLN ($1.60) hamburger/fries combo in Poland and the 3.80 Euro two large sandwiches meal.
Given the weak economy and consumer confidence, McDonald's can only play the "value card" to attract visitors and increase store traffic. However, investors need to note that value items could place additional pressure on the margins going forward.
Disclosure: I have no positions in any stocks mentioned, and no plans to initiate any positions within the next 72 hours. I wrote this article myself, and it expresses my own opinions. I am not receiving compensation for it (other than from Seeking Alpha). I have no business relationship with any company whose stock is mentioned in this article.