This time of year, the biopharma segment of the market usually heats up, falling into the "sell in May and go away, come back in October" adage -- also known as "The Halloween Indicator."
This time of year also tends to see an increased amount of biopharma catalyst events as Q4 for biopharma traditionally sees more healthcare conferences, FDA New Drug Approvals (NDAs), phase clinical trial results, FDA Advisory Committee (ADCOM) votes, and Prescription Drug User Fee Act (PDUFA) dates.
Some of these recent catalyst events have had a drastic effect on a company's stock price like we have seen with companies like Sarepta Therapeutics (SRPT). On 10/3/12, Sarepta announced that it received positive Phase IIb clinical data for its Duchenne muscular dystrophy (DMD) drug eteplirsen. The stock exploded from a prior day's closing price of $14.99 to an intra-day high the next trading session of $45.00, representing nearly a 200% upward move.
Another recent example of a strong catalyst price moving event was when Arena Pharma (ARNA) saw its stock price rise from the low $2 range to over $3.50 a share before the ADCOM for its weight loss drug, Belviq, and a gap up in price from $3.66 to $7.02 on a positive ADCOM vote of 18-4, recommending Belviq for FDA approval. -- Belviq was subsequently approved by the FDA.
In this write-up, I am going to talk about a company I feel offers significant catalyst trade upside and could be a good long term speculative investment. While I certainly do not think we will see a stock price move which occurred with the two companies I mentioned, a stock price increase of 25% by late January is certainly within reach in my opinion.
Sucampo Pharmaceuticals, Inc. (SCMP) works with a group of compounds derived from fatty acids called prostones; it uses prostones in the development of therapies for the treatment of age-related gastrointestinal, respiratory, vascular, and central nervous system disorders. It has two FDA-approved products; Amitiza, which treats chronic constipation in adults and irritable bowel syndrome in adult women, and Rescula for the treatment of glaucoma and ocular hypertension.
Prostones are a class of compounds derived from functional fatty acids that occur naturally in the human body. The therapeutic potential of prostones was first identified by Dr. Ryuji Ueno. Fatty acids serve as fuel for energy production in cells in many organisms and are intermediates in the synthesis of other important chemical compounds.
Potential benefits of Prostones:
Physiological mediators of restoration of cellular homeostasis and tissue regeneration.
Naturally occurring compounds that act locally to restore normal function in cells/tissues.
Prostone-based drugs use natural pathways to restore physiologic function.
Since prostones reactivate normal cell processes, the safety profile of these compounds should be very good.
Prostones have novel mechanism of action (MOA) as activators of BK-potassium andClC-2‒type chloride channels.
Large variety of potential target indications due to novel MOA.
On the immediate horizon, Sucampo anticipates the approval of its revised label indications for Rescula, indicated for the lowering of intraocular pressure in primary open-angle glaucoma and ocular hypertension in patients who are intolerant of or insufficiently responsive to other IOP-lowering medications.
The company holds license agreements for Rescula in the United States and Canada and the rest of the world, with the exception of Japan, Korea, Taiwan and the People's Republic of China. In the U.S., the company's discussions with the FDA under the sNDA have resulted in a FDA complete response letter (CRL) that asked for improvements to the label.
Catalyst 1:
Rescula has submitted its sNDA for first-line glaucoma with revised labeling approval which includes removal of second line therapy language to enable first line use, removal of the prostaglandin description, and additions to the mechanism of action section. The company will continue to seek further revisions to the label to more accurately reflect current scientific understanding through the FDA's administrative appeal process.
With the expected revised label approval expected to occur by October 31st, Sucampo will be set to launch Rescula in the US by the end of this year.
Catalyst 2:
Of greater significance for Sucampo in my opinion is the upcoming supplemental new drug (sNDA) decision from the FDA regarding its drug called Amitiza, which is designed to combat the effects of chronic idiopathic constipation (CIC) and irritable bowel syndrome (IBS) with constipation.
In July of this year, Sucampo along with its partner Takeda Pharmaceuticals U.S.A., Inc. (TKPYY.PK) applied for an FDA priority review of the sNDA for Amitiza, seeking approval for an additional indication using the drug to treat OIC in patients with chronic non-cancer pain. Afterwards, the companies announced in September of this year that the FDA granted priority review for the sNDA filing. The sNDA approval decision from the FDA is due by January 27th, 2013.
The FDA's priority review, which allows for an abbreviated review period of six months, is granted to drugs that offer potentially significant advances in treatment or provide a treatment where there is no existing adequate therapy.
The CEO of Sucampo, Dr. Ryuji Ueno commented after the FDA's priority review announcement:
One of the most common adverse reactions of opioid medications is opioid-induced constipation, a medical condition for which there are currently no approved oral prescription treatment options available. The priority review of this sNDA application underscores that the management of OIC is an unmet need of patients with chronic pain and highlights the need for new therapies to address this condition.
The filing was originally based on results from phase III tests that included 12 week trials in patients taking opioids chronically for non-cancer pain. In addition, Sucampo initiated a long-term open-label safety study which provided additional support for use in these patients. I was impressed to see the scope of these global trials as they included 250 sites and approximately 1,500 patients. Sucampo's partner Takeda funded the first $50M and 50% of trial costs in excess of $50 million.
In 2011, Sucampo received royalty revenue of $41.5 M on net sales of $226.4M. With anticipated additional approvals and market share worldwide, Sucampo could see a much larger market cap due to increased profits, which may make the company a longer term investment beyond just a catalyst trade.
Below, Sucampo's pipeline is illustrated and demonstrates the potential opportunities for the company's technology platform: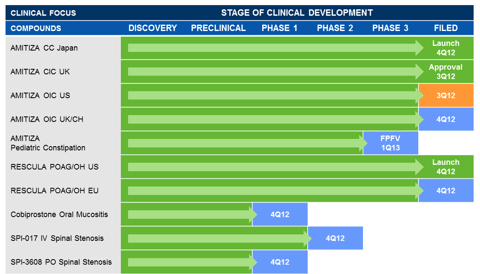 In a recent PDF presentation shown on Sucampo's investor relations webpage, the company summarizes its business agreements with its partners nicely -- some of the highlights include:
The Takeda Agreement:
Takeda shall promote, market, and sell Amitiza in US and Canada.
Sucampo's tiered royalty rate: 18-26% of annual net sales.
Sucampo earned $20 million in upfront and $130 million in development milestone payments as of 6/30/2012.
The Abbott Laboratories Japan (ABT) Agreement:
Abbott Japan will promote, market, and sell Amitiza in Japan.
Sucampo will sell product to Abbott Japan at discount to Abbott Japan's approved reimbursement price.
Sucampo earned $10 million in upfront and $12.5 million in development milestone payments as of 6/30/2012.
Sucampo is expected to earn a $15 million milestone payment on first commercial sale in Japan by Abbott in Q4 2012.
With a strong cash position, the company is in a better position to achieve its goals -- unlike many small cap biopharmas. Perhaps even more importantly is that its operating cash flow in the first half of 2012 was net positive. The revenue is up 19% compared to the first half of 2011.
Total Cash (mrq):

$71.38M

Total Cash Per Share (mrq):

1.71

Total Debt (mrq):

$60.43M

Total Debt/Equity (mrq):

169.60

Current Ratio (mrq):

2.73

Book Value Per Share (mrq):

$0.85
Cash Flow Statement

Operating Cash Flow (TTM):

-4.84M

Levered Free Cash Flow :

-17.77M
While the company does have significant debt, with its increasing revenue and reduced cash burn, I do not see this as an issue at this time. However, failure to secure an FDA sNDA approval for Amitiza in January of 2013 could cause longer term debt problems for the company.
Income Statement

Revenue :

$55.81M

Revenue Per Share :

$1.34

Qtrly Revenue Growth (yoy):

15.40%

Gross Profit :

54.76M

EBITDA :

-13.62M

Net Income Avl to Common :

-4.12M

Diluted EPS :

-0.10

Qtrly Earnings Growth (yoy):

N/A
The good news to offset potential debt issues is the current revenue stream the company is taking in. At nearly $56M and only losing $0.10 a share, the cash burn is small. Therefore, the debt on the books is manageable for a time, but to reiterate -- the company needs the January 2013 sNDA to be approved. If that happens, and I believe it will, then a much higher valuation is in order for the company.
| | |
| --- | --- |
| Shares Outstanding: | 41.71M |
| Float: | 12.59M |
| % Held by Insiders: | 44.38% |
| % Held by Institutions: | 44.60% |
| Shares Short (as of Sep 28, 2012): | 331.32K |
| Short Ratio (as of Sep 28, 2012): | 3.30 |
| Short % of Float (as of Sep 28, 2012): | 3.60% |
| Shares Short (prior month): | 372.45K |
With a current stock price of $6.07, Sucampo's market cap comes in at $253.20M. Sucampo currently generates its income primarily from royalties. Over time, with increased market exposure, milestone payment revenues, and a deep pipeline managed correctly, Sucampo has a good chance to branch out on its own and gain proper market leverage. It's my opinion that Sucampo is currently undervalued based on its current fundamentals and upcoming catalysts. A market cap of $400M seems more reasonable to me.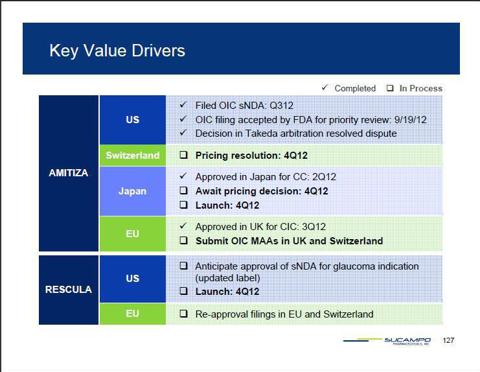 Above is a YouTube video with the Sucampo chart in which I give analysis and some additional commentary. The chart looks rather bullish to me and indicates a symmetrical triangle in a new uptrend channel. It's my opinion a short term move to $6.50 is in order. The sell-off in July was caused by losing a bid in arbitration to sever its royalty deal for Amitiza with Takeda Pharma, as Sucampo felt Takeda was not maximizing the value of the drug. However, with its novel prostone based therapy approach, its other products in its pipeline could provide the longer term big money opportunity the company is looking for.
According to the charts, I would expect a larger move upwards as we get closer to the more significant catalyst in January -- the sNDA approval decision on Amitiza for an additional indication to treat OIC in patients with chronic non-cancer pain.
My price target opinion for the 2nd catalyst trade is between $7.50 and $8.00.
Conclusion:
At the very least, Sucampo offers traders a nice catalyst trade for the factors mentioned here in this write-up. Investors should also keep a close eye on this company and see how they re-invest its additional revenue from what I believe should be approvals from the FDA and other regulatory agencies globally. Failure to secure FDA approval for its sNDA in January would likely cause the stock to sell-off to under $4 a share, and its debt could force the company into an eventual over levered position.
If the company manages its money correctly and re-invests into its earlier stage clinical pipeline, I think a longer term target price of $12 -$15 a share could be in order -- 3 years out.
*Data sourced from Yahoo Finance.
Disclosure: I am long SCMP. I wrote this article myself, and it expresses my own opinions. I am not receiving compensation for it (other than from Seeking Alpha). I have no business relationship with any company whose stock is mentioned in this article.
Additional disclosure: Disclaimer: This article is intended for informational and entertainment use only, and should not be construed as professional investment advice. They are my opinions only. Trading stocks is risky -- always be sure to know and understand your risk tolerance. You can incur substantial financial losses in any trade or investment. Always do your own due diligence before buying and selling any stock, and/or consult with a licensed financial adviser.