We have written a 30-page report where we present compelling evidence that ParkerVision, Inc. (NASDAQ:PRKR) is highly overvalued and will generate poor returns for investors. Our full report is available by clicking here.
ParkerVision is a small-cap communications company with zero revenue, $10m+ per year of cash burn, and a 20+ year track record of futility. The business is headquartered in Jacksonville, Florida and was founded in the early 1990s by Jeffrey Parker, his siblings, and David Sorrell, an electronics scientist with an undergraduate degree. The company's only commercially successful product, a remote controlled studio camera, was sold to Thomson for $15m in 2004. Since then, the company has never produced more than $1/m in annual revenue and burns through about $10m-$20m in cash per year. To fund its R&D and management compensation packages, ParkerVision typically issues new shares once or twice a year, heavily diluting current shareholders.
Long holders cling to the notion that PRKR may derive value from its current patent infringement case against Qualcomm (NASDAQ:QCOM). We're confident that shareholders will be sorely disappointed. We will provide ample evidence why ParkerVision's purported innovations are neither novel nor feasible, and are unlikely to survive a re-examination by the U.S. patent office or close scrutiny by the court system.
Our report highlights the following red flags at the company.
1. The company's flagship D2P technology has never produced meaningful revenue
In each of the past five years, ParkerVision has generated less than $0.1m of revenue. The company has no customers, no stores, and no future expected income. The company's "D2P" technology for smartphones has been promoted aggressively by the company since 2005, but even after this seven-year sales effort, ParkerVision does not have a single paying customer for its D2P product.
This broken business model has not stopped ParkerVision from continually squandering shareholder funds. The company manages to burn through about $10m to $15m of EBITDA per year on corporate overhead, executive salaries, investment bankers, and high-priced lawyers. While many management teams keep their legal matters discreet, Jeffrey Parker uses his investor calls to boast about a team of lawyers that now includes five distinct law firms (Q2 2012 Earnings Call). These premium-priced lawyers can cost over $700/hour and ParkerVision is happy to employ them liberally. Even more relevant to investors, the trial lawyers typically operate on partial contingency, meaning that they'll keep a large chunk of any potential settlement.
2. The telecom industry has scrutinized ParkerVision's technology and doesn't like what it sees
Normally, a profitless company can only achieve a $200 million market capitalization if it has an innovative technology or a future revenue stream. ParkerVision has neither. Its D2P technology has been shopped unsuccessfully for over seven years to little avail. A few companies have tested the product for themselves, but each time, the prospective licensee decided against continuing the relationship in any meaningful capacity, as can be explained by the lack of revenue and confirmed future meaningful customers.
We believe that management uses prospective licensing announcements to entice shareholders into the stock. In our report, we describe how management generally follows a predictable pattern of announcing or reaffirming licensing deals shortly before any new equity offering.
A high point of the company's commercial efforts came from its now-defunct relationship with ITT Corp, from which it received $412,000 of "service revenue" over a four year period (2007-2011). ParkerVision had initially told its investors that it expected cumulative royalties up to $25m from ITT. Broken promises and overstated expectations are a repeated theme in the ParkerVision story.
3. Breathtaking shareholder dilution: a 10% PRKR position in 1993 has become 1% today
ParkerVision's share count has increased from 8.7m in 1993 to 82.7m today, diluting long-term shareholders by almost 90%. Shareholders have seen the value of their shares fall by almost 90% since 2002. PRKR shares traded as high as $55.75 in 2000, $22.99 in 2002, and $15.82 in 2007. Today, the same shareholder would be left holding shares worth about $2.00. Fundamentally, we think PRKR's shares are worth much less.
ParkerVision has shown no signs of ceasing this destructive cycle of dilution - the company managed to raise $10m in a secondary equity offering on September 14th.
4. The company's technological claims have been discredited by leading experts in RF power amplification and combining networks
Multiple experts have disputed the feasibility and novelty of ParkerVision's initial D2P claims, including Steve Cripps, who has a PhD and master's degree from Cambridge University and has written three published books on the subject of RF power amplification; Joy Laskar, the former Schlumberger Chair in Microelectronics at Georgia Tech; and Alfred Riddle, who teaches electromagnetics courses at Santa Clara University and has designed RF circuits for NASA.
In reviews rendered for pvnotes.com, a website critical of ParkerVision, these experts comment that ParkerVision appears "to be uninformed on what is common knowledge in the RFPA industry" and "ignorant of the real issues in combining networks."
5. ParkerVision's patent infringement lawsuit against Qualcomm is baseless, and it's yet another frivolous usage of shareholder capital
Many remaining PRKR investors cling to the hope of a large settlement from ParkerVision's lawsuit against Qualcomm. Our research indicates that ParkerVision's causes of action are baseless, and that ParkerVision's technological claims will not withstand scrutiny in front of a judge and jury once Qualcomm's highly competent legal team dissects them. Furthermore, as part of the legal proceedings, ParkerVision's patents will likely be re-examined by the US Patent and Trademark Office in parallel with the court proceedings, an event regularly seen in patent infringement suits. We strongly believe that PRKR's patents will be modified or revoked upon re-examination.
Finally, in the remote chance that PRKR were to achieve a judgment or settlement, the current market capitalization fails to account for the potential for a court appeal, additional shareholder dilution, lawyer contingency fees, and the time value of money. Equally as important, investors would only benefit if ParkerVision returns funds to shareholders or reinvests them in value-enhancing business endeavors, something which the company is unlikely to do based on its track record.
6. ParkerVision has been sued for fraud by MaxTak Capital Advisors
MaxTak Capital, part of an ever-growing club of investors that have lost great sums of money in PRKR, is now suing ParkerVision for fraud. In its Amended Complaint, MaxTak accuses ParkerVision of making false statements, concealing the actual nature of business relationships, and misrepresenting their financials. The suit was introduced a few days after Christmas in 2011. The trial is currently underway in the New Jersey court system.
Below are summary financial figures and a stock chart for PRKR.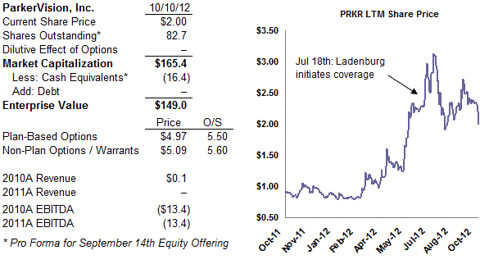 OVERVIEW
Given our work exposing Chinese frauds, we are often accused of unfairly singling out Chinese executives for fleecing American shareholders for their own benefit. But absurd tales of mismanagement and capital misallocation are not exclusive to U.S.-listed Chinese RTOs. In fact, the antics employed by ParkerVision over the past 18 years would make Zheng Cheng of China Media Express (OTCPK:CCME) blush.
ParkerVision markets itself as a telecommunications company with applications to wireless routers, mobile phones, and other telecommunication equipment. The company has been able to perpetuate its fundraising cycle by continually retooling its investment story to fit with market trends. For the past 7 years it has capitalized on the growth in mobile phones by marketing its "D2P" transmission technology, which purportedly improves signal strength, increases battery life, and saves internal hardware space, among other things. With a story like this, it is not surprising that individual investors have been repeatedly duped into buying into new share issuances. But as detailed in our report, our research indicates that ParkerVision has repeatedly failed in each and every one of its D2P partnership arrangements, leading us to believe that the technology has no commercial value whatsoever.
In a near admission of defeat, ParkerVision no longer emphasizes commercial partnerships and pie-in-the-sky peak sales figures in its investor presentations. But never one to miss an opportunity to retool the story, Jeffrey Parker has now latched onto investor interest in patent lawsuits and repositioned his business as a patent troll, dedicating no less than 13 of its 49 Investor Presentation slides (April 2012) to describing its IP portfolio. In the same presentation, the company did not dedicate a single slide to discussing any ongoing commercial relationships.
In July 2011, ParkerVision sued Qualcomm Incorporated, the $100bn telecommunications business, for patent infringement, claiming that QCOM utilized patented 'down-conversion' technology in its RF transmission circuits. Never mind that ParkerVision's technology is commercially unworkable, covers concepts over a decade old, and its patents regularly make irrelevant references; investors have clung onto the possibility of a settlement and bid up ParkerVision's shares to nearly $3 in July 2012. We think PRKR's chance of winning the infringement suit is virtually nil.
ParkerVision's long history as a public company provides numerous data points that allow us to explain why we think the company's stock is highly overvalued. However, the space available in this Seeking Alpha article is limited. Therefore, we will focus our efforts on broadly responding to the key bullish arguments highlighted in an Initiating Coverage research report that was released by Ladenberg Thalmann in July 2012. Not many research firms are interested in picking up coverage for PRKR nowadays, given the company's extensive history of disappointing shareholders. However, Ladenberg issued a report with a buy recommendation in July 2011, highlighting three investment highlights: "Huge Market Opportunity", "Commercial Development" and "Qualcomm Litigation". We will loosely frame our negative views on PRKR as responses to the bullish arguments highlighted in the Ladenberg report.
In this article, we will discuss PRKR's technology and why we don't believe there is any market opportunity whatsoever for their products. In our next article, we will follow up with our thoughts on the Qualcomm litigation.
FINANCIAL HISTORY
From a financial perspective, ParkerVision has one of the worst track records that we have ever come across. The company has burned through over $200m in shareholder cash and diluted its stock by a factor of 10 over the past two decades. ParkerVision hasn't produced a single viable long-term revenue stream, doesn't own any substantive hard assets, and has no paying customers. The company produced exactly zero dollars of revenue in 2011.
Where Did my Ownership Go? ParkerVision's Serial Capital Raises
In its nearly 20-year history, ParkerVision has not once had a profitable year. The company's survival has depended on a continual cycle of secondary offerings to fund overhead, patent filings costs, R&D, and management compensation. Following its initial public offering in 1993, the company had only 8.7m shares outstanding. Today, the same company has 82.7m shares outstanding, nearly a 10-fold increase. Put another way, an investor who owned 10% of the company in 1993 would own less than 1.1% of it today.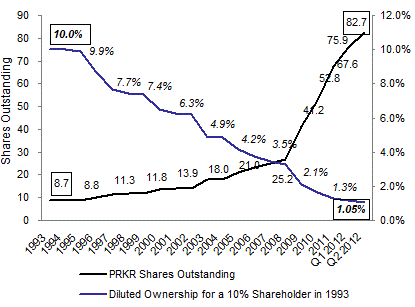 Sources: Company filings, Capital IQ.
Where did the other 8.9% of this investor's ownership go? Normally, when a company issues new equity, it should do so in accretive deals where the overall 'value pie' gets larger, more than offsetting the corresponding loss in ownership. This has not been the case with ParkerVision, which hasn't generated meaningful revenue since the sale of its camera business in 2004.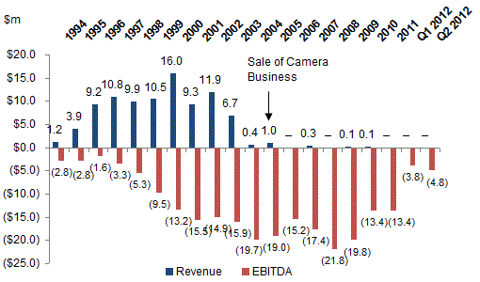 Sources: Company filings, Capital IQ.
Using the chart below, one quickly detects why the company has had to continually issue new equity. The ~$230m in cumulative EBITDA losses since 1994, unsurprisingly, roughly matches the ~$225m (including the Sept 14th offering) in cash raised by equity issuances over the same period. The company has never issued a dividend, meaning that a long-term investor would have nothing to show for his or her investment except for a heavily diluted ownership in the ongoing business.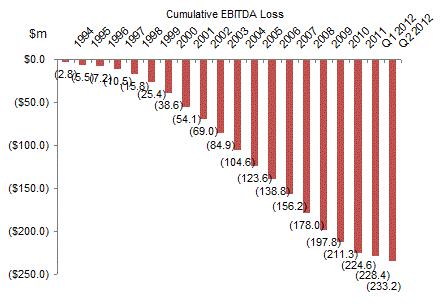 Sources: Company filings, Capital IQ.
A Banker's Dream Client
An efficient management team would only issue shares when i) it can re-invest proceeds at rates higher than the cost of capital or ii) its shares appear overvalued. ParkerVision, on the other hand, raises equity capital to fund its failed business model. Each time that it issues shares, ParkerVision usually pays a 4-7% fee to the issuing bank. As demonstrated in this chart, the company issues equity on a very regular basis: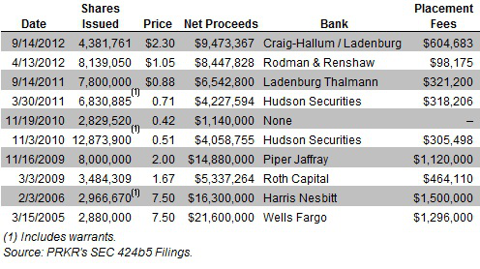 To attract new shareholders into these offerings, the company typically issues warrants alongside its shares. These warrants generate miniscule amounts of cash and essentially serve to induce new shareholders into the stock at the expense of current shareholders. Since the market downturn in late 2008, the company has had to issue more and more shares to keep up with its ~$10-20m in annual operating expenses. PRKR shares that traded at $10 before the financial crisis trade near $2 now, increasing the required dilution to fund ongoing expenses.
With a bevy of high-priced lawyers working on the Qualcomm and MaxTak lawsuits and the recent hire of the notoriously expensive Wilson Sonsini, we expect PRKR to continue to increase its quarterly cash burn. ParkerVision's EBITDA loss increased from -$3.8m in Q1 2012 to -$4.8m in Q2 2012, reflecting growing legal costs. The company had $6.9m as of June 30th, most of which it will probably burn through in the third quarter. As such, the September 14th $9.5m equity raise was expected and we would anticipate another dilutive offering to occur sometime in the middle of 2013, if not sooner. After the glowing 20-page initiating coverage on ParkerVision by Ladenburg Thalmann in July 2012, we were not at all surprised that Ladenburg won part of the September 14th underwriting assignment.
SMOKE AND MIRRORS: PARKERVISION'S TECHNOLOGY
ParkerVision went public in 1993 as a robotic video camera manufacturer. Using radiofrequency ("RF") signals, ParkerVision's camera differentiated itself by its ability to remotely track a subject without the need of an operator. Revenue from this device ("CameraMan") peaked in 2000 at $16m and the business was ultimately sold to Thomson for $14m in 2004 after a sharp decline in sales. Thomson envisioned using the technology for live news broadcasts, but the CameraMan system never gained much traction in the industry. After its sole revenue-generating source was sold, the company only had its mobile RF technology to fall back on. Using the knowledge it gained from building its robotic camera, we think ParkerVision believed it could improve wireless devices everywhere.
Beginning in 1997 and lasting until about 2005, the company was focused on Direct2Data ("D2D"), the predecessor to today's D2P mobile technology. ParkerVision claimed that its D2D radiofrequency system could boost the transmission and receipt of RF signals, enabling stronger Wi-fi connections in devices such as wireless cards and routers. Licensing deals with IBM, Symbol Technologies, and PrairieComm were enthusiastically trumped up by ParkerVision and then subsequently abandoned when the technology proved unworkable. Once ParkerVision realized that technologically sophisticated incumbents wouldn't partner with it, the company attempted to bypass them and sell its D2D technology directly to consumers. ParkerVision's largest D2D products were a wireless router and a Wi-Fi card for laptop computers:
| | |
| --- | --- |
| ParkerVision SignalMax WR1500 Wireless Router | ParkerVision SignalMax Wireless Card |
| | |
Sales from these devices were abysmal even though ParkerVision's products were in 300 storefronts at one point (2005 10-K). D2D product revenues eventually peaked at $996k in 2005 on a $23m operating loss. ParkerVision abandoned this business in June 2005.
The company reinvented itself a third time after it allegedly received "increased interest from OEM prospects in the company's core wireless technologies, especially in the mobile handset market" (2005 10-K). By re-working its story to attract investors captivated by anything related to the rapidly growing mobile phone market, ParkerVision was able to entice shareholders to buy stock at prices north of $10 per share in the 2005-2008 timeframe. Using RF signal amplification technology very similar to its Wi-fi products, PRKR markets its mobile technology as Direct2Power ("D2P"). First introduced in 2005, D2P is purported to have an improved design over a traditional RF amplifier. By using parallel RF signals (further discussed below), ParkerVision claims that the chip lowers power consumption by 50-80%. More recently, the company has claimed to have invented a disruptive "down-conversion" technique and claims to hold patent rights on direct, single-step RF receivers. We believe that this latest face-lift to David Sorrells' RF technology is just another ploy to excite investors by inundating them with technical jargon. In all likelihood, ParkerVision hasn't created a 'disruptive' technology - the meager $412k in D2P sales since 2006 speaks for itself. But before we delve into the defects in ParkerVision's seemingly revolutionary claims, a simple primer on mobile phone technology would be useful.
Radiofrequency Waves and Mobile Phones
At its most basic interpretation, a mobile phone is nothing more than a two-way radio that relays and receives radio frequencies ("RF"). An out-bound signal must be sent at very high frequencies (high-power) to traverse long distances without distortion. Once an inbound signal is received, it must be "down-converted" to a lower frequency in order to be read by the phone's computer system. Without the down-conversion step, all incoming voice and data information is indecipherable. Shown below is the circuitry of a very basic cell phone; this one happens to be from Ericsson.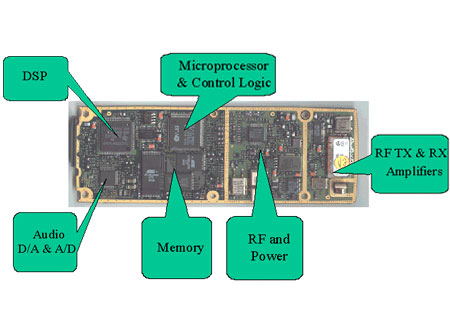 Source: howstuffworks.com
A phone's basic components can be broadly grouped into two functions: 1) sending and amplifying signals and; 2) receiving and processing signals (down-conversion) into readable data. As phones have improved in accordance with Moore's Law, the complexity of the phone's architecture has multiplied and functions are increasingly becoming combined into single chips. Shown below is the motherboard of an iPhone 3G, which still has an RF transceiver.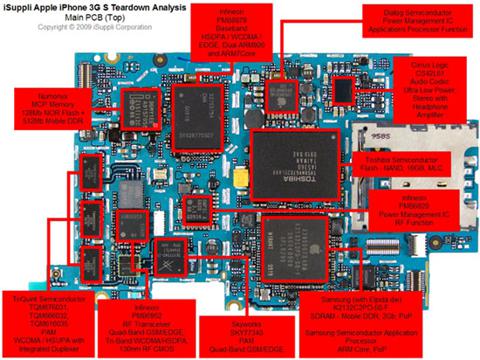 Source: Click Here
A key benefit to using RF waves is the ability to modulate each signal, allowing thousands of calls to take place simultaneously within the radius of any given mobile transmission tower. This modulation identifies each individual call and contains the voice information and/or data being transmitted. Modulation is achieved by varying a signal's amplitude and phasing, as shown below.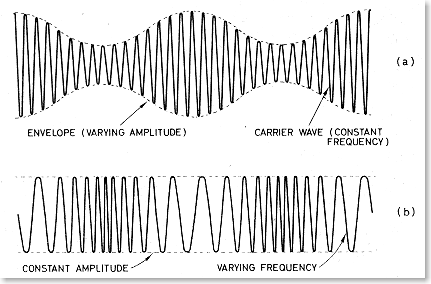 For the RF wave to reach the nearest signal tower, which can be 20-30 miles away in rural areas, the phone amplifies the signal to around 900MHz. This amplification process consumes large amounts of power and is usually the primary drain on a phone's battery life (this is why a 30-minute international phone call can drain your entire battery). Equally as problematic, amplification can distort the RF signal, especially when done at higher power levels. Not only does signal distortion make for poor phone calls, it can also breach on-air governmental regulations.
Another concept well-known to component manufacturers is the tradeoff between power efficiency and distortion. A product that efficiently transmits amplified RF signals without causing signal distortion would have tremendous value for the mobile phone OEM industry. With this background in mind, we must assess ParkerVision's D2P technology on the basis of both efficiency and distortion.
What is PakerVision's Big Idea?
ParkerVision has been granted 192 patents over the past two decades, most of them credited to David Sorrell, who has been a very prolific inventor given his only formal training was an undergraduate degree. Many of these patents are inter-related, and our discussion will center on two key concepts: "Outphasing," which appears to be a keystone concept for the D2P technology, and "down-conversion," the company's current buzzword and basis for the Qualcomm infringement suit.
The D2P "Outphasing" Approach
Since the RF amplifier can be a bottleneck design element in any wireless device, limiting talk time and range, an improved approach would be readily welcomed by both the OEMs and phone companies. ParkerVision's 'revolutionary technology' appears to involve combining two constant amplitude signals into a single parallel signal, theoretically reducing the power needed to amplify the signal. As detailed below, ParkerVision's idea is to send two recombinant RF signals in parallel by adjusting their phasing. This idea was originally conceived in 1935 in a widely cited paper by H. Chireix1. The dual signal approach is broadly known as "outphasing" by the RF community, and as recently as 2003, whole textbooks have been dedicated to its concepts.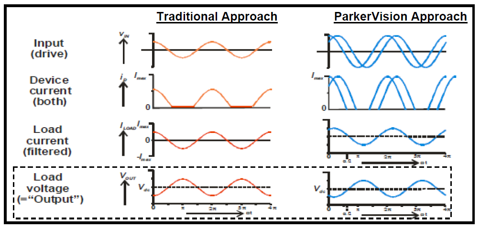 Taken from an analysis done on Patent 7,184,723 by Dr. Steve Cripps, an expert in the RF field, the picture above illustrates the outphasing approach. Skip to the bottom box for the takeaway: the voltage required in ParkerVision's approach is the same as the traditional approach. This is primarily because the added distortion caused by outphasing can negate any positive efficiency benefits.
While long holders like to believe that ParkerVision's small team of scientists in Jacksonville created a revolutionary approach to prolong wireless battery life, it does not appear to be true. Furthermore, many of the core concepts used in ParkerVision's outphasing technique are more than 80 years old.
Down-Conversion and the Qualcomm Suit
The current iteration of ParkerVision's investor literature emphasizes the company's advancements in down-conversion. To ensure clearer calls, older phones actually use an intermediate step in the down-conversion process, requiring two separate steps before a signal is converted into a low-frequency baseband signal. ParkerVision claims to own the patents surrounding direct-conversion, which eliminates this intermediate step.
It's odd that the company would only now begin to make this a central point in their investor presentation as the technology has been common practice for a decade. But the Qualcomm litigation (further discussed in the next section) might have something to do with it. Regrettably for ParkerVision, the case has provided Qualcomm with a public venue to debunk the company's far-fetched claims.
In its Amended Answer and Counterclaim, Qualcomm refers to a March 17th, 1999 meeting between itself and the company. Following that meeting, Qualcomm realized that ParkerVision's down-conversion technology was neither original nor innovative. QCOM even sent ParkerVision a copy of a 1997 article by A. Parssinen and others, entitled "A 2-GHz Subharmonic Sampler for Signal Down-conversion," that appeared in the December 1997 edition of the IEEE Transactions on Microwave Theory and Techniques. The concepts discussed in the article appear to be highly similar to the down-conversion techniques claimed in ParkerVision's patents, a coincidence not lost on Qualcomm.
Moreover, QCOM believes that ParkerVision should have known about QCOM's direct conversion technology since at least December 2000, when Qualcomm announced its Zero Intermediate Frequency ("ZIF") or direct conversion technology. If direct-conversion is over 10 years old, why does ParkerVision dedicate 3 slides in its Investor Presentation to it? And furthermore, if Qualcomm actually infringed on one of its patents, why did ParkerVision wait a decade to sue? We believe that these actions are incredibly telling and reveal how desperate ParkerVision actually is.
EXPERT OPINIONS DEBUNK PARKERVISION'S D2P RHETORIC
Since we wouldn't claim to understand every technical nuance captured within the RF field, much like any investor we've also considered expert opinions. PVnotes.com, a website dedicated to exposing ParkerVision's questionable exploits, is run by husband and wife Mike Farmwald and Barb Paldus, who have both earned PhDs from Stanford. The site has published four reviews of PRKR's D2P patents from three different experts.
The first expert, Dr. Steve Cripps, has a PhD and master's degree from Cambridge University and has written three published books on the subject of RF power amplification. Dr. Cripps has reviewed the two patents central to ParkerVision's D2P technology: 7,184,723 ("Systems and Methods for Vector Power Amplification") and 7,218,899 ("Apparatus, System, and Method for Up-converting Electromagnetic Signal").
In his review, Dr. Cripps repeatedly states that it has been known for several decades that simple parallel connection (outphasing) will not result in improved power efficiency compared to conventional linear methods. He goes on to make several strident observations:
"Despite extensive reference lists in their patents, [ParkerVision] appear[s], remarkably, to be uninformed on what is common knowledge in the RFPA industry"
"[ParkerVision] appears to promote, and claim as revolutionary, what in mainstream PA circles has been rejected as a useful approach…"
"The key point is that despite the different input signal arrangements, the voltage and current waveforms which appear at the output load resistor are the same in each case…and thus offer no benefit in terms of efficiency."
A second opinion on U.S. 7,184,723 was submitted by Dr. Joy Laskar in 2007, who was formerly the Schlumberger Chair in Microelectronics at Georgia Tech and has a PhD in electrical engineering from the University of Illinois at Urbana-Champaign. In its Qualcomm litigation statements, ParkerVision argues against the validity of Laskar's opinion since he was recently indicted for a $2m racketeering scheme regarding the misappropriation of university funds for one of his chip design startups. While this behavior is highly questionable, we don't believe that these activities fully discredit the professor's opinion on RF technology. After all, one can't fake the knowledge required to win a chairmanship at Georgia Tech. But in the interest of full disclosure, we think investors should be aware of his now tainted reputation. Dr. Laskar's review states:
"The inventors insist that their approach satisfies the complex signal amplification requirement for wireless communication standards that the traditional LINC [linear amplification] cannot achieve. However, the justification is not compelling..."
"This means that an actual implementation of [PRKR's design]…will be unavoidably inefficient from an overall power combining perspective. The inventors ignore this issue, which is critical to the overall efficiency performance."
"Considering the overall system, the power efficiency of the system will be close (at best) to the conventionally linear operated power amplifier."
"…in practical implementation one can categorize the work as a LINC implementation or a somewhat obvious extension of the LINC architecture."
Finally, a third opinion is given on U.S. 7,184,723 by Dr. Alfred Riddle, who teaches an electromagnetics courses at Santa Clara University and has designed RF circuits for NASA. Dr. Riddle wrote the review in 2007, when he was an employee for Barbara Paldus' business, Finesse LLC. ParkerVision will point to this conflict of interest as proof that his review wasn't factual. We encourage investors to read his reviews themselves and decide if it has scientific merit. A few quotes from Dr. Riddle:
"The big issues here are novelty and feasibility. The power splitting, constant envelope amplification, and combining to produce a time varying output goes back to Chireix in 1935."
"This reviewer, who has had significant experience with combining networks such as those described in this patent as well as those which provide isolation, believes the inventors to be ignorant of the real issues in combining networks." (emphasis added)
"All of the distortion and efficiency claims are negated by the fact that the combining method described creates load impedance changes which reduce efficiency… This means that any attempt to use this idea for a commercial product would require a much higher speed (and so more expensive) integrated circuit process to reduce the transistor parasitics."
It should also be noted that all of these experts hold doctorate degrees in electrical engineering and have earned tenured professorships in the subject, whereas ParkerVision's lead scientist, David Sorrells, only completed an undergraduate degree. Given the flaws highlighted herein, we don't believe in PRKR's 'disruptive' technological claims. If ParkerVision were truly transparent, it should rigorously cite the flaws contained in these reviews, especially Dr. Cripps' review, as he is the scientist who literally wrote the book on RF power amplifiers. The company did, in fact, invite Dr. Cripps, Dr. Laskar, and Dr. Riddle to tour its facilities and assess the technology, but only if the professors signed a confidentiality agreement. This would muzzle the scientists' abilities to publish an informed review to the public, defeating the fundamental purpose of a visit.
INDUSTRY HAS KICKED THE TIRES AND DOESN'T LIKE WHAT IT'S SEEN
Before ParkerVision shifted its business strategy to patent trolling, it had attempted to license its D2P technology to original equipment manufacturers (OEMs), who sell parts to the branded phone companies. These 'partnership' announcements have followed a similar pattern over the past decade: 1) issue a press release announcing the agreement (be sure to highlight peak sales); 2) issue further guidance assuring investors that everything is on track; 3) using the newly inflated stock price, issue new equity to fund overhead and management compensation; 4) go silent on the partnership (since announcing bad news is avoided at all costs) and lastly; 5) announce a new deal to distract investors from the initial failure. One should also notice in the chart below that ParkerVision has a habit of raising new equity (offerings are denoted by red diamonds in the chart below) just after it announces a new partnership/update. We wouldn't be surprised if ParkerVision manufactures another baseless announcement sometime in 4Q 2012 or 1H 2013 before its next equity raise.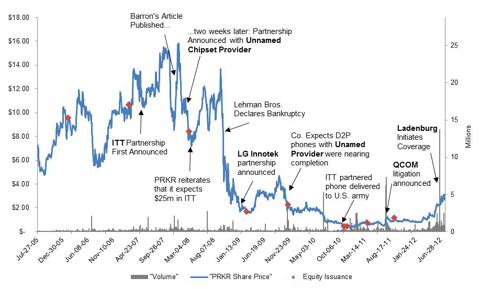 Below is a sampling of the many failed D2P partnerships.
ITT Corporation
May 2007 - PRKR issued a press release announcing a licensing deal with ITT, the $2bn industrial original equipment manufacturer. In its press release and 8-K, the company stated that it anticipated cumulative royalties from the partnership of approximately $25m. Intriguingly, Parker claimed that ITT intended to use the D2P technology in governmental applications, not mobile phones.
March 2008 - In its 2007 year-end earnings announcement, the company reaffirmed that it expected to achieve royalties of approximately $25m.
August 2009 - In its Q2 09 statement, the company again confirmed the partnership and stated that it expected to receive revenue from ITT in the second half of 2009. This revenue never materialized.
August 2010 - The company announced the successful delivery of a working implementation of the D2P technology to the U.S. Army through a joint contract with ITT.
March 2011 - Finally, after 4 years of announcements with nothing to show for them, the company confessed in its 10-K that it "[does] not intend to initiate any new development efforts for ITT-related projects, unless those projects are funded by either ITT or their customers."
Outside of approximately $412k in service revenue recognized from Q2 07 to Q1 10, no royalty payments were received
Via Telecom
December 2007 - Following the negative Barron's article published on December 3rd, the company moved quickly to assuage investor fears by announcing a new partnership on December 21st. The company appeared to be caught off guard by the Barron's piece since it kept its hypothetical partner private, describing it anonymously as a "worldwide provider of chipsets to mobile handset manufacturers." In this press release, the company stated that it anticipated receiving $5-10m in the first year of shipment and that product launch was targeted for late 2008. These statements accomplished their purpose by boosting the company's share price by nearly 20% in a single day
August 2009 - Now past the initial deadline, the company stated that the first sample phones embedded with D2P technology were nearing completion and were poised for delivery
March 2010 - The company claimed that the handset customer had accepted the product and was actively talking to customers about utilizing it in high-volume handsets. ParkerVision indicated that its customer's handset needs could reach 40-45m units annually within 12-24 months
August 2010 - ParkerVision's Jeff Parker told The Wall Street Transcript that the company had "secured our first 3G mobile handset design win" and that it expected to "ramp the first production of these phones before the end of this year."
March 2011 - In its 10K, the company finally identified its unnamed partner as Via Telecom, the Chinese semiconductor manufacturer. ParkerVision said it expected one of Via Telecom's handset customers to place an order in "the near future."
August 2012 - ParkerVision continues to keep the dream alive on its most recent quarterly conference call. Mr. Parker stated that Via Telecom's "Asian OEM" customer "has requested that we provide additional detailed information on our D2P components." After that work is completed, ParkerVision anticipates moving forward (just as it did in March 2011). Deja vu anyone?
To date, ParkerVision hasn't disclosed any material revenue from this venture
LG Innotek
December 2008 - A press release announced a joint development agreement with LG Innotek. According to the company, LG was planning to use PRKR's chips in its handsets and expected a product launch in H2 2009.
August 2009 - In its Q2 09 statement, Jeff Parker claimed to have made "considerable progress" with LG Innotek.
Again, no revenue was ever realized from this partnership
Without historical context, one can't fully appreciate the clichéd pattern of promotional partnership announcements repeated time and time again by ParkerVision. Like a broken record player, we expect to hear more of the same in the future.
CONCLUSION
In this article, we have provided substantial evidence on why ParkerVision's technology is not commercially viable and why we think it is highly unlikely that PRKR will generate material operating revenue from its current products.
In our next article, we will turn our focus to ParkerVision's patent infringement lawsuit with Qualcomm, and why we strongly believe that the lawsuit will prove unsuccessful.
Disclosure: I am short PRKR. I wrote this article myself, and it expresses my own opinions. I am not receiving compensation for it. I have no business relationship with any company whose stock is mentioned in this article.
Additional disclosure: Please read our full disclaimer at the end of the report available here.