South Africa is a very important producer of precious metals. It possesses almost all global reserves of platinum group metals -- 95.5% according to the USGS (U.S. Geological Survey) and about 12% of all global gold reserves. South Africa's mining sector has suffered from many problems during the past years, some of them concern the following areas:
Labor unrest - Unrest has been spreading across the gold and platinum producing regions that surround Johannesburg ever since the beginning of August, when an illegal strike at Lonmin PLC's Marikana mine halted production and heralded the start of a series of other strikes among surrounding platinum producers. On that occasion, in an effort to halt the strikes, the police violently killed 34 miners. At the moment, as many as 75,000 miners-- or 15 percent of the South African mining sector's total workforce-- are already out on strike. That includes employees from some of the country's biggest gold and platinum mines.
Mine safety - South Africa is known for having the deepest mines in the world, which makes them very dangerous. As of July 26, 2012, 63 fatalities have been reported in the mining sector since the start of the year, which is above the international average. Therefore, a lot of mines are now shutting down for safety reasons.
Electricity Shortage - South Africa suffers from shortages in electricity. According to the Power Producers' Association, the current power supply is short by 5,000MW. Since the mining sector is a heavy user of electricity, interruption of production can occur from time to time. In 2007, the State-owned power utility, Eskom, indicated that electricity supply would remain tight for the next five to eight years. Blackouts in 2007 and 2008 had cost the economy between R50 billion and R119 billion.
This article will show some historical data of precious metals production in South Africa and will try to suggest how they will affect future precious metal prices.
Platinum
South Africa produces about 75% of the world's platinum, which is used primarily in automobile catalytic converters. From a record production of 170 metric tons (5.47 million troy ounces) of platinum in 2006, South Africa produced only 139 metric tons (4.47 million ounces) in 2011, about 18.2% less. According to Barclays bank, due to labor issues this year, platinum production losses in South Africa are approaching 400,000 ounces (about 9% of its 2011 production).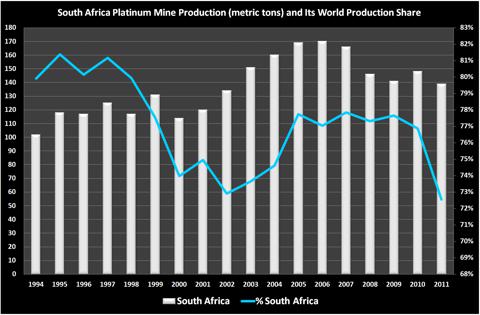 Data: USGS Chart: Arie Goren
Palladium
South Africa produces about 40% of the world's palladium, which is also used primarily in automobile catalytic converters. From a record production of 224 metric tons (7.20 million ounces) of palladium in 2006, South Africa produced only 207 metric tons (6.66 million ounces) in 2011-- about 7.6% less.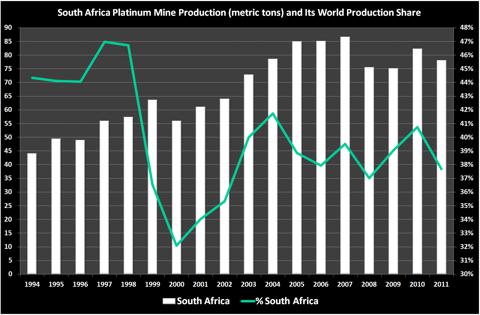 Data: USGS Chart: Arie Goren
Gold
In 1970, South Africa's mines produced about 995 metric tons of gold (32 million ounces), about 67.5% of the world's total production that was approximately 1,477 tons (47.5 million ounces). Since then, the country's gold production has dropped continuously, and in 2011 South Africa produced only 190 tons (6.11 million ounces) of gold, which was only 7% of the world total production of 2,700 tons (86.81 million ounces).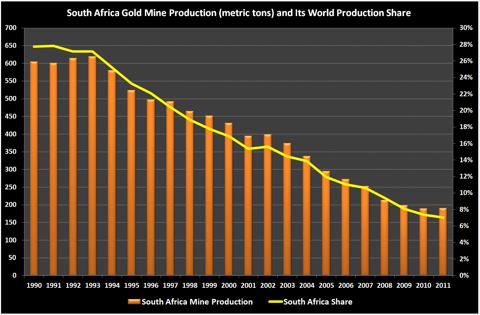 Data: USGS Chart: Arie Goren
Conclusion
Platinum: Although estimates imply that the platinum market remains within a modest surplus this year, labor-related supply disruptions in South Africa and improved demand--whenever a stimulus leads to a stronger economy-- will probably cause shortages next year and further price gains.
A solution to South Africa's mining sector problems requires big capital investment. Lonmin has agreed to grant its employees pay increases of as much as 22 percent so as to end the six-week stoppage and violence that claimed at least 46 lives. Other companies will have to agree to wage increases as well. In addition, large sums of money are needed to improve safety problems in the mines.
Since the costs of production of platinum are already close to its market price, increase costs of production would force companies to decrease it, if the market price of platinum will remain at today's level (see my article here about the precious metals' production costs).
The main use of platinum is in automobiles as a catalytic converter (about 40% of total demand) and since the world auto industry shows signs of recovery as car sales surge, the demand for platinum will increase. Shortage in the supply from South Africa, and at the same time, an increase in demand for platinum, would cause a significant rise in its price. Although the price of platinum has risen about 21% since the beginning of August this year, it can go much higher. Therefore, I recommend investing in platinum, with a long-term perspective.
The easiest way to invest in platinum is by buying a platinum ETF or ETN, which are traded on NYSEArca:
ETFS Physical Platinum Shares (NYSEARCA:PPLT)
UBS E-TRACS Long Platinum TR ETN (NYSEARCA:PTM)
Palladium: On the one hand, the world supply of palladium is expected to decrease, because of South Africa's mining problems and the prospective exhaustion of Russian state stocks. On the other hand, demand is expected to increase, due to the high growth in car builds rate in the emerging economies of China, India, Brazil, Eastern Europe and Russia and to an increase in the use of palladium in catalytic converters for diesel engines, including off-road diesel equipment. Therefore, the palladium market should move back to a substantial deficit this year, which will cause a significant rise in its price, even though it has already risen about 16% from the beginning of August this year. That is why I recommend investing in palladium, with a long-term perspective (see my article here about investing in palladium). This can be done by buying shares of one of the North America's palladium miners:
Stillwater Mining Co. (NYSE:SWC)
North American Palladium Ltd. (NYSEMKT:PAL)
Or by palladium physical ETF:
ETFS Physical Palladium Shares (NYSEARCA:PALL)
Gold: Since South Africa produces only about 7% of the world gold production, the effect of its mining sector problems would be minor and other factors are bound to influence gold price more. I still recommend buying gold due to the behavior of the Central Banks and the increasing appetite of investors for gold (see my article here about investing in gold).
One way to invest in gold is by buying ETFs for physical gold:
SPDR Gold Shares (NYSEARCA:GLD)
Sprott Physical Gold Trust ETV (NYSEARCA:PHYS)
ETFS Physical Swiss Gold Shares (NYSEARCA:SGOL)
ETFS Physical Asian Gold Shares (NYSEARCA:AGOL)
Disclosure: I have no positions in any stocks mentioned, and no plans to initiate any positions within the next 72 hours. I wrote this article myself, and it expresses my own opinions. I am not receiving compensation for it (other than from Seeking Alpha). I have no business relationship with any company whose stock is mentioned in this article.