By Ishtiaq Ahmed
Amazon.com, Inc. (NASDAQ:AMZN) is a global online retailer operating retail websites, such as amazon.com, amacon.co, amazon.ca, and several others. Amazon serves its customers through its websites and focuses on price, selection and convenience. The company also offers programs that allow sellers to sell their goods on companies' websites. Additionally, Amazon serves enterprises and developers through Amazon web services, which provides access to technology infrastructure that developers use to enable various type of business.
Further, it produces and sells the Kindle e-reader. Additionally, the firm provides fulfillment services, such as co-branded credit cards and online advertising. The company was founded in 1994 and is headquartered in Seattle, Washington. Amazon has an excellent management team. The CEO, Jeff Bezos, is probably one of the best in the industry. In addition, Amazon has an extremely well-known brand. When someone wants to buy online, Amazon is probably one of the top destinations.
Financial Highlights:
Amazon has shown exceptional growth in revenue over the past five years, and the revenue has almost tripled. Over the past five years, earnings have shown about 25% annual growth. However, recently earnings have declined for Amazon. I believe the decline is temporary, and growth will pick up again over the next few years. At the end of 2007, the company had net sales of $14.83 billion, which grew to $48 billion by the end of 2011. Amazon recorded net sales of over $12.8 billion in the previous quarter and the total sales for the six months went above $26 billion.
Operating income was $107 million in the second quarter, considerably less than the $201 million in the second quarter of 2011. Net income declined to $7 million in the second quarter recording a 96% decrease, or $0.01 per diluted share. However, the second quarter 2012 includes a $65 million of estimated net loss related to the acquisition and integration of Kiva Systems, Inc. Amazon had more than $2 billion in free cash flow at the end of 2011, a little lower than the last year. Another positive for Amazon is that it does not have any long term debt.
Stock Performance and Ratios:
Amazon's stock has shown a steady upward trend in price over the past four years. The stock was trading at less than $50 at the end of 2008, but on Friday, October 12, the stock closed at $242.36. Amazon's stock has a 52 week range of $166.97 and $264.11. On average 2.2 million shares of Amazon are traded every day. The stock has a beta of 0.82, and Amazon has a market capitalization of $109.56 billion. At the moment, the company has an EPS of $0.82 and an one year price target of $277.29.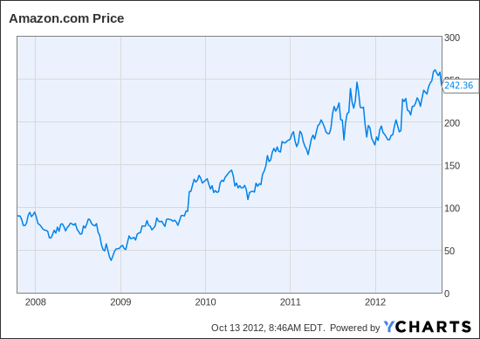 Comparison with Peers:
Amazon's traditional competitors include Best Buy Co Inc (NYSE:BBY), Barnes & Noble, Inc. (NYSE:BKS) and Apple Inc (NASDAQ:AAPL). Amazon competes with Apple mainly in the tablets segment. Amazon recently launched its new line of bigger and faster Kindle e-readers, which look to represent a substitute to the Apple iPad. However, Apple is also expected to launch a smaller and cheaper iPad by the end of 2012 to compete with Kindle.
| | | | | |
| --- | --- | --- | --- | --- |
| | AMZN | AAPL | BKS | BBY |
| P/E | 227.29 | 14.80 | N/A | N/A |
| P/B | 14.60 | 5.30 | 1.30 | 1.70 |
| P/S | 2.10 | 4.00 | 0.10 | 0.10 |
| EPS Growth | -2.80% | 59.80% | N/A | N/A |
| Operating Margin | 1.20% | 35.60% | -0.50% | 2.10% |
| Net Margin | 0.70% | 27.00% | -0.70% | -2.40% |
| ROE TTM | 4.90% | 44.30% | -7.20% | -23.80% |
| Debt to Equity | 0.00 | 0.00 | 0.40 | 0.30 |
Source: Morningstar.com
Amazon has always been trading at a premium compared to its peers. However, the company has been able to give healthy return to its investors. Amazon has exceptional growth potential and impressive history of revenue growth.
Summary:
Amazon has come a long way from its days of selling books online and now presents an one stop window to buy virtually anything. There is going to be exceptional growth in online shopping in the U.S. It is expected that a total of $327 billion will be spent by online shoppers in 2016. Amazon's core business will continue to profit from its leading position in this growing e-commerce market. Meanwhile, I believe that the company's Prime service will also fuel future growth. By seriously investing in infrastructure, the company is making the choice to value market share over short-term profit gains.
In addition, the company has strong cash flows. At the end of 2011, Amazon generated about $4 billion in cash flows from operations and $2 billion in free cash flows. The company can put free cash flow to a better use by buying shares back or announcing a dividend. While I think the stock is on the pricey side of the market, I believe there is still much growth potential in the company. I cannot recommend buying the stock near its all time highs, but it could be a good one to acquire on pull backs.
Disclosure: I am long AAPL.
Business relationship disclosure: EfsInvestment is a team of analysts. This article was written by Ishtiaq Ahmed, one of our analysts. We did not receive compensation for this article (other than from Seeking Alpha), and we have no business relationship with any company whose stock is mentioned in this article.