By: Brendan Gilmartin
Bank of America (BAC) is scheduled to report 3Q 2012 earnings before the bell on Wednesday, October 17. The results are typically released at 7:00 a.m. EST with a conference call scheduled to follow at 8:30 a.m. Bank of America is a Dow component with broad market influence and therefore could have a heavy impact on the index futures and other key market gauges. Note that Bank of America is the last of the major banking institutions to report earnings for the recent quarter.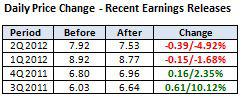 Bank of America recently disclosed charges related to a settlement in a shareholder lawsuit involving the purchase of Merrill Lynch and other charges.
Bank of America is expected to post a loss of -$0.07 in the 3Q 2012 period (range is -$0.18 to $0.02). Revenues are seen falling 23.1% to $21.89 bln (Source: Yahoo! Finance).
At a recent $9.12, Bank of America shares are still trading at a steep discount to Tangible Book Value of $13.22 (as of 06/30/2012).
Bank of America's results follow strong earnings from JP Morgan Chase (JPM) and a mixed quarter from Wells Fargo (WFC).
JP Morgan Chase reported 3Q EPS were a record $1.40 per share, handily topping the consensus of $1.22, thanks in part to a 29% surge in mortgage banking and an expansion in business banking loan growth.
Wells Fargo reported 3Q earnings of just $0.88 per share, narrowly topping the consensus of $0.87, sending its shares down 2.64%, while revenues and net interest margins missed the mark.

Recent News
10/02: JP Morgan derivatives strategists are recommending that investors buy January $10 Calls in Bank of America options, citing improvements in the housing market, a stronger capital position, and cost savings, according to a post in Barron's.
09/28: Goldman Sachs reiterated a Neutral rating and a $7 price target on Bank of America, according to Benzinga.com, following the settlement in a lawsuit with Merrill Lynch investors.
09/28: Bank of America settles a class action lawsuit brought in 2009 on behalf of investors who purchased or held Bank of America securities when it acquires Merrill Lynch. Under terms of the proposed settlement, Bank of America would pay a total of $2.43 billion. Litigation expense, improvements in the company's credit spreads and the U.K. tax charge are expected to negatively impact reported third-quarter EPS by approximately $0.28.
Technical Review
Bank of America shares are up more than 30% since late July, tracking gains in other financial issues. If earnings come through better than expected, there is upside to the recent high near $9.75, followed by the 52-week apex of $10.10 (3/19/2012). A surge above $10 would therefore be technically significant. Conversely, support is at $8.50 (50-Day SMA), with downside risk to $7.75. (Chart courtesy of StockCharts.com)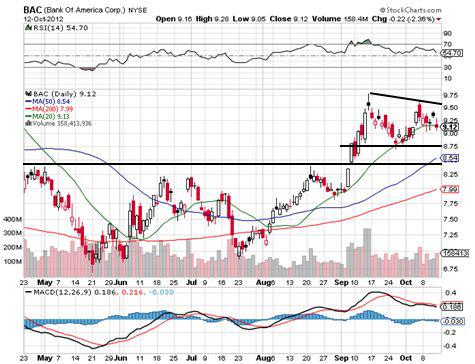 Summary
Bank of America shares have been moving higher in recent months, benefiting from an improvement in the U.S. housing market, high capital ratios, stronger net interest margins, and valuation at 0.7x tangible book value. But with the Street forecasting a slight loss and Wells Fargo coming off a lackluster release, Bank of America is vulnerable to any steep misstep. Furthermore, the firm disclosed total charges of $0.28 per share, potentially clouding the post-market reaction as the Street seeks to clarify the results.
DISCLAIMER: By using this report, you acknowledge that Selerity, Inc. is in no way liable for losses or gains arising out of commentary, analysis, and or data in this report. Your investment decisions and recommendations are made entirely at your discretion. Selerity does not own securities in companies that they write about, is not an investment adviser, and the content contained herein is not an endorsement to buy or sell any securities. No content published as part of this report constitutes a recommendation that any particular investment, security, portfolio of securities, transaction or investment strategy is suitable for any specific person.
Disclosure: I have no positions in any stocks mentioned, and no plans to initiate any positions within the next 72 hours. I wrote this article myself, and it expresses my own opinions. I am not receiving compensation for it (other than from Seeking Alpha). I have no business relationship with any company whose stock is mentioned in this article.