Earnings momentum has been strong for Krispy Kreme Doughnuts Inc. (KKD) since it reported strong fiscal second-quarter results in late August. The quarter included a positive surprise of 40.0% and a bright outlook for the full year. Moreover, with a long-term earnings growth projection of 25.0%, this Zacks #2 Rank (Buy) looks like a solid growth pick.
Q2 Witnesses Big Beat; Q3 Coming Up
On August 22, Krispy Kreme announced fiscal second-quarter earnings per share of 7 cents, beating the Zacks Consensus Estimate of 5 cents. Total revenue climbed 4.3% year over year to $102.1 million.
Same-store sales at company stores increased 5.4%, marking the 15th consecutive quarter of comps growth. Domestic franchise same-store sales grew 6.7%, but International franchise same-store sales fell 10.0%. Operating income in the quarter expanded 87% to $9.0 million.
During the quarter, the company also completed its $20 million share repurchase program.
Krispy Kreme reaffirmed its outlook for fiscal 2013, but expects overall results to be at the higher end of the previously-guided range. The company continues to see operating income between $29 million and $33 million, including impairment and lease termination costs. Earnings are expected between 22 cents and 25 cents per share. On an adjusted basis, management forecasts earnings per share of 36 cents to 42 cents, which includes only income tax.
Krispy Kreme is expected to release its fiscal 2013 third quarter earnings on November, 26. The Zacks Consensus Estimates are for earnings at 8 cents per share on revenue of $105.0 million.
Earnings Momentum on the Rise
Over the last 60 days, the Zacks Consensus Estimate for fiscal 2013 surged 68.0% to 42 cents per share, implying year-over-year growth of 37.1%. For fiscal 2014, the Zacks Consensus Estimate jumped 51.6% to 47 cents over the same time frame, representing year-over-year growth of 10.6%.
Reasonable Valuation
Though the stock of Krispy Kreme is not cheap by most valuation metrics, it looks reasonable on a P/B and PEG basis. The stock currently trades at a forward P/B of 2.17x, a 30% discount to the peer group average of 3.08x. Given the long-term growth projection of 25%, the PEG ratio comes in at 0.7, a 30% discount to the benchmark of 1 for a value stock. Thus, the expected long-term earnings growth is currently set at a discount. Given a double-digit earnings growth prospect in the current year, the valuation presents a window of opportunity for investors seeking growth.
Chart Shows Strength
The company has been continuously outperforming its 200-day and 50-day moving averages since reporting strong second quarter fiscal 2013 results. The year-to-date return for the stock is 17.0%, compared with the S&P 500's return of 14.0%. Volume is strong, averaging roughly 234K daily.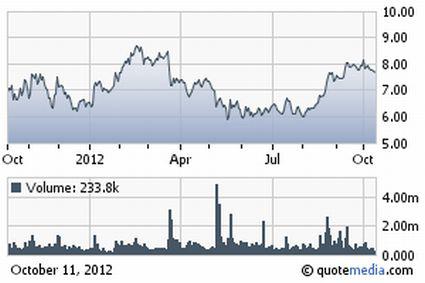 Based in Winston-Salem, North Carolina., Krispy Kreme is a leading branded specialty retailer of premium quality doughnuts. As of July 29, 2012, the company operated 93 company stores and 618 franchise stores. Founded in 1937, the company plans to operate 900 international stores by the end of fiscal 2017. With a market capital of about $497.3 million, Krispy Kreme competes with Dunkin' Brands Group, Inc. (DNKN), among others.