Large cap tech stocks haven taken hits lately, but overall they remain in good shape. In particular, Microsoft (NASDAQ:MSFT) has fallen from 31.5 to 29.0 and is now unchanged since the summer and early winter. Odds favor MSFT remaining somewhat unchanged going forward because the stock spends much more time trading range-bound than trending.
An option strategy that can be employed to profit from a lack of movement is long call condor, which entails a lower strike bull call spread and higher strike bear call spread. A bull call spread achieves max profitability when the underlying closes above the upper strike; a bear call spread achieves max profitability when the underlying closes below the lower strike. Together, since the max profitability zones overlap, your goal is for the stock to close between the two.
Here's MSFT's daily chart.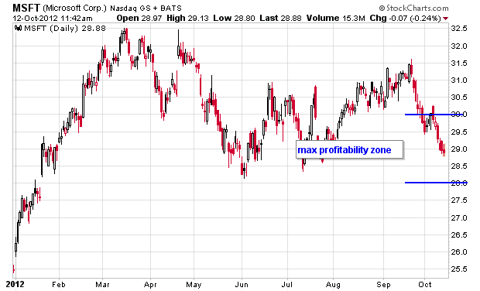 We can employ a 27/28/30/31 long call condor by buying call options at the 27 strike, selling the 28s, selling the 30s and buying the 31s. As long as MSFT closes between 28 (the upper strike of the bull call spread) and 30 (the lower strike of the bear call spread), the strategy will achieve max profitability.
Here's the profit/loss chart. The blue line is the PL at expiration (the November expiration cycle is used); the red line is the PL on Oct 29, the halfway date between today and expiration. As you can guess, a long call condor relies on time decay, which has the most effect in the last couple weeks before expiration. Because of this, even if the stock sits at 29, you won't see much profit for the next couple weeks, but then it will ramp up.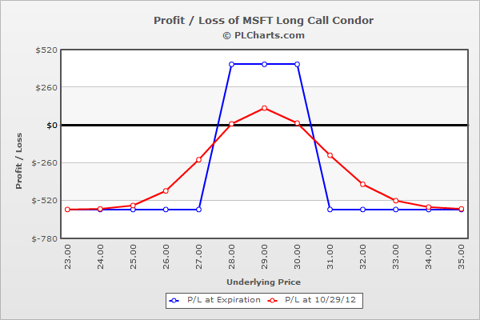 Disclosure: I have no positions in any stocks mentioned, and no plans to initiate any positions within the next 72 hours. I wrote this article myself, and it expresses my own opinions. I am not receiving compensation for it. I have no business relationship with any company whose stock is mentioned in this article.