Netflix (NASDAQ:NFLX) has been in the news for the right as well as the wrong reasons, though mostly wrong. A pioneer of Internet subscription service, Netflix subscribers can instantly watch unlimited movies and TV shows streamed over the Internet. In the U.S., subscribers can order standard-definition DVDs and high-definition Blu-ray discs. Here is how the news about Netflix unfolded.
The Bad (or Not so Bad) News
It all started with the announcement that Netflix CEO Reed Hastings was stepping down from the board of directors of the world's largest software maker, Microsoft (NASDAQ:MSFT), in order to be able to pay more attention to his own company. Hastings' association with Microsoft was instrumental in the phenomenal increase in Netflix's subscriber base. The underlying reason being that his association with Microsoft led to Microsoft's Xbox 360 becoming the first device that could be plugged into a television set for playing serials, videos, and movies from the Netflix library.
This was followed by news of an agreed court settlement in a case filed in 2010. The plaintiffs, hearing-impaired Massachusetts resident Lee Nettles and national and regional associations for the hearing impaired, had pleaded discrimination based on disability, something that is prohibited under the Americans with Disabilities Act. Netflix offered to caption all content for the hearing impaired by 2014. Netflix is available on more than 1,000 devices and, as per a company spokesperson, captioning all content is a "tall order" even for an industry leader like Netflix.
Another piece of significant news came by way of the release of a book titled Netflixed: The Epic Battle for America's Eyeballs. The book apparently ridicules the widely circulated tales about the company's origin and evolution. Written by veteran journalist Gina Keating, the book is based on information provided by Netflix's co-founder and other employees. It also depends on information furnished by former employees of Blockbuster Entertainment, once a leading video rental service and a company that went bankrupt because of the increasing popularity of Netflix and Redbox's DVD rental kiosks. What is interesting is that Hastings refused to be interviewed for the book.
The release of the book is seen as coming at a crucial time, since the company is still trying to come to terms with subscribers not taking kindly to its decision to increase U.S. prices by almost 60%. This was a decision that even investors are viewing as a big negative for the performance of Netflix in the market.
The Good News Followed by More Bad News
Morgan Stanley upgraded Netflix to overweight from equal weight. Morgan Stanley analyst Scott Devitt's opinion was that despite Netflix's rivalry heating up with Amazon (NASDAQ:AMZN), there is little chance of Amazon spending money on its streaming service to make it as appealing to customers as Netflix. Amazon has 25,000 titles of movies and video compared to 60,000 at Netflix. To give Netflix a run for its money and be truly competitive, Amazon will have to spend something between $1 billion and $2 billion to acquire rights for new titles. Scott Devitt is of the opinion that Amazon would not want to spend that much as it might have other priorities, and Netflix on the other hand had become more cautious in spending for content in light of slower subscription growth.
Bank of America did not take long to take a counter view and downgraded Netflix to underperform. The downgrade by Bank of America was apparently based on news that Amazon is slowly but steadily building up its library of streaming TV shows and movies. Additionally, the Bank of America analysts were of the opinion that Netflix was showing volatility due to an increase in competition and content cost.
Following the news of Morgan Stanley upgrade, the markets gave a big thumbs-up to Netflix in the first week of October, leading to an impressive jump of 35%. Netflix soared to $73.52 on Oct. 8, 2012. The honeymoon did not last long, however, and after the downgrade by Bank of America, the stock came down to sub-$70 levels to end at $64.33 on close of trading Oct. 12. This was despite the fact that the Amazon offers its service at $79 a year to its Prime subscribers.
Fundamentals
Netflix's annual report shows its operating income for the year 2011 was $37.60 million, an increase of 31.53% over the previous year ($28.36 million). Net income per share was $4.28 compared to $3.06 in 2010. The number of subscribers at the end of the year stood at 26,253, with 6,243 fresh subscribers added during the year. The company has also made a debt offering of $400 million and may incur further debt in future, which can have an adverse effect on its future financial performance.
The company admits in the annual report that the consumer response to the price increase was negative, which led to cancellations in significant numbers. The price increase, according to the company, was actually due to the introduction of a new policy of putting an end to "hybrid" plans for receiving both streaming content and DVDs. Subscribers who wished to receive both streaming content and DVDs by mail had to opt for two separate plans. Considering the response, the company retracted its plans and reverted to a single-plan regime.
The company expects that it will suffer losses in its international operations in Canada, Latin America, and the Caribbean in 2012. Services to these countries became operational in September 2010 and September 2011.
What the Analysts Are Saying
Analysts who follow Netflix are writing a different story altogether. For the current year, they are forecasting a decrease in its earnings to the tune of -100.15% over the previous year, but expect earnings to grow at a rate of 26.67% over the next five years.
Forecast Earnings Growth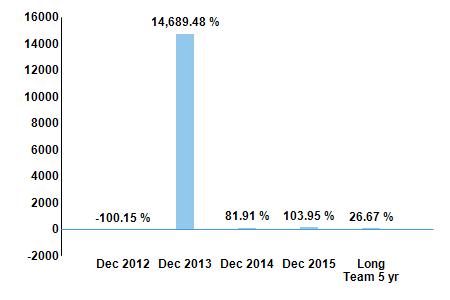 Source: Nasdaq.com.
Thirty-one analyst firms making recommendations have differing views on Netflix. While four analysts recommend a strong buy, six suggest getting out of the Netflix counter. The opinion is evidently heavily skewed in favor of holding the stock, which -- if you've read my previous article -- is euphemism for "sell."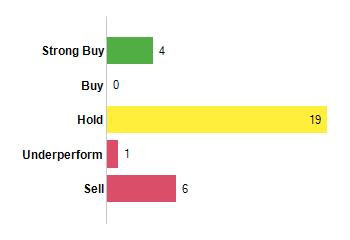 Source: Nasdaq.com.
The Road Ahead
Whether to buy or sell the stock depends on the investor's time horizon. Considering the negative news, it looks as if getting out of the stock is the right thing to do for a short-term investor. Forecast earnings growth over the next five years suggests to stay invested. However, investors need to take into account the industry-specific issues.
The problem is that investors are worried because Netflix's expenses for increasing and maintaining its large library are rising. This, coupled with the rate increase announced by Hastings, is seen as the reason why Netflix is trading at almost 75% lower than its all time high of $305, just before the price increase 15 months ago.
A big issue in the industry, in the words of Gartner analyst Mike McGuire, is that the "stakes now are very high, and there are some very big competitors in this ecosystem that will be very hard to fight." Netflix, for its part, is going all out to attract new subscribers by including popular serials like "Breaking Bad" and "Mad Men," and getting exclusive rights for "House of Cards," an upcoming political drama series developed by and starring Kevin Spacey that is slated to air in February 2013.
IHS iSuppli analyst Dan Cryan has this to say about the industry:
People have started to understand these things are valuable, and there are a number of players looking at these rights. That's a seller's market. Basically, the prices are going up.
If Netflix has to retain its position in the Internet delivery of movies and TV shows, it has to recognize these issues. Investors need to be cautious if the company fails to address the issues detailed above.
Disclosure: I have no positions in any stocks mentioned, and no plans to initiate any positions within the next 72 hours. I wrote this article myself, and it expresses my own opinions. I am not receiving compensation for it (other than from Seeking Alpha). I have no business relationship with any company whose stock is mentioned in this article.