Some investors have a need for instant gratification. This is more of a trading mindset than a long-term investing mindset. I wouldn't recommend this for everyone, and I would suggest that those who do it only use money that you can afford to lose. One familiar name has presented an opportunity for short-term trading. Although Facebook (NASDAQ:FB) was an IPO dud, the stock has been moving enough for some trades on the long and short side.
Currently, the stock is oversold after falling to $19.52. I think that the stock should see a bounce higher from here. I would look for a $2 rise from here which represents a 10% gain. Since August the stock has been trading between $18 and $22. Although there is no guarantee that the stock will continue this pattern, I think that the stock is currently set-up for bounce higher as it is oversold along with the overall market.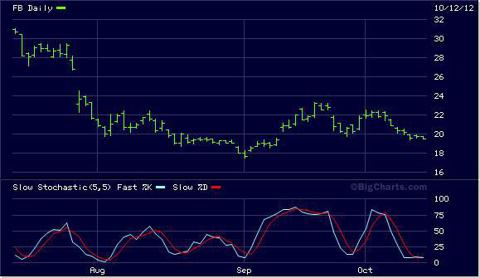 My suggested trade is to buy at the current price and sell on a $1 or $2 rise in the stock. This equates to a 5% to 10% gain. This is likely to happen within a few weeks, perhaps before the company's next earnings report. Once the stock hits $22 and no other positive catalyst arises to propel the stock higher, aggressive traders may consider shorting the stock. I would suggest using put options to accomplish this as the downside losses are defined.
I think that the short-term catalyst that will push the stock higher is the improved valuation and optimism heading into earnings. The PEG ratio has fallen under 2 to 1.49 and the price to book ratio is a respectable 3.14. This is indicative of a fair valuation. The company is expected to achieve a modest EPS of 11 cents for Q3. I think that investors will find the valuation more attractive and that many will buy before the earnings report, betting on an earnings beat.
If no other positive or negative catalysts arise with Facebook, then I would expect the stock to continue trading in this range. The company reports earnings after the market closes on Tuesday October 23, so this event will provide some near-term direction for the stock. If the company reports a solid quarter and gives positive guidance, the stock could see further upside.
The company needs to continue to increase revenue and earnings in order to grow for the future. Currently, the company derives most of its revenue from advertising and from fees associated with the company's payments infrastructure that allows users to purchase virtual and digital goods from the company's platform developers. Facebook now has the challenge of getting more revenue per user and keeping more users active. Earlier this month, Facebook announced that it has exceeded 1 billion total users.
Facebook makes an average of $3.20 in revenue per user in North America, but only 55 cents per user from those in Asia. China has been a challenge for the company as it competes with the country's own social media firms such as RenRen (NYSE:RENN), Sina (NASDAQ:SINA), and Tencent.
Facebook has been experimenting with a new source of revenue with its Promote a Post program. Under this program, users have the ability to click the Promote link under a recent post. The fee to use Promote varies according to geographic location and how many people users want to reach. The average fee is currently $7. It should be interesting to see how successful this program is. If the Promote program and its current advertising efforts are not successful, Facebook will need to find a better strategy to increase revenue and earnings, otherwise it will be a failure as a public company.
Facebook is expected to grow earnings annually at an above average pace of 27% for the next five years. If the company is able to achieve this growth, the stock has the potential to rise above $60 in five years.
I think the company does have the potential for huge future success; it just needs to work out a successful, sustainable revenue producing strategy. Thus, it has the potential to be a good long-term investment. In the meantime, we have uncertainty, which has created a range-bound stock price with short-term trading opportunities.
Disclosure: I have no positions in any stocks mentioned, and no plans to initiate any positions within the next 72 hours. I wrote this article myself, and it expresses my own opinions. I am not receiving compensation for it (other than from Seeking Alpha). I have no business relationship with any company whose stock is mentioned in this article.