Nearly 90-degree drops, gut-wrenching turns, and nerve-wracking thrills - you can find them all at one of America's favorite theme park giants, Six Flags (NYSE:SIX) [1.14, 0.00 (0.00%)], either by visiting one of its 20 locations nationwide or by simply following the company's share price. 
SIX stock has dropped to nearly 30% of its 52-week high of $4.24 and is down almost 40% year-to-date, but investors have recently enjoyed a surge of confidence upon the release of favorable second quarter (see earnings call transcript) and early third quarter results.
click to enlarge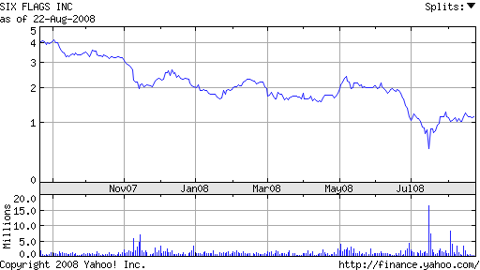 Amid all the economic concerns as of late, it is hard to imagine a company like Six Flags pleasing investors with fresh financial data. A simple glance at the 52-week chart explains why this company has been drawing eyes - how did a company with a market value of over $1 billion find itself treading under $100 million just a few weeks ago? With Shapiro and his gang at the reigns of Six Flags, expect some changes to be occurring both in the books and at the parks.
The Business Breakdown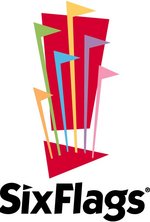 Six Flags is part of a cyclical entertainment industry that draws in the majority of the company's annual profits during the summer months. Essentially, July represents 30% of the business and August is 20%. Revenue is mainly divided into admissions (55% in 2007), in-park spending such as food and merchandise (43%), and sponsorship, licensing, and other fees (2%). Six Flags does not face much direct competition, but they lack strong pricing power as seen by the dip in 2006 attendance following an increasing in admissions prices.
Beating Expectations
Increased gas prices combined with lackluster consumer spending data have pushed a forceful sell-off this year in Six Flags stock and have obviously created an extremely difficult environment for Six Flags to operate under. Investors logically reasoned that less discretionary money on the table translated to fewer tickets and thus fewer profits for Six Flags. "People need to stop obsessing about attendance," says Shapiro in the second quarter conference call.
Aside from his theory that higher gas prices encourage penny-packing families to take an outing closer to home, he has proved that they do not need to completely rely on attendance growth. Second quarter attendance numbers fell 3% from the year before, but more importantly, total revenue increased 1% thanks to a whopping 55% boost in sponsorship and licensing revenue. Third quarter also reported to be off to a great start with 7.6% revenue increase. The fact that the second and third quarters combine for 85% of Six Flags' park attendance underlines the importance of these numbers.
New Management
In 2005, following several years in turmoil that amassed to more than $2 billion in debt, some of the company's largest investors began a proxy battle to gain control of the board and to remove former CEO Kieran Burke. The current executive officers, including CEO Mark Shapiro and CFO Jeffrey Speed, were primarily recruited from Disney and ESPN - new minds that came from enterprises that specialized in superior products and superior marketing of those products.
Niche Market No Good
Shapiro's plan seems to be focused on tapping new revenue sources while strengthening the core. This translates to increasing the overall quality of the parks but veering away from the nausea-inducing thrill rides in exchange for more family-friendly entertainment options. This approach is much like the Nintendo (OTCPK:NTDOY) Wii's successful reach to a much wider audience by simplifying and de-threatening the act of playing video games. Six Flags does have a devoted niche of predominantly teenage thrill-seekers, but in order to survive and actually make more than they are spending, expansion is the only route.
Five Golden Goals
In an effort to gear the company's path towards this goal, Shapiro and company designed a set of five key strategic objectives for their three-year plan shown below, most of which should be fulfilled by the end of this year. This is an incredible feat considering the fact that they came on board basically inheriting a $120 million capital plan for the first season that constructed 4 of the huge class of coasters that Shapiro believes do not provide a return on investment.
First and foremost: clean-up the parks and improve the overall guest experience; reposition the brand by diversifying the product offering. For the second consecutive year, the company's key guest satisfaction scores are at or above record highs.

Become free cash flow positive, which has not been achieved in the company's history. For 2008, if the company maintains its current trends with regard to revenues and cost control, the company should be free cash flow positive with an adjusted EBITDA nearing $280 million.

Achieve total revenue per capita of at least $40, or 20% cumulative growth from 2005. With approximately 1% guest spending growth and $56 million of sponsorship and licensing revenues, this objective is within reach this year.

Create and grow new high margin and low capital sponsorship and licensing businesses and achieve annual revenues in excess of $50 million. For 2008, management is currently targeting revenue of $56 million.

Operate at a profit margin for modified EBITDA of at least 30%. If the company sustains its current trends and achieves its target of being free cash flow positive for the year, then its modified EBITDA margin will likely top the 30% margin objective.

              (Source: Six Flags, Inc.).
Although there is a story, Six Flags comes with extreme risks. For one, their inability thus far to achieve positive free cash flow is a testament to the high expenses required in this industry. Total revenues also have a relative dependence on many chance-based events, such as weather, accidents, and natural disasters. One thing is for certain, however, and it is that Six Flags is undergoing a massive makeover under solid management. The years of negative earnings are beginning to sprout into profits, though at this stage in Six Flags' transformation, it is important to keep in mind the risks.
Disclaimer: The author does not hold any positions in the stocks mentioned above.