We all know that investing in mortgage real estate investment trusts (mREITs) is not for the faint of heart. Well, there's one mREIT that seems to be riskier and perhaps more unstable than most. It's Chimera (NYSE:CIM), a specialist in subprime mortgages that has undefined connections to Annaly Capital Management (NYSE:NLY).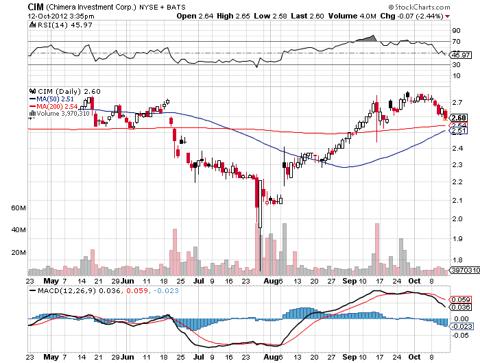 Chimera is one of the smallest mREITs, with a market cap of just $2.68 billion and a very low share price. Yet it is no bargain, despite its low share price and high rates of sales and income growth.
The reason the company is no bargain is obvious. It has not issued an earnings report in over a year. Some analysts even think that Chimera is violating SEC reporting requirements. These analysts also think that Chimera might be folded into Annaly at some point because it might be no longer capable of functioning as a stock company. In other words, Chimera might be close to collapse, which has some troubling implications for the entire mREIT sector. Is Chimera typical of mREITs or simply a badly managed small-time trust that can be safely ignored?
Well, judging by some of the numbers, the bears might be right about Chimera. The company hasn't reported its earnings since September 2011. Those earnings it did report back then don't make it look very good.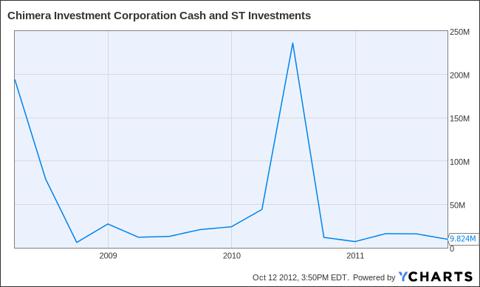 Chimera had only $9.42 million in cash and ST investments in September 2011. In contrast, Hatteras Financial (NYSE:HTS) had $566.87 million in cash and ST investments on June 30. In other words, Chimera had little or no cash at that time, even though it reported a sales growth of 153% and income growth of 64.5%. It also paid out a fairly high dividend of 36¢, which does not sound like much until you remember that is stock was trading at $2.60 on October 12.
The Rest of the mREIT Story
So high dividends don't necessarily mean a mREIT is sitting on a pile of cash. As you can see, Chimera apparently has no cash. These figures might have improved since last year, but we have no way of knowing. The company has not issued an earnings report. So should Chimera serve as a warning to stay away from mREITs or simply as an example of what to avoid in this category?
Chimera can be best treated as an example of what to avoid because it is atypical of the sector. Two Harbors Investment (NYSE:TWO), in contrast to Chimera, had $1.63 billion in cash and ST investments on June 30 and Apollo Residential Mortgage (NYSE:AMTG) had $140.9 million in cash and ST investments on the same date. So some lesser mREITs do have a lot of cash in the bank. Others, like AG Mortgage Investment Trust (NYSE:MITT), had only $19.76 million in the bank.
So in some ways, mREITs are just like any other company - you have to read the earnings reports and financials. The share price and the dividends are only a small part of the story as value investors know.
The Chimera story shows that investors have to watch mREIT financials like a hawk. These companies can burn through cash faster than almost any other vehicle in the market. It also shows that mREITs don't have a license to print money, and some of them can't seem to make any sort of profit.
The moral of the story here is to stay away from smaller mREITs like Chimera because most of them don't have much cash. Yet they can have a lot of debt. Two Harbors had $10.44 billion in long-term debt on June 30 and Chimera had $6.11 billion in long-term debt on September 30th, 2011. Since Chimera has not made an earnings report since then, it is safe to assume that debt has grown.
It is easy to see why mREIT investments are not for everybody. The risks in this sector are far greater than they have been made out to be. It is easy for a trust to become a sort of zombie stumbling around and accumulating more debts without earning any profits. Investors need to view Chimera as a cautionary tale, and even with all their pluses, mREITs are not automatic money makers.
Disclosure: I have no positions in any stocks mentioned, and no plans to initiate any positions within the next 72 hours. I wrote this article myself, and it expresses my own opinions. I am not receiving compensation for it (other than from Seeking Alpha). I have no business relationship with any company whose stock is mentioned in this article.