By: Brendan Gilmartin
eBay (EBAY) is scheduled to report 3Q 2012 earnings after the closing bell on Wednesday, October 17. The numbers are typically released at 4:15 p.m. EST and will be followed with a conference call at 5:00 p.m. eBay is expected to deliver solid results for the recent 3Q on strength in the PayPal and Marketplaces segments.

Back in July, eBay gave the following guidance for 3Q 2012:
Non-GAAP Earnings Per Share in the range of $0.52 to $0.54. The Street estimate is $0.55. (Source:

Yahoo

Finance)
Revenues are forecast in the range of $3.3 billion to $3.4 billion. The consensus is $3.4 bln.
With 3Q 2012 results potentially priced in, much of the focus will center on the outlook for 4Q 2012:
The current consensus for Non-GAAP EPS for the 4Q 2012 period is $0.68.
The consensus for

revenues

in the 4Q 2012 period is $3.94 bln.
Any adjustments to the outlook for FY2012 could also have consequences for eBay shares. Back in July, eBay said it expects net revenues in the range of $13.8 bln to $14.1 bln with non-GAAP earnings per diluted share in the range of $2.28 - $2.33.
eBay is seen posting solid results for 3Q 2012, thanks to ongoing strength in the PayPal business and its expanding leadership position in global payments, along with a pickup in the Marketplace segment.
eBay recently hit a 52-week high of $50.65 and is up 57.8% YTD. Following the advance, eBay is now trading at 4.8x sales and 20.3x cash flow, well above the 5-year averages (3.8x & 12.1x, respectively), implying the bar is set pretty high ahead of 3Q earnings.
Recent News
10/10: Robert Baird Analyst Colin Sebastian made positive comments on eBay from a media event in New York, according to a post on StreetInsider.com. The analyst reportedly maintained an Outperform rating on eBay with a price target of $58, citing improvements in its Marketplace site, higher conversion rates, pursuit of mobile users, and efforts to compete more effectively with Amazon (NASDAQ:AMZN) and Google (NASDAQ:GOOG).
10/04: Nomura Securities upgraded eBay from Neutral to Buy and raised the price target from $43.50 to $60.00, according to Benzinga.com, citing strength in the PayPal segment.
09/21: Cantor Fitzgerald initiated coverage on eBay with a Hold rating and a $48 price target, according to Benzinga.com. The Hold rating was based on valuation following the YTD run-up in the share price, but noted that improvements in the Marketplace division and strength in the PayPal business should support the shares.

Technical Review
eBay shares are up nearly 60% YTD and recently touched a 52-week high of $50.65 (9/14/2012). Since then, the momentum has faded, with the MACD pointed downward and the 20-Day SMA beginning to signal another move lower. The shares just slipped below the 50-Day SMA ($47.50) and are now sitting on support at $46.00 - a level going back to mid-June. Below that key level is downside risk to $44.00. Conversely, resistance is at $48.00, followed by the aforementioned peak of $50.65. (Chart courtesy of StockCharts.com)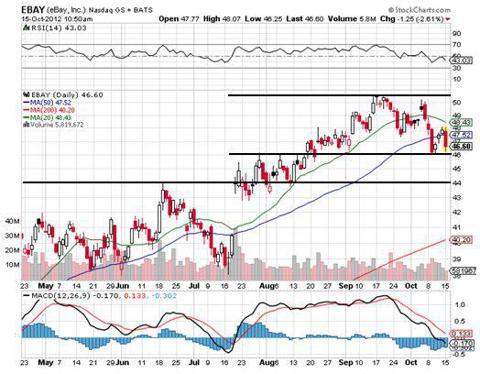 Summary
eBay has been on a tear this year, rising close to 60% en route to a peak of $50.65 on September 14, the highest level since early 2005. Strength in the PayPal segment, coupled with improvements in the marketplace division fueled much of the growth that catapulted the shares to these levels. Against this positive backdrop, the bar is set pretty high for eBay ahead of its 3Q earnings, leaving eBay vulnerable to any missteps. With 3Q results largely priced in at these levels, investors are more likely to focus on the outlook for the fourth quarter and balance of 2012.
DISCLAIMER: By using this report, you acknowledge that Selerity, Inc. is in no way liable for losses or gains arising out of commentary, analysis and or data in this report. Your investment decisions and recommendations are made entirely at your discretion. Selerity does not own securities in companies that they write about, is not an investment adviser, and the content contained herein is not an endorsement to buy or sell any securities. No content published as part of this report constitutes a recommendation that any particular investment, security, portfolio of securities, transaction or investment strategy is suitable for any specific person.
Disclosure: I have no positions in any stocks mentioned, and no plans to initiate any positions within the next 72 hours. I wrote this article myself, and it expresses my own opinions. I am not receiving compensation for it (other than from Seeking Alpha). I have no business relationship with any company whose stock is mentioned in this article.