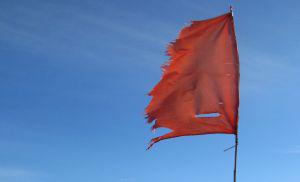 Alcoa (NYSE:AA) may have beat analysts' estimates, but forecasters say it's not a sign of good things to come. Instead, they have hoisted warning flags throughout Wall Street. Earnings reports will disappoint, they say, and managements will give forecasts of weak growth ahead. The implication is that stocks, likewise, will weaken due to poorer than expected results.
So, what's an investor to do? Actually, this looks like a good time to buy/own stocks, not sell them. Here's why.
The conditions for "negative surprise" are missing
Yes, stocks drop when negative news is suddenly reported. And, yes, a drop can be dramatic. For example, Edwards Lifesciences' (NYSE:EW) unexpected weak sales report last week produced an overnight reappraisal of the company's prospects and the stock's value.
(click image to enlarge)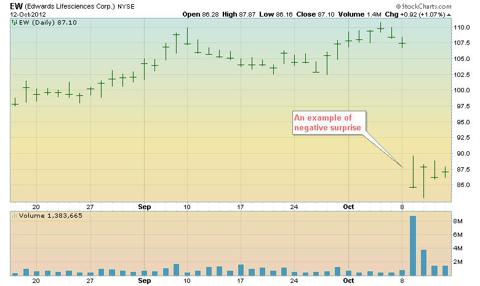 (Stock chart courtesy of StockCharts.com)
However, the current warnings aren't focused on specific companies. Instead, they suggest most earnings expectations are at risk. This approach and conclusion fails on three counts:
First, there's not the expectation of sudden, dramatically negative news. Rather, the basis is a link between macro forecasts (e.g., slower worldwide, economic growth) and company earnings. Not only is this amorphous risk hard to measure, it's also a repeat of the periodic bouts of "mega-fears" that have confronted the stock market over the past four years. Such worries tend to be more frightening than factual (e.g., remember all those forecasts of economic implosion from the disastrous housing foreclosure cycle?)
Second, earnings estimates come from Wall Street analysts whose skill and access to management allow them to make sound projections. Their analytical work includes modeling that encompasses outside factors to better ensure "real world" forecasts. Thus, the current discussion of negative surprises means these professionals have somehow gone astray en masse, producing overly optimistic earnings estimates from either a lack of understanding of exogenous effects, or an unwillingness to incorporate them. The only time such an occurrence can happen is when the stock market is booming, investors are excited and Wall Street is all aglow. Clearly, that is not an apt description of today's investment world.
Third, if something is expected (e.g., general earnings disappointment, as the myriad warnings would seem to imply), its arrival is not a surprise. And, in investing, the expected is already in the price. Moreover, fulfillment of an expectation (good or bad) can initiate an opposite move. It's a reflection of the Wall Street saying, "Buy (sell) on the rumor; sell (buy) on the news." Another way of viewing the price reaction is that, as soon as the news is out, investors move on to figuring out what's next.
A contrarian strategy: Buy/own stocks
So, what can we investors do to take advantage of this period of worry? With popular discussion on mega-trends and their effect on stocks in general, a good approach is to forget "the stock market" and focus on individual company stocks. To me, there are three groups from which to pick at this time:
Leading companies. Top companies have the three keys of success: (1) established, recognized business; (2) skilled management; (3) strong resources. In today's environment, #2 is the most important. Cognizant of the world and the company's place in it, skilled management can develop strategies that move the company ahead, including in times of slow economic growth. Thus, picking a company for management's skill remains a sound approach in this market.
Overly beat-up companies. Most markets have their supply of favored and ignored or disliked stocks. The natural cycles of investor preferences produces overdone price moves, both up and down. Now, with mega-worries being added to the mix, some recent underperformers have sunk even lower, making their stock charts look sick. Yet, some of these companies have interesting prospects, so the new, lower prices make for new, higher return possibilities. For example, see my article discussing Microsoft (NASDAQ:MSFT), Intel (NASDAQ:INTC) and Dell (DELL) last week.
New all-time high stocks. While the stock market is approaching all-time high territory, many stocks are already there. My logic for focusing on these is not to play a chart game. Rather, it's to spot companies where prospects/results have surpassed previous accomplishments. The bonus that comes with such stocks is the positive aura: All investors have a profit and are hopeful of further company and stock growth.
Since writing my June piece, "It's Time To Adopt A Non-Intuitive, Irreverent View Of The Market", all-time high stocks have been my approach until last week, when I added MSFT, INTC and DELL to the mix.
The bottom line
With so many investors concerned about negative surprises from the coming earnings reports, we don't need to worry. Unless something unexpectedly bad occurs, this earnings period should be like any other, with more companies exceeding analyst estimates than not. Moreover, with so many investors and pundits factoring in disappointment, a normal reporting period could actually provide a lift for stocks.
This environment favors a stock-by-stock investment approach. Differentiation has been strong in the stock market, so opportunities exist at both the outperforming growth end and the underperforming contrarian end.
Disclosure: I am long MSFT, INTC, DELL. I wrote this article myself, and it expresses my own opinions. I am not receiving compensation for it (other than from Seeking Alpha). I have no business relationship with any company whose stock is mentioned in this article.