On-going disruptions to South African platinum group metal (PGM) mine supply highlight the operational fragility of the entire South African mining industry. The strikes that erupted at the country's various PGM mines earlier this year were not confined to this sector alone, having spread to the gold, diamond, and coal mines, as well as the truck transport, docks, and other industrial sectors. In addition to the wage related issues, which have been the focal point of the strikes in the South African mining industry, workers have a wide range of grievances against the government, the ruling party, the National Union of Mineworkers (NUM), mine management, and the upstart union fighting to displace the NUM. Many of the deepest rooted grievances have nothing to do with the mines, but the mining companies are paying the price, as the most readily available target for workers' anger.
The country's mining sector also faces potential shortfalls of electricity supply and other problems. Capital will be difficult to raise in the face of continued talk about nationalizing the mines, despite the government and African National Congress both trying to pretend that talk of nationalizing the mines has been put behind the country. Both labor and electricity are critical inputs to underground mining, and their costs have been rising at a rampant pace over the past few years.
South African labor costs have been rising at a strong pace, as can be seen in chart 1. This chart shows how average wage inflation in South Africa's mining sector has been consistently higher than the benchmark inflation used as a measure for such increases, which is inflation plus two percent. CPM Group raised its labor cost growth projections for the medium term under the assumption that elevated pressure from workers will persist. Additionally, it is assumed that the methods by which unions and companies negotiate two-year wage agreements may change. Whatever this change may be, it is expected to result in stronger wage increases in the near term as smaller unions gain more negotiating power. Labor is the largest component of mining costs, accounting for approximately 50% of the total.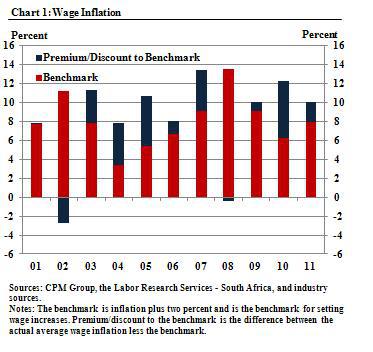 Similarly, electricity tariff rates have been rising at a rapid pace in recent years (Chart 2), as Eskom, the country's state-owned utility, ramps up capacity. Under-investment in South Africa's power sector for decades has resulted in a significant shortfall in electricity generating capacity. Matters could get more complicated if strikes at coal mines in South Africa negatively affect the supply of this commodity to Eskom, which is heavily dependent on coal to generate electricity.
Electricity costs have been rising more than 15% per annum since 2008. Eskom is expected to submit a tariff proposal application to the National Energy Regulator of South Africa (NERSA) at some point this year. It had expected to do so by the end of September; however, such an application has yet to be submitted. The utility's previous application requested a 14.6% annual increase over the next five years, which NERSA rejected. CPM Group has assumed that electricity costs will increase by at least 12% each year between 2013 and 2017 and then increase at the rate of inflation going forward. Electricity accounts for approximately 10% of PGM mining costs.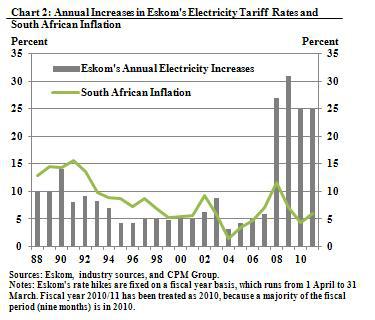 Inflation in the costs of both of these factors is expected to raise the operating costs of mines in South Africa. South African PGM mines are deep-level mines, which inherently have higher operating costs because of the need for more skilled labor, sophisticated equipment, and additional electricity costs for cooling their deep underground shafts. That said, PGM miners in South Africa have been dealing with and have managed to cope with challenging working situations for decades and costs associated with these mines have been rising at a strong pace for several years. South African PGM mining cash costs have risen at a compounded annual growth rate of 12.8% since 2000.
The recent strikes in the South African mining sector could have numerous consequences beyond the most apparent losses in output and higher labor costs. The strikes could result in an increase in cash costs both as a result of an increase in input costs (labor costs) and as a result of reduced output (increase in costs on a per ounce basis). It would also encourage miners to try to find ways to reduce dependence on labor by increasing their efforts to develop mechanized mining, although past efforts in this area have failed in South Africa's narrow-vein mining environment. Lastly, it could potentially dissuade investment in the sector, which would have a long-term negative impact on total mine supply. This would be positive for prices of these metals, given the concentration of PGM mine supply from South Africa: The world is heavily dependent on South Africa for supply of PGMs, critical to many modern technologies. As of 2011 South Africa holds approximately 95% of known global PGM geologic reserves and was producing most of the world's current output for platinum, rhodium, iridium, and ruthenium.
Despite the loss in current output and the threat to future mine supply due to the various problems faced by the industry, the prices of these metals have not responded quite as strongly as might have been expected. Prices have declined in recent weeks, when one would have expected them to rise further or at least remain at high levels reached in September, given the on-going problems in South Africa's platinum mining industry.
The price of platinum settled at $1,659.30 on 12 October, down $54.40 or 3.2% since 14 September, when prices had settled at $1,713.70. The settlement price on 14 September was the highest settlement price for platinum since late February 2012. The price of palladium has declined even more sharply than that of platinum, having settled at $639.90 on 12 October, down $60.25 or 8.6% from the $699.30 settlement price on 14 September.
Supply-related disruptions in South Africa typically have had a stronger impact on the price of platinum than on the price of palladium, largely because of the greater concentration of platinum's mine supply from South Africa compared with that of palladium. As of 2011 South Africa accounted for approximately 64% of total platinum supply and 31% of total palladium supply (including metal recovered from scrapped manufactured items).
Deviating slightly from the topic being discussed in this section, the impact on gold prices of the strikes at various gold mines in South Africa has been minimal. This is because South Africa today accounts for a relatively smaller portion of total global gold mine production than it did in the past. In 2011, South Africa accounted for 7.6% of total global gold mine production, which compares with around 15% from China, the largest miner of the metal.
Reverting back to the PGMs, to a great extent the decline in platinum and palladium prices in recent weeks can be attributed to anticipation among investors of a resolution to the labor unrest in South Africa at some point, a slowdown in global economic growth, and the negative impact of such a slowdown on the fabrication demand for these metals.
Fabrication demand plays an important role in determining the prices of these metals, given that they are essentially industrial metals, with a multitude of industrial uses. Investment demand PPLT, PALL,GLTR, WITE, however, plays an even more important role in influencing the prices of these metals, largely because of the small and illiquid nature of these markets. Some portions of PGM fabrication demand are showing signs of softness. Some investors anticipate global demand could potentially get worse before it gets better; such investors are expected to continue liquidating their holdings in metals such as the PGMs, as they have been since last September, given these metals' reliance on industrial demand. A slowdown in investment demand coupled with investor selling out of concerns over a potential slowdown in fabrication demand has been offsetting the upward price pressures of recent mine supply disruptions.
Over the longer run the supply and demand fundamentals of the PGMs remain intact, with mine supply from South Africa remaining potentially constrained and the potential for substitution away from these metals in their fabricated uses highly unlikely. The higher forecast price of these metals now expected may increase the amount of thrifting of the metals (reduction in usage on a per unit basis). The sheer increase in the volume of PGM bearing products being manufactured is expected to offset any loss in demand resulting from such thrifting.
The longer term fundamentals of the platinum group metals remain positive. Platinum group metals prices are likely to soften in the near future on concerns regarding demand growth. These prices declines should be used by investors as a buying opportunity. Investors should consider purchasing platinum group metals via the various exchange traded funds mentioned above, with a longer term objective.
Disclosure: I have no positions in any stocks mentioned, and no plans to initiate any positions within the next 72 hours. I wrote this article myself, and it expresses my own opinions. I am not receiving compensation for it. I have no business relationship with any company whose stock is mentioned in this article.