Zynga (NASDAQ:ZNGA) was worth more than Electronic Arts (NASDAQ:EA) in early-2012 by market capitalization, a situation that now has proved itself unsustainable. While it was at a higher valuation than EA, Zynga was able to attract executives with a proven track record in the industry. Zynga's misfortune may be summarized in the same way as explaining how organisms have a better survival rate in an ecosystem: mutualism.
The mutualistic relationship between Zynga and Facebook (NASDAQ:FB) that supported exponential user-growth fell apart, because social network usage on the desktop did not support a growth in profits. Facebook needed to grow earnings from desktop users, and decided to promote apps through the "App Center." This reduced the exposure of Zynga games on the site.
Zynga and Facebook shares are highly correlated to each other, supporting the view of a mutualistic relationship between the two companies: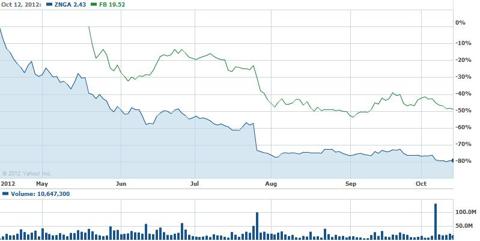 (Chart Source: Yahoo Finance)
Zynga has lowered forecasts for 2012. The company reduced its EBITDA guidance from the $180 million to $250 million range to just $147 million to $162 million. Zynga was correct in looking to expand in the mobile gaming space, but admitted its OMGPOP acquisition was not worth the amount it paid. The company will be writing down $95 million. Zynga paid $180 million at a time when popularity for the "Draw Something" mobile game was beginning to decline.
According to finviz.com, Zynga has a book value of $2.45 per share, and 759.63 million shares outstanding. With $1.6 billion in cash and investments, Zynga has cash of $2.11 per share. Now that shares are trading at $2.43, what will happen if and when Zynga trades below its cash level?
Analysis
Shares typically approach a bottom when rumors circulate the company will be bought out or taken private. Seeking Alpha's market currents already reported that CEO Mark Pincus re-tweeted an analysis supporting an argument that Zynga be taken private. At prices below cash per share, the urgency to take the company private or be bought out become greater. Cash burn rates should be expected to reduce the cash balance. In November, Nintendo (OTCPK:NTDOY) is releasing a new Nintendo WII U device. There is a risk that consumers, already tiring of social network games, might embrace console games again. This bodes well for Activision (NASDAQ:ATVI), which designed a Call of Duty game specifically for the unique WII U interface. Electronic Arts will be making its popular FIFA 13 and Madden NFL 13 titles available on the WII U. Even without EA, EA sold over 4.5 million copies of FIFA 13 in the first 5 days after its release.
Renewed consumer interest in console games will be competition for games on mobile devices and on Facebook. If console games revive, Zynga will need more cash to remain relevant. In its current state as a stand-alone public company, risk is rising that the company will have the public market support to increase its R&D spending.
Catalysts Pushing Zynga Shares Below $2
There are a number of additional catalysts that could push Zynga shares below the critical $2 level. First, an avalanche Facebook shares could further renew disinterest for social networking companies. Facebook's insider sale schedule was covered here.
Second, weak revenue from Zynga will also impact Facebook's revenue when Facebook reports on October 23. The news would remind investors that Zynga is becoming less relevant to the social media giant's future strategy for growth. Without growth from Facebook, Zynga will need to accelerate growth in the mobile space, a move that will consume cash. Markets will anticipate a reduced cash balance, which will further justify a lower share price.
Third, there is early indication that Nintendo's new WII U will be a success. Preorders for the console were reportedly sold out at online retailers in September. Consumers could renew their interest for console games as they replace their time once spent on social media games. Lower demand for Zynga games will make it harder for the company to regain popularity for any of the titles that were successful once before.
Conclusion
Zynga is very likely to fall further, but at prices below $2, there will be louder calls for Zynga to maximize shareholder value. At that level, speculation of the company privatizing will provide the primary support for Zynga shares. As Zynga searches for profits in the mobile space, it will hurt shares. Mobile gaming could be declining too, a view supported by recent actions from EA. In September, EA reduced staff at its PopCap mobile games unit by 96 staff. Speculators may profit from Zynga seeking to be bought out, but longer term investors should realize that social network gaming is on a perpetual decline.
Disclosure: I am long EA. I wrote this article myself, and it expresses my own opinions. I am not receiving compensation for it (other than from Seeking Alpha). I have no business relationship with any company whose stock is mentioned in this article.