We have been chronicling the secular shift in retail sales from bricks to clicks over the last several years as online sales have been steadily increasing to record highs. The increase in sales of online retailers (clicks) has come at the expense of several sectors (brick and mortar retailers), but none have been more negatively impacted than retailers of electronics and appliances.
This month, however, Electronics & Appliances received a temporary reprieve from the secular decline with an increase of 4.5% during the month. So what was behind the big increase?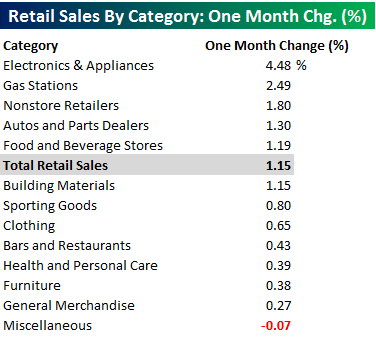 Unfortunately, for retailers of electronics and appliances this is unlikely to be the start of a new trend of growth for the group. Instead, the increase can be summed up in one word: Apple (NASDAQ:AAPL). As shown in the chart below, the two biggest months for the group in terms of sales growth since 2010 were in October 2011 and September 2012. These two months also happen to be the months where AAPL released the iPhone 4S (October 2011) and the iPhone 5 (September 2012). Now, if only AAPL could release a new blockbuster product every month.