Apple (NASDAQ:AAPL) has experienced extreme volatility recently and I have capitalized with option strategies since 2010 with positive results (past performance is not indicative of future returns). For reference, please view the first and other articles in the series to understand the strategy and its potential returns. This strategy is to simultaneously generate income and reduce your effective cost basis by selling out-of-the-money options to generate weekly income without sacrificing long-term returns. Even if you have no plans to engage in the options market this is your one-stop primer for the critical Apple developments from the past week.

(Source: Yahoo Finance)
A brief recap of this week in Apple, which was down $17.17 (-2.7%):
Apple has been in a tailspin for the past month as the share price has sunk from $705 to below $630. This is not the first time that Apple has declined in excess of 10% in 2012 as the pattern has emerged in April, May and most recently July. Investors are quick to panic at any bad news and October 2012 has been another classic case of investors overreacting to marginally negative news. This selloff is more surprising than usual as the iPhone 5 launch was very positive with demand far outstripping supply. Analysts were expecting approximately eight million iPhones to be sold in the launch weekend but I am not overly concerned by the miss because the demand is far outstripping supply thus far. The iPhone 5's killer features of speed, lightness and thinness are proving insatiable for potential consumers. The iPhone 5 and New iPad are certainly going to be on the top of potential customers' holiday shopping list and Apple's stock price should certainly be significantly higher by year end.
Below I will highlight the five primary negative rumors and events for Apple that have occurred in the last week. Shorts may have been using these items below to justify the positions but I will analyze them and refute them below.
1. Consumers Will Not Buy The iPhone 5 Due To Lack Google Maps:
For a still unknown reason, Apple decided to remove the Google Maps app from iOS 6 and replaced it with its own proprietary mapping service powered by TomTom. Rumors have been swirling that Google was not fully cooperating on improving the app but the complete truth has not been disclosed. There is no disputing the fact that there are issues with Apple Maps but they are being magnified by the media. Most consumers are satisfied with Apple's offerings and are not vocally complaining. By year end I fully expect Google to have released a map app that will rectify any lingering issues. It is difficult to quantify the amount of lost sales due to the mapping switch but it is likely an insignificant group.
2. Labor Unrest at Foxconn Will Cause Apple To Miss Revenue Targets
The vast majority of Apple products are designed in Cupertino but created in various factories across Asia. Investors should remember that virtually all electronics that we use in the United States are made in Asia and that the working conditions are frequently below-average by our standards in the Western world. The iPhone 5 has reignited concerns regarding Apple's labor practices as there have been reports of labor unrest and strikes at Foxconn. The aluminum material utilized in the new iPhone is highly susceptible to damage and this necessarily caused Foxconn to improve its quailed control standards (this is discussed in point three). The lower than expected supply of iPhone 5s at launch will certainly impact Apple's earnings this quarter. However, any production hiccups will likely just be short-lived and reverse in the subsequent quarter.
3. iPhone 5 "Scuff-Gate" Will Reduce Demand
iPhone 5 users have noticed that their shiny new phones have scuffs and other tiny marks upon opening the phone. In Apple's effort to lower the weight of the iPhone it had to remove the glass backing and replace it with a lighter material. As a result, the iPhone uses aluminum which is a lighter, more malleable metal that naturally scuffs more easily. Just like "Antennaegate" with the iPhone 4, this early controversy will blow over and Apple will continue its climb.
4. "Purple Haze" From The iPhone 5 Camera Indicates Low Quality Devices
Consumers have been reporting a "purple haze" effect when taking pictures with their iPhone 5 and there is a bright light source just out of the frame. Consumer Reports stepped in to calm people down by affirming that purple hazing is common for virtually all cell phone cameras and even those of expensive cameras. The answer is simple for all photographs: do not take pictures of direct sunlight. Another non-issue for Apple.
5. Samsung Galaxy S III Mini Will Take Demand From The iPhone 5
The Samsung Galaxy S III is a solid competitor to the iPhone for consumers who would like a device with a larger screen. Samsung recently announced that they are creating a smaller version of the Galaxy S III which aims to strike at Apple's flagship phone. Unfortunately for Samsung, the iPhone 5 is superior in virtually every way whether it be thinness, screen resolution, or processor speed. Investors can justifiably not worry about competition from this device as it is essentially just another average Android phone.
Now that I have hopefully eased your concerns of why you should not sell Apple, I will mention some catalysts that will drive Apple to my $750 eight month price target. Apple will announce the iPad Mini later this month that will certainly be the "must have" product for the holiday season. The margins on the $250-$400 tablet will certainly be lower than those of the iPad and iPhone but this is a complementary product. Consumers are not deciding between an iPad Mini and an iPad but rather are debating whether to get the Amazon (NASDAQ:AMZN) Kindle Fire or the iPad Mini. It is interesting that Google has appreciated so significantly while Apple has declined as Google has had no real positive news that could explain the rise. Google investors may want to take this opportunity to book some gains and add to their Apple position.
Investors would be wise to take advantage of the stock's recent pullback and initiate a position. At the end of this article I discuss covered call and cash secured put strategies but these large Apple declines are well aligned with purchasing long Apple calls. I suggest January 2013 $705 calls currently trading between $13.80. These calls are attractive because they magnify your potential returns and do not require the upfront commitment of capital when buying the associated shares. Remember that you do not need to hold the calls to maturity and can freely trade them for a profit well before January.
Below I present three possible scenarios and the potential returns for the Apple options. The first scenario represents a negative outlook for Apple while the final two scenarios are more reasonable. These scenarios are forecasts and there is no guarantee that they will come to fruition. Even if you are optimistic it is important to consider both positive and negative circumstances in order to stress your assumptions. As a general rule, selling calls with higher strike prices has greater potential return but additional risk of loss due to the lower (or lack of) downside protection. For more information on the fundamentals of covered calls, consult Investopedia.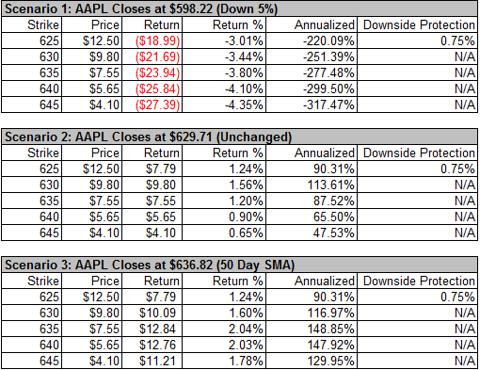 Additionally, if you would like even more information, I have prepared a sensitivity analysis for absolute return and percent returns, respectively. After studying the information above, these two charts make it easy to pick a strike price based on where you believe Apple will close at the end of the week. Estimate where you believe Apple will close and select the strike price with the highest return.

With this information, executing a buy-write on AAPL October 19 (Weekly) 640s is the optimal risk-return strategy as an opening Apple transaction. If you are uncomfortable with this strike I would consider a buy-write in the range of 635-660. Even if you are extremely bullish you can still profitably sell covered calls. Apple is volatile enough that you will have opportunities to repurchase on further dips. An alternative approach is to sell out-of-the-money 625 puts and collect the premium without having to purchase the stock outright. The 625s are currently trading around $8.15 and appear to offer the best risk-reward profile for the week. The long calls discussed above entail much more upside potential but the drawback is the higher risk assumed. Note that if the stock declines to the strike price, you are obligated to buy the stock (or close out the position). You should always consider the risks (particularly with naked calls or puts) raised in this article in light of your personal circumstances (including financial and taxation issues) in consultation with your professional financial adviser.
Disclosure: I am long AAPL, GOOG. I wrote this article myself, and it expresses my own opinions. I am not receiving compensation for it (other than from Seeking Alpha). I have no business relationship with any company whose stock is mentioned in this article.
Additional disclosure: Author is long AAPL Jan 2013 $705 Calls. Please refer to my profile page for disclaimers.