Savient Pharmaceuticals (NASDAQ:SVNT) was the best performing biotech stock in the third quarter, rising 363%. The increase in price was due to a reorganization plan to cut costs and drive growth, a favorable decision on a dispute with a noteholder, and a 30% sequential quarter increase in revenues.
Bond and stock price changes
Although the increase in the stock price was phenomenal, the 4.75% 02/01/2018 Convertible Notes have barely moved.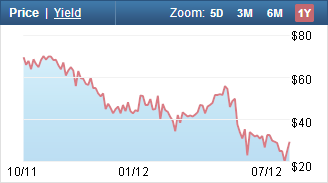 (Source: FINRA)
At the last price of $29.50, the yield to maturity is 34.62%. I haven't managed to find prices for the new notes that mature in 2019.
Corporate bond prices that remain stubbornly at such low levels signal that a company may be in trouble. The most recent examples, that I know about, of companies with bond prices that didn't increase that much although the stock price increased a lot are:
1. A123 Systems (AONE)
Stock price increased 103.37% from $0.82 to $1.67 while the bond price increased 24.75% from $25.25 to $31.50 during the period 05/21/2012-06/12/2012. The bond now trades at $33.00 yielding 41.59% and the stock trades at $0.25. A plan for a partnership with an outside investor was announced that will dilute shareholders.
2. China Medical Technologies (OTCPK:CMEDQ)
Stock price increased 1900% from $0.60 to $12 while the bond price increased 13.14% from $35 to $41 during the period 02/28/2012-06/27/2012. The bond now trades at $12.50 yielding 495.33% and the stock trades at $2.00. The company was forced into bankruptcy by bondholders.
This discrepancy in price movements between stocks and bonds can be explained by the different type of investors in the two markets. Bond investors are known to be a lot more shrewd and analytical than equity investors who at times make decisions without much analysis and driven by price momentum. Bond investors are correct, more often than not, on their assessment about the future prospects of a company as reflected by low bond prices.
Stock borrow rates and short sellers
Like bond investors, most short sellers are also quite analytical and risk-averse on their approach since stock prices tend to move higher on any sliver of good news or rumors.
In my experience, a very high interest rate to borrow a stock shows the willingness and the conviction of short sellers. Currently, typical borrow rates for stocks of well known large companies can be as low as 0.25%. Smaller companies can have borrow rates in the range of 5%-10%. When the probability of a decrease in the stock price of a company is very high, the interest rate may be in the range of 30%-50% and rarely even higher.
The stock borrow rate for Savient Pharmaceuticals in the last few weeks is close to 100%.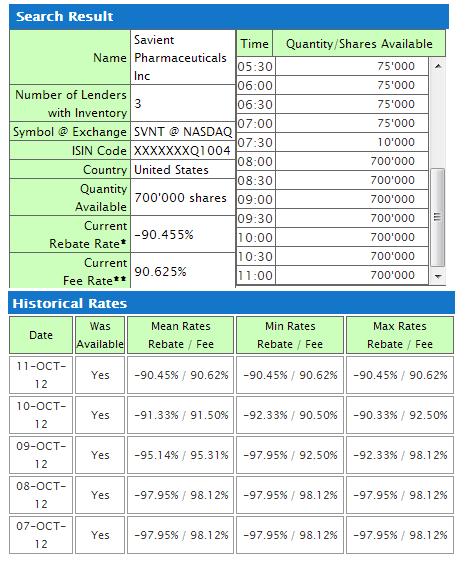 (Source: Interactive Brokers)
It is not common to find such high stock borrow rates. Every time I have encountered rates close to or in excess of 100%, the company was way overpriced or in distress and a collapse in price followed. One of the most known companies for which I have personally paid a rate of over 100% to short its stock was Ambac Financial Group (ABKFQ.PK) which ultimately filled for Chapter 11.
Analyst target prices
Research papers have shown that sell-side analysts tend to be biased due to conflicts of interest and are most of the time too optimistic. It is rare to see a mean target price for a stock that is below the current trading price and if that happens an investor should be alarmed.
This phenomenon is apparent from the numbers of the following table which shows the current situation of target prices for companies listed on stock exchanges in the US.
(click to enlarge)

(Source: Screener.co)
Out of 3,893 stocks that have a target price calculated by analysts, only in 431 cases the target is lower than the trading price. Even more striking is the fact that only 44 stocks have a target price which is over 25% lower than the trading price. That is just 1.13% of the population, which is pretty significant.
Savient Pharmaceuticals' mean target price is $1.67 which is 26% lower than the $2.26 closing price. Two analysts have a $1 target price and one analyst has a $3 target price.
Company situation
Savient Pharmaceuticals is currently unprofitable, has a high cash burn rate, and negative shareholder's equity. At the current valuation the stock market participants have already discounted a considerable improvement in the company's operations and prospects. I don't know if they are right or wrong. However, if there is little or no improvement the valuation will be proved to be unjustified.
Timing and technicals
Investors thinking that the bondholders, the short-sellers, and the analysts are right, and the company is overpriced, would be better to wait for the stock price to move under the $2 support before initiating a short position.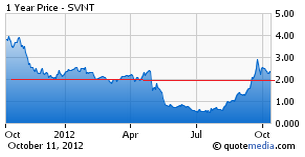 Conclusion
As a rule when a very low bond price is coupled with a very high stock borrow rate, and on top of that the mean stock target price of analysts is lower than the current trading price, the developments are not good for shareholders. Of course every rule can have exceptions, but I am not betting that this is the time it will be different.
Disclosure: I am short SVNT. I wrote this article myself, and it expresses my own opinions. I am not receiving compensation for it. I have no business relationship with any company whose stock is mentioned in this article.