Existing-home sales (seasonally adjusted) rose 3.1% to an annual rate of 5 million units in July, from a downwardly revised level of 4.85 million in June. These are 13.2% percent lower than the 5.76 million-unit pace in July 2007.
The sales level was the highest since 5.03 million in February, while the monthly gain was the biggest one since March 2007.
Total housing inventory rose 3.9% to a record 4.67 million existing homes available for sale, representing an 11.2.-month supply. This matches the highest inventory totals ever. The NAR has said a 5-6 month's supply is what is seen in stable housing markets.
Prices also fell. The national median existing-home price for all housing types was $212,400 in July, down 7.1% from a year ago prices of $228,600. The NAR notes that "The only valid comparisons for median prices are with the same period a year earlier due to the seasonality in buying patterns. Month-to-month comparisons do not compensate for seasonal changes, especially for the timing of family buying patterns. Changes in the geographic composition of sales can distort median price data."
We have mentioned this seasonality before, but that is not the only factor involved in the monthly sales increase. About 40% of the existing home sales are now distressed nationwide. Hence, the downward pressure on prices, which are attracting value buyers.
Of course, the usual parade on CNBC got this one wrong -- again.
Non Seasonally Adjusted Existing Home Sales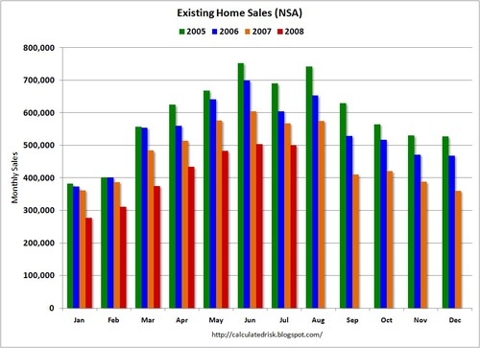 Chart courtesy of Calculated Risk

Previously:
Existing Home Sales, Non Seasonally Adjusted, Explained (March 2008)
http://bigpicture.typepad.com/comments/2008/03/existing-home-s.html

Revisiting Housing Seasonality & the Perennial Bottom Callers (July 2008) 
http://bigpicture.typepad.com/comments/2008/07/revisiting-seas.html
Source:
July Existing-Home Sales Show Gain
NATIONAL ASSOCIATION of REALTORS, August 25, 2008
http://www.realtor.org/press_room/news_releases/2008/july_ehs_show_gain