Last week, Reuters published an interesting article on Amazon (NASDAQ:AMZN) in which it details a deal to purchase content from premium cable network Epix, which is operated by Studio 3 Partners -- a joint venture among Viacom, Metro-Goldwyn-Mayer, and Lionsgate. Amazon provides unlimited streaming video to its Amazon Prime subscribers, which also gives members free second-day air shipping on anything they buy directly from Amazon. (That is, it does not cover purchases made on Amazon's website from third-party partners.)
The question is: What are the implications of this partnership?
In the deal, Amazon is to purchase content on an unusual premise. Fees will increase if the subscriber base increases. The article goes on to make the following major points:
Amazon to pay an up-front fee plus more if subscriber level increases
Deal is termed "generous" on the part of Amazon
May be a game changer for Netflix
Amazon's costs are higher than that of Netflix on a per-subscriber basis
Also, according to the Reuters article:
The generous terms of the deal, announced in September, provide the strongest evidence yet that Amazon is willing to pay up to be a player in this market as it faces a dwindling demand for DVDs -- once its core entertainment offering - and tough competition for its Kindle Fire tablets.
So what is going on here?
Amazon competes with several players in the streaming video field. Netflix (NASDAQ:NFLX), of course, is the big player with about 25 million streaming video customers in the U.S. Then there's Apple (NASDAQ:AAPL) with its iTunes store that has video to either buy or rent, although to date it does not have a subscription service. Hulu Plus is another competitor, along with some cable providers such as Comcast (NASDAQ:CMCSA).
For Q2 2012, Netflix reported approximately 23 million paid domestic streaming subscribers, with a quarterly revenue of $533 million, and a contribution profit of $83 million. The contributing margin was 15.6%. At a $7.99 per-month subscription rate, that's $95.88 per year. This compares with Amazon's $79/year subscription rate.
A Tale of Two Tails
This is a most interesting situation. Is Amazon getting into bed with the devil here? The studios have always tried to maximize their profits with little care as to the fallout for their partners. Netflix is reportedly paying $200 million to Epix on the current contract, but this will put upward pressure on their fees for the future.
In all, the situation puts a lot of pressure on Amazon as it has a lower-cost service that also provides users with other benefits (e.g., free expedited shipping). It also encourages the studios to replicate the more favorable terms with other providers such as Netflix, but this can go in a circle with ever-increasing demands by studios for all players.
So, does Amazon have the devil by the tail?
On the Other Hand…
We all know that Amazon can also be heavy-handed. Its pseudo-monopoly in books has allowed it to be very aggressive in pricing. Its eBook policies have driven down the share for both publishers and authors, and it has even enlisted the U.S. Justice Department in a battle against Apple and the publishing companies.
Surely, Amazon would like nothing more than to drive Netflix out of business so that it could turn on the studios and write its own terms. So now the question is: Is it the studios that have the devil by the tail?
Conclusion
The fact that Amazon is willing to give such favorable terms to Epix shows just how important it thinks it is. Both parties, however, are severely competitive for their own self-interest. So the future will be very interesting as we see how this all plays out, as we see in the end who has whom by the tail.

Click to enlarge image.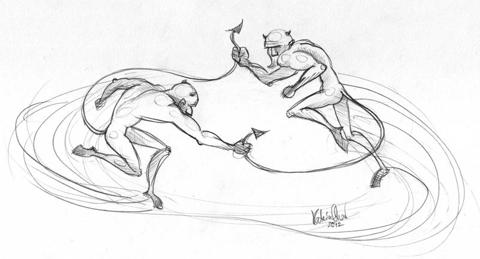 Source: Drawing by Katrin Orav.
Disclosure: I am long AAPL. I wrote this article myself, and it expresses my own opinions. I am not receiving compensation for it (other than from Seeking Alpha). I have no business relationship with any company whose stock is mentioned in this article.