In these relatively tough times for the big pharmaceutical companies, Merck & Co (NYSE:MRK) has a solid financial position, a diversified product pipeline, and has made progress by showing promising trial results. We will discuss two such prominent results and estimate their impact on Merck. The company has generated enough cash flows in the past and has provided a five-year average dividend yield of 3.82% (currently 3.68%). We believe that its strong financials and cash flows will allow the company to continue on its path, and therefore recommend the dividend paying stock as a buy.
Merck & Co is global biopharmaceutical company delivering healthcare solutions through prescription medicines, vaccines, biologic therapies, animal health, and consumer care products. The company has four operating segments: 1) Pharmaceutical 2) Animal Health 3) Consumer care and 4) Alliances, and one reportable segment, Pharmaceutical. MRK's only patent expiration to speak of is Singulair's, the drug which lost its marketing exclusivity in August in the U.S. to be followed by major European markets in early 2013 and in Japan by 2016. The drug, used for the prevention and long-term treatment of asthma, accounted for $4.865 billion in worldwide sales for the fiscal year 2011 and $1.43 billion in the last quarter. In August, the FDA gave 10 generic manufacturers the green light for producing the generic version of Singulair. The generic competition will eat away 90% of the sales, reducing the annual sales figure of Singulair to $500 million.
Chart 1: Upcoming Patent Expirations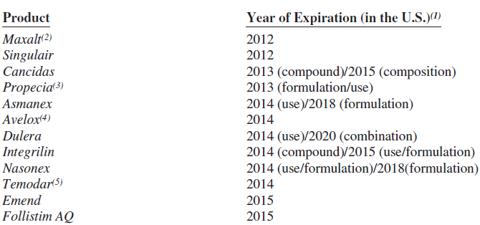 Source: 10-K
For the last quarter, sales figures for Maxalt and Cancidas were $154mm and $166mm, respectively. Like other major pharmaceuticals, MRK as well is looking to replenish its product line to make up for the current and upcoming patent expirations. It plans to file five major products for approval between 2012 and 2013: 1) Suvorexant (insomnia) 2) Bridion (reversal of neuromuscular blockade), 3) V503 (cervical cancer vaccine), 4) Odanacatib (osteoporosis), and 5) Tredaptive (atherosclerosis).
About Merck's leading upcoming drugs:
Late stage results for its insomnia drug named Suvorexant, in June, revealed that the therapy enhanced the ability of patients to fall and then stay asleep. The drug, by targeting and blocking the neurotransmitter orexin, which regulates wakefulness, is deemed to be different than other medicines on the market. What this means is that the drug works on the patient without sedation, a method which all of the older version of sleeping pills rely on to put the patient to sleep.
In the presence of well established sleeping pills such as Lunesta and Ambien and the availability of cheaper generics, Merck will try to make its mark based on the drug's safety profile. The FDA was worried a few years back about strange behaviors such as driving and eating while sleeping in people who took the sleeping pills. For example, in one case, a woman woke up to find a paint brush in her hand with which she had painted her front door. Given the fact that insomnia isn't a life threatening disease, the FDA will be more rigorous in its screening process focusing on the safety profile and potential of abuse for the insomnia treating drug. On the other hand, the issue for Merck will be to grab a market share in the presence of older medicines. By targeting orexin, MRK's medicine is different from others and the company hopes to cash in on its novelty.
Estimates provided for the number of people affected by insomnia stand between 70-80 million in U.S. But more revealing is the fact that only some 20% of the stated numbers have been prescribed sleeping pills. Possible reasons for this gap might include unwillingness on part of the patient to be receiving such a treatment and the reluctance of doctors to prescribe these medicines since they carry certain risks. In theory, the emergence of a drug that becomes popular with the doctors due to its relative better safety profile could be lucrative for the drug manufacturer as it would be able to tap in to a large market. Currently, the three classes of sleeping drugs include 1) Benzodiazepines, 2) Z-Drugs, and 3) Antihistamines. Zolpidem (Ambien), a Z-Drug, had peak sales of $2.2 billion and Lunesta, another Z-Drug, had peak sales of $1 billion. Merck expects to earn $800 million from Suvorexant in 2016.
Another major drug which has been a harbinger of good news for the company has been osteoporosis drug Odanacatib. The mid-stage trial for the drug revealed that hip and spine bone mineral density increased significantly among post-menopausal women with osteoporosis. The drug works differently than other medicine for the treatment of osteoporosis by blocking an enzyme called cat-K found within the bone cells. The drug seeks to be an alternative to MRK's Fosamax drug which belongs to an older class of medicine called bisphosphonates. The sales of Fosamax were hurt after reports of cases relating to leg fractures and jaw bone deterioration in patients taking the drug.
Currently the osteoporosis market is dominated by Roche's (OTCQX:RHHBY) Bonviva/Boniva and Novartis's (NYSE:NVS) Aclasta/Zometa with their large market shares in the prevalent bisphosphonates class. Expected market for osteoporosis drug is $11.4 billion worldwide by 2015 with an annual growth of 9.2 %. China, with its rising elderly population and high incidence of osteoporosis among females, will lead the growth in this segment, accounting for 22% of the total market by the end of 2015.
In our earlier article, we had highlighted the potential of the emerging markets in general and Chinese in particular for the big pharmaceuticals as they seek to expand their geographic footprint. Merck inked a deal with China's Simcere Pharmaceutical Group for a joint venture that amongst others things would allow the company to be in a position to penetrate the Chinese markets more effectively.
Another development worth mentioning at the moment is what Bloomberg reports as an inclination of the FDA to expedite the approval of drugs such as obesity treating, life saving antibiotics and similar ones which offer society a significant benefit. Although FDA has not issued any exact procedural guidelines, the news could prove to be a boon for big pharmaceuticals like Merck and Pfizer (NYSE:PFE). There are reports that do mention that financial contribution from the drug manufacturer will be part of the rapid approval process. When this becomes official still remains to be seen.
The FDA commissioner Hamburg was quoted as saying: "Drug makers may have a chance to prove that benefits outweigh the risks, removing the restrictive designation and allowing sales to a broader population." This is welcome news in an industry where its leading players are watching their sales being beaten down by patent expirations and are eagerly looking for innovations which will help them make up for the lost revenues. Expedited FDA approvals and a broader target market will definitely help these pharmas achieve their targets. Investors should look for well-diversified companies with the ability to bear the costs of these processes as potential gainers from this news.
Valuations:
Table 1: Competitors
| | | | | | | | |
| --- | --- | --- | --- | --- | --- | --- | --- |
| | MRK | PFE | RHHBY.OB | NVS | GlaxoSmithKline (NYSE:GSK) | Johnson & Johnson (NYSE:JNJ) | Avg |
| Forward P/E | 12x | 11x | 13x | 11x | 10x | 12.5x | 11.5x |
| L.T Growth Rate % | 4.79 | 2.09 | 7.30 | 1.35 | 5.4 | 6.69 | |
| Dividend Yield | 3.68 | 3.5 | 3.81 | 4.03 | 5 | 3.58 | |
Market expectation of EPS for the fiscal year 2012 is $3.81 with a mean price target of $47. UBS with the bullish scenario has a target 12-month price target of $52.
Chart 2: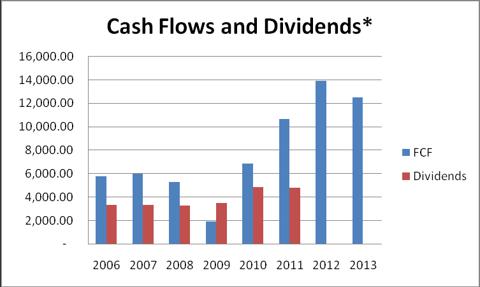 *Figures in Millions
Source: Bloomberg
The stock currently provides a safe dividend yield of 3.68% and a reasonable long-term EPS growth rate of 4.79%. The company boasts a strong balance sheet with a current ratio of 2.11x, total debt to equity ratio of 34%, highlighting no problems for the company to meet its obligations. In light of its diversified product portfolio, a near-term pipeline and strong cash flows (Chart 2), S&P assigns "AA" senior unsecured rating to Merck.
Chart 3: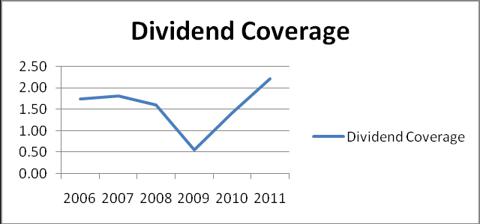 Source: Bloomberg
To better estimate a company's ability to maintain its payments to shareholders, we have calculated the dividend coverage ratio which shows an average figure of 1.85x, highlighting Merck's strong position. In light of the developments cited above, the proven ability of the company to sustain its dividend payments, and a promising product pipeline with drugs with huge market potentials, we recommend the dividend paying stock as a buy.
Disclosure: I have no positions in any stocks mentioned, and no plans to initiate any positions within the next 72 hours.
Business relationship disclosure: The article has been written by Qineqt's Healthcare Analyst. Qineqt is not receiving compensation for it (other than from Seeking Alpha). Qineqt has no business relationship with any company whose stock is mentioned in this article.