After showing a brief recovery in September, sugar exchange traded funds and notes are turning bitter on demand concerns and growing supply.
Sugar ETPs were the worst performing unleveraged fund products last week. The iPath Dow Jones-AIG Sugar Total Return Sub-Index ETN (NYSEARCA:SGG) dropped 5.5%, iPath Pure Beta Sugar (NYSEARCA:SGAR) lost 6.0%, and Teucrium Sugar Fund (NYSEARCA:CANE) declined 5.3% over the past week.
Trading 2% lower, sugar futures continued to lose strength Friday after shedding 4% in the previous session.
Speculators were liquidating positions amid talks that importers were turning away cargo, reported Nigel Hunt and Josephine Mason for Reuters. Rumors of sugar washouts -- when buyers give up on obligations to take physical delivery and take a penalty instead -- in China and India exacerbated the sell-off.
Buyers were canceling hundreds of thousands of tons worth of contracts after hitting a high in mid-July on supply concerns, but prices have since dropped 15%.
"This is a technical breakdown precipitated by rumors of washouts not yet confirmed," Michael McDougall, a vice president for brokers Newedge U.S., said in the Reuters article. "Washout talk generally filters down after the fact, but where there's smoke, there's fire."
Sugar imports to China, the world's largest sugar consumer, could decline as much as half in the season to September 2013 due to domestic output, competition from substitute sweeteners, high inventories and a slow economy.
"Lower import demand overall, especially from Russia and China, remains a drag on this market, and production growth elsewhere will still lead to another surplus globally," Kona Haque, Macquarie analyst, said in a note.
On the supply side, Brazil, the world's top producer, is set to export about 2.17 million metric tons of sugar -- a 31% jump over the past week, reports Isis Almeida for Bloomberg.
iPath Dow Jones-AIG Sugar Total Return Sub-Index ETN
(click image to enlarge)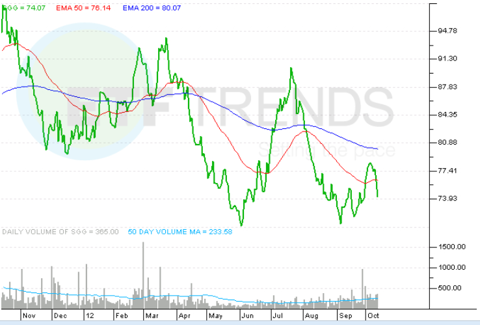 Max Chen contributed to this article.
Disclosure: I have no positions in any stocks mentioned, and no plans to initiate any positions within the next 72 hours. I wrote this article myself, and it expresses my own opinions. I am not receiving compensation for it. I have no business relationship with any company whose stock is mentioned in this article.