Petroleo Brasileiro Petrobras (NYSE:PBR) is trading at high valuations with a P/S of 1.1x, EV/Revenue of 1.66x, and an EV/EBITDA of 7.6x; all at a significant premium when compared to the company's peers in the industry. It has shown its worst performance in recent history by posting a loss of $1.3 billion in the second quarter of 2012. The decrease in the company's oil production volume, its high exchange rate risk exposure, increasing lifting cost, and declining margins portray an alarming situation for investors. Therefore, we have a bearish stance on the stock.
Petroleo Brasileiro Petrobras is a Brazilian oil and gas company, which was incorporated in 1953, and it is currently operating in 28 countries. PBR is the 5th largest energy company in the world, with operations in upstream, downstream and midstream business segments. It has segregated its business operations into five different segments, comprising production and exploration, distribution of natural gas and oil, distribution of bio fuel, electrical and other alternative energy, and refining and petrochemicals.
The company is taking new austerity measures by selling $6 billion worth of assets in the Gulf of Mexico. For this deal, the company is engaged in talks with prospects buyers including BP (NYSE:BP), Chevron (NYSE:CVX), Exxon Mobil (NYSE:XOM) and Shell (NYSE:RDS.A). We believe the company's divestment strategy will enable its competitors to strengthen their positions in the oil and gas space.
Petrobras's workers disregarded increments in their pays and threatened to hold a nationwide strike if the management did not fulfill their demands. Moreover, a Brazilian federal prosecutor, who is planning to file a case against PBR for the petroleum products spill in the Atlantic Ocean, is causing problems for the company. PBR's Duque de Caxias refinery has polluted the Atlantic Ocean, and it is expected to be penalized for it.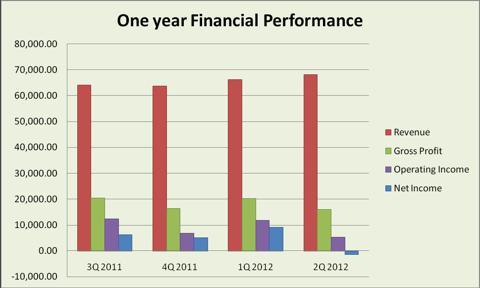 Petroleo Brasileiro Petrobras registered a loss of R$1.3 billion in the second quarter of this year as compared to profits of R$9.2 billion in the second quarter of 2011. The loss was primarily because of the devaluation in exchange rate, which significantly affected the company's cost and debt. Lifting costs increased and production decreased due to the operational stoppages. As the table below shows, the second quarter exchange rate R$/US$ reached up to 2.03, increasing PBR's lifting cost, and its imports of oil and other petrochemical products. The exchange rate is still above 2, reflecting the continuous deterioration in the company's profitability position.

Source: company website
The company increased its capital expenditure by 6% to reach $20 billion in the last one year. Around 53% of the capital expenditure is spent on exploration and production activities, which increased by 20% over the course of the last one year. The company's gross profit and operating margins were squeezed in the second quarter. Due to operational inefficiencies, its lifting cost increased by 10% over the course of the last quarter. Moreover, its oil production dropped by 5% QoQ, while downstream business losses increased by 17% over the last six months.
Valuation:
Comp Sheet

 

Petroleo Brasileiro Petrobras (ADR)

BP plc

Exxon Mobil

Royal Dutch Shell

P/S (TTM):

1.16x

0.35x

0.97x

0.45x

Forward P/E (DEC 2013)

7.84x

7.43x

11.11x

NA

EV/Revenue

1.66x

0.44x

0.96x

0.5x

EV/EBITDA

7.62x

4.6x

6.4x

4.43x
The stock is currently trading at a P/S of 1.16x, at a premium when compared to BP's P/S of 0.35x, Exxon's 0.9x and Shell's 0.45x. Its EV/EBITDA is on the higher side as well.
Disclosure: I have no positions in any stocks mentioned, and no plans to initiate any positions within the next 72 hours.
Business relationship disclosure: The article has been written by Qineqt's Energy Analyst. Qineqt is not receiving compensation for it (other than from Seeking Alpha). Qineqt has no business relationship with any company whose stock is mentioned in this article.