Lorillard Inc (NYSE:LO) produces Newport, Kent, True, Maverick and Old Gold cigarettes. The company has grown profits per share from $5.15 in 2008 to $7.78 in 2011 and dividends per share from $1.84 in 2008 to $5.20 in 2011. Despite the recent global recession, LO should continue to produce above average returns as result of:
(1) Increasing market share: despite a slowdown in the industry, Lorillard's US retail market share increased from 11.8% in 2009, 12.9% in 2010 to 14.1% in 2011---largely on the back of growth in Newport, its premier brand. Premium brands allow the manufacturers to charge premium prices. In addition, geographic expansion and the launch of Newport Non-Menthol contributed to share gains,
(2) Investment in tobacco alternatives: with demand for tobacco declining, the company is exploring new revenue alternatives. The acquisition of e-cigarette company, Blu Cigs, addresses that problem and simultaneously positions LO in the profitable electronic cigarette market. Blu Cigs look like traditional cigarettes, but do not produce tobacco smoke, ash or smell; nor is it as hazardous to the health as traditional cigarettes. It is hoped that this last feature will put them in a position to avoid the FDA regulations,
(3) Return to investors: Lorillard's intent is to pay between 70-75% of its earnings in dividends as well as engaging in share buybacks. A 4.6% yield growing at 10%-15%+ annually accompanied by stock purchases should provide an attractive return to investors.
Negatives:
(1) Governments around the world are imposing restrictions on tobacco use: Increased smoking restrictions in the U.S. and Europe have had a significant impact on cigarette consumption. The FDA has ruled that the tobacco companies must use very frightening disclaimers on their cigarette packets to discourage customers from smoking. Other measures to impede the use of cigarettes are restrictions on smoking in public places, high excise taxes as well as a directed campaign to attach a social stigma to smoking. The increased excise taxes have forced the industry to raise prices which also work to reduce smoking especially in a weak economic environment
Furthermore, tobacco companies were prohibited from marketing their products through advertising on television and radio in 1971. Under the State Settlement Agreements, they cannot use billboard and most magazine advertising, cartoon characters, sponsorship of concerts, or non-tobacco merchandise bearing brand names.
(2) A highly competitive industry. Lorillard competes primarily with Philip Morris USA Inc. (NYSE:PM) and R.J. Reynolds Tobacco Company (NYSE:RAI). Competition among the manufacturers is primarily based on price, including the level of discounting and other promotional activities, positioning, consumer loyalty, retail display, quality and taste. Unfortunately, the company does not sell cigarettes directly to its customers and does not ship products directly to retail stores which offers the competitors the opportunity to capture the retail shelf space available for their tobacco brands.
Lorillard is rated "A" by Value Line; it has excessive debt but is working hard to reduce this figure via the use of its substantial cash flow. Its stock yields 4.6%
Statistical Summary
| | | | | |
| --- | --- | --- | --- | --- |
| | Stock Yield | Dividend Growth Rate | Payout Ratio | # Increases Since 2008 |
| LO | 4.6% | 25% | 70% | 3 |
| IND* | 5.1 | 16 | 67 | NA |
| | | | | | |
| --- | --- | --- | --- | --- | --- |
| | Debt/Equity | ROE | EPS Down Since 2008 | Net Margin | Value Line Rating |
| LO | NA** | NA** | 0 | 20% | A |
| IND* | 64 | 48 | NA | 15 | NA |
*IND is the industry average for the Tobacco Industry as compiled by Value Line.
**LO has a negative net worth.
Chart
Note: LO stock made great progress off its March 2009 low, quickly surpassing the downtrend off its December 2007 high (straight red line) and the November 2008 trading high (green line). Long term the stock is in an uptrend (blue lines). Recently, it broke below the lower boundary of an intermediate term uptrend (purple lines) as well as its 50 day moving average (wiggly red line) and is approaching major technical support from the lower boundary of its long term uptrend.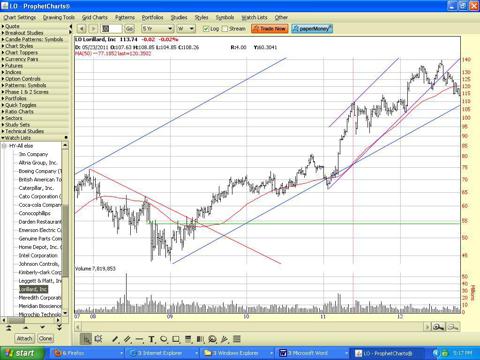 Our High Yield Portfolio does not own LO; but we recently placed it on our High Yield Buy List. The upper boundary of our Buy Value Range is $117 while the lower boundary of the Sell Half Range is $190.
LO was placed on the High Yield Buy List because it not only looks good on the charts but it has entered our Buy Value Range which is determined by the discounted value of its dividend and its dividend's growth rate
However, we have not yet Bought LO because of our concern that stocks in general are overpriced; and therefore, we are looking for a correction to build positions in those stocks on our Buy Lists.
http://finance.yahoo.com/q?s=LO
Disclosure: I have no positions in any stocks mentioned, but may initiate a long position in LO over the next 72 hours. I wrote this article myself, and it expresses my own opinions. I am not receiving compensation for it. I have no business relationship with any company whose stock is mentioned in this article.