In the world we live in today, we seldom see castles being built. The discovery of gunpowder made the thick stone walls of these great structures obsolete, but the idea of a stone fortress still exists in metaphors today when describing the resilience of something. In the case of our example here, we'll look at the resilience of Pandora versus other competition which seeks to invade its space.
Consider your standard castle here: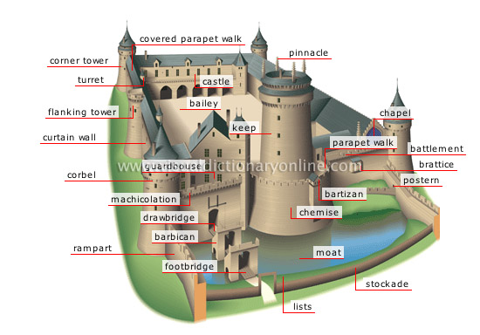 You'll notice points of defense which are readily identifiable. The larger or stronger some of the points of defense, the more resilient the castle is to attack, and the safer the gold inside.
When investing in a company you want to make sure your money that you place within (inside the keep) is relatively safe from being stolen out from under your nose. Because of this investors want to invest in a company which has strong barriers to entry in the space they operate in. You want in your company the makings of a strong castle. This means large walls and a moat, to keep the treasure you place within the keep safe from harm.
When considering the competitive landscape of the audio entertainment sector often referred to as "radio" there are three players that typically come up in discussion. These would be terrestrial radio dominated by Clear Channel (CCMO.OB), satellite radio monopolized by Sirius XM (NASDAQ:SIRI), and internet radio dominated at the moment by Pandora (NYSE:P).
When looking at each individual company and considering the resilience of the business to competition, one must consider the competitive space and the barriers to entry, much like assessing the moat of a castle and its ability to slow down or even stop attackers outright.
Terrestrial radio comes first. The moat provided by an investment in terrestrial radio is that it is currently established throughout the world and broadcasts free over the open airwaves, able to be received by devices which can be made for mere pennies. I remember when I was younger making a radio out of a kit that cost less than a dollar. Because terrestrial radio is often "local" it typically has local flavor, and an established listener base where it broadcasts. This gives it access to local advertising, and that's where terrestrial radio derives nearly all (or all, as the case may be) of its revenue.
In the space terrestrial radio operates in, there are large costs associated with starting an operation. Transmitters must be put in place, licenses must be applied for, content or talent must be purchased and hired, and expensive equipment which must be purchased. When all is said and done, a new player is competing with an already established radio station and competing for the same listeners and advertisers as one which already has a fan base in the area. There's a wall here, and a moat, and that makes new start ups difficult.
Satellite radio is next. The moat here is massive. There is one single satellite radio company in the United States, Sirius XM. For another company to enter this space would require securing licenses for spectrum that simply do not exist. If one could secure licenses, massive amounts of capital would be required to launch satellites, secure content to the amount which would be required to compete with the already established Sirius XM, and get radios developed and out in the public domain. The chances of this happening are zero point zero, and this gives Sirius XM an impenetrable wall to another player invading the satellite radio space.
Internet radio is last. The space is currently dominated by Pandora, but there are other players in the arena such as Spotify, Slacker, MOG, and a host of others. An investor looking for a moat, or even walls, will find that Pandora has none. The start up costs for internet radio require software and licensing for music and "getting the word out." In today's Twitter and Facebook (NASDAQ:FB) filled world, "the word" is out faster than you can blink. The entire delivery system, very much a strength of terrestrial and satellite radio, for Pandora is "the internet." As you know, the internet is widely available to everyone. It's a blessing and a curse for Pandora all in one. What makes Pandora possible is the very same thing that makes Pandora a terrible investment.
It's a serious problem, and recent news that Microsoft (NASDAQ:MSFT) will begin offering a free streaming music service only serves to highlight this issue. Granted, I personally do not see much concern for Pandora investors over Microsoft's service itself, but it does serve to put a big red flag of warning over Pandora's keep, and show that there really are no walls to speak of. Almost anyone can enter. There's no moat, and literally no defense for an investor's hard earned money. Your money may as well be a pile of gold left on the ground inside a wooden palisade with the guards asleep at the gate.
That image is bad enough. Now picture those same sleeping guards instead lining their pockets with your gold and shuttling it out a secret tunnel bit by bit. Insider sales at Pandora have been going full steam ahead since the lock up expired, and every month insiders sell millions of dollars of stock. Do they see the writing on the wall here? Are investors putting their money and faith in a company while those they trust with their cash run out the door with it? Considering prices are flirting with $9 when near the IPO they were $16 per share, I think the answer here is pretty clear.
Don't lose yourself in hopes and dreams with Pandora's stock. Don't hinge on the idea that the proposed Internet Radio Fairness Act will pass. Even if it does, consider the fact that it will lower barriers to entry for all sorts of additional competition. That spells trouble, and all it takes is for the next company to come along with the next "cool" feature such as Spotify's unlimited song skips or vast on demand library, and Pandora is yesterday's news much like Facebook quickly made MySpace a thing of the past.
By all means, download Pandora and enjoy some tunes, but cut your losses and run as fast as you can from this losing stock before there's nothing left.
Disclosure: I am long SIRI. I wrote this article myself, and it expresses my own opinions. I am not receiving compensation for it (other than from Seeking Alpha). I have no business relationship with any company whose stock is mentioned in this article.
Additional disclosure: I trade P puts on occasion.