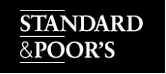 Standard and Poor's is "very cautious" about the outlook for US regional banks, despite the fact that they have fared better than their larger counterparts so far.
"We believe that key factors in their outperformance at this stage are their lesser exposure to subprime consumer lending, and in some instances their more-contained exposure to high loan-to-value home equity lending, or purchased loan portfolios, " S&P says in a new Industry Report Card.
In addition, this group has not had the sizable investment securities write-downs experienced by larger banks, although possible impairments in certain types of securities, such as pooled trust-preferred collateralized debt obligations [CDOs], are emerging, thus far in the form of unrealized losses. Still, compared to larger institutions, these banks benefit less from revenue diversification and may have less financial flexibility in the capital markets.

Overall, we are very cautious about these banks' overall credit quality through 2009, because of factors including the banks' high exposure to commercial real estate [CRE] loans, particularly residential construction loans.

Although they are rising, total CRE nonperforming assets [NPAs] are still not very high, but this loan category typically experiences deterioration at a later stage in economic downturns. Similar to the past few quarters, in the second quarter, many of the banks provisioned at multiples of net charge-offs to build a cushion against potential problem loans. We expect them to use these reserves as the credit environment continues to weaken into 2009.
The major CRE asset-quality issues so far continue to be concentrated in residential construction, with the greatest occurrence of problem projects in the formerly hot markets of Florida, California, and Arizona., S&P said. Other soft markets include areas of Ohio and Michigan, given the Midwest's recessionary economies.
Besides our focus on home builder loan trends, we are also watching a broader-based market decline that may affect lending on retail, office, or hospitality properties.