The last few weeks before earnings season "whisper numbers" start circulating about what the earning season will be like. The last few weeks whispers have markedly lowered expectations for company announcements. This has accompanied a stock market pullback as investors worry over any potential disappointing earnings. Yet considering the market as a whole, I think we may be looking at a much better earning season than the gloom and doom indicates. I expect a short rally to start this next week. Here is why:
LOW EXPECTATIONS
Starting in late September whispers started to circulate that earnings in a lot of different companies would likely be disappointing. Analysts as a whole dropped their expectations of earnings by 2.7% over the previous year's 3Q. The most immediate example was the case made against Yum! Brands (NYSE:YUM). Yum, of course is the holding company for such high profile brands as Pizza Hut, KFC and Taco Bell. In particular pundits wrung their hands over European and Chinese economic troubles.
Instead, during this last week Yum declared earnings of $0.99/share, beating estimates by $0.02. It turned out Chinese sales were strong. The share price jumped 7.4%.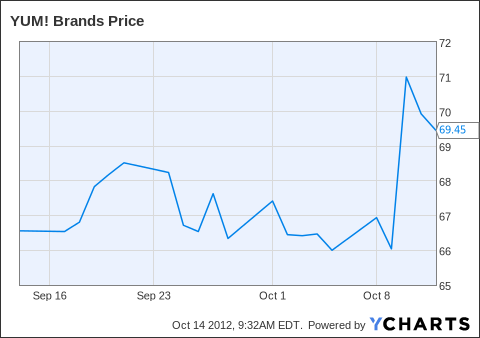 In fact, of the first week of earnings announcements the number of companies beating earnings were around 58%, in line with historical norms. Of course, they are beating earnings estimates that have been revised down. You almost want to ask yourself - on these whisper numbers: Could companies want to lower expectations? Then beat those weak expectations?
This is a guessing game, and choosing wrong can leave egg on your face as share price drops. However there are excellent options. In line with Yum, stocks like McDonald's (NYSE:MCD) are generally defensive that can withstand earnings disappointment but still advance on strong earnings. McDonald's is like Yum, with heavy international exposure including China. Yum reporting strong is a good sign for McDonald's.
Meanwhile, financials look good. Last week positive earnings reports from Wells Fargo (NYSE:WFC) and JP Morgan Chase (NYSE:JPM) are spreading cheer over bank stocks. Wells Fargo beat earnings estimates by $0.01, even though loan origination revenue was slightly weak. The real news was JP Morgan which crushed estimates by $0.18 to $1.40 - a better than 12% surprise. The numbers included positive revenue, especially from what may be QE3 influenced loan refinance origination. With Morgan's figures other big banks, especially Bank of America (NYSE:BAC) and Citigroup (NYSE:C) look promising.
Both companies have been on record lately of re-emphasizing loan origination. They, like other banks, have been shying away after the 2007-2008 mortgage meltdown. However, in recent presentations representatives from both Bank of America and Citigroup have talked about increasing their mortgage origination. A good sign will be if Goldman Sachs (NYSE:GS), who declares its earnings before the Tuesday open, has positive numbers to show. Goldman Sachs is more investment banking than the others, but if revenues are up with Goldman Sachs then the rest of the big banks should be in high heaven.
PRESIDENTIAL ELECTION YEAR TRADING PATTERNS
Another reason is presidential election year patterns. As I first reported in this article, there is a strong general trading pattern that forms in the last six months of most presidential election years. In short:
Starting sometime in June/July begins an extended rally
Late September to mid-October is a correction
From mid-October to the end of November is a strong rally
Market is down first 1.5-2 weeks in December
Final year end rally closes out the year.
So far this year the results have been:
1) A rally began on 4 June at 1278.79 for the S&P 500 and topped out at 1465.77 on September 14. This is a 14.6% gain in just over three months. This started a bit earlier than the norm but otherwise fit the pattern.
2) After that top in September the S&P 500 retreated to 1428.55 as of October 12, a 2.5% correction. This is weaker than most election years, but generally in line with the pattern.
Something I must point out to be fair (and before sharp readers pounce): In reality the last few weeks can not really be called a statistically significant sell off. The S&P 500 has really moved from the top of its trading range to the bottom. Yet on the whole the election year trading pattern has been pretty accurate so far. Is step 3, a late-October to November rally, next? I think so.
THE DOLLAR DEATH CROSS
And finally for technical analysts, this last week has seen the "Dollar Death Cross," on the US Dollar Index (DSX). This is when the 50-day moving average crosses from above to below the 200-day moving average. Min Zing in the Wall Street Journal's Market Beat reports that Jonathan Krinsky, chief technical market analyst at Miller Tabak, has seen it happen only twice. Each time has resulted in a 10% sell off in the DSX, which correspondingly signals a sharp rally in the S&P 500.
To invest in a general rally, an excellent choice is the SPDR S&P 500 Trust ETF (NYSEARCA:SPY). In fact SPY is a great play whether you think I am right or full of hooey. Go long on SPY if you are with me and think the market as a whole will advance. Short if you think earnings season will punish the market. We can meet at the end of November and compare notes.
What do you think?
Disclosure: I am long BAC. I wrote this article myself, and it expresses my own opinions. I am not receiving compensation for it (other than from Seeking Alpha). I have no business relationship with any company whose stock is mentioned in this article.