Despite the worst of the Spanish banking solvency crisis now being behind us, there is still considerable negative sentiment directed at Spanish banks, which is affecting their valuation. This I believe is creating considerable opportunity for value investors with regard to Spain's largest and second-largest banks, Banco Santander (NYSE:SAN) and the BBVA Group (NYSE:BBVA). Both banks have a strong presence outside of Spain particularly in the emerging markets of Latin America, which sees both banks derive around half of their attributable profit from outside of Spain. It also places them firmly in competition in Latin America, with the U.S global banking behemoth Citigroup (NYSE:C) and Canada's Scotia Bank (NYSE:BNS).
In this article over three parts, I will show why I believe that BBVA still represents a solid value investment opportunity for long-term investors, seeking to invest in a geographically diversified global bank with strong management. In the first part I will take a close look at BBVA's asset quality, risk, capital and liquidity indicators to determine whether the degree of risk is acceptable.
In the second part I will explore the bank's performance indicators, along with the macro-environment affecting its key markets, in order to determine whether it has sufficient opportunities for growth and hence is able to generate an appropriate return for investors despite the economic crisis in Spain. Finally, in the third part I will explore BBVA's valuation so as demonstrate that the bank is currently undervalued and the opportunity it presents for investors.
One of BBVA's strengths is its geographical diversification
BBVA is a geographically diversified global banking group domiciled in Spain that operates in 30 countries across the world including Spain, Portugal and other parts of Western Europe, the U.S, Mexico, Argentina, Colombia, Peru and Chile as well as Turkey and China.
This geographic diversity can be seen when examining the bank's net attributable profit for the second quarter of 2012. As the chart below illustrates, for this period BBVA derived 82% of its net attributable profit from outside Spain, with 53% coming from Latin America alone. The remainder was then derived from the U.S. and Eurasia.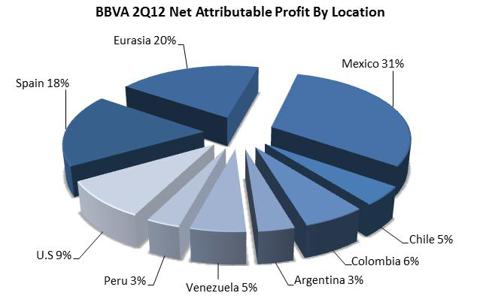 Source data: BBVA Quarterly Report January - June 2012
This obviously allows BBVA to diversify both its revenue producing assets and income streams across a range of markets, which enables it to offset the risk of the performance of one market against stronger performance of another. It is this geographical diversification that has allowed the bank to continue to deliver strong financial results for the second quarter 2012 despite the ongoing economic crisis in Spain.
Recent financial performance was a significant improvement
For the second quarter 2012 BBVA reported that its revenue in comparison to the first quarter (QoQ) had risen by 9.4% to $7.5 billion. Net attributable profit, after it has been adjusted to allow for an earlier impairment charge, increased by 11% QoQ to $1.6 billion, but without the adjustment it had fallen by 50% to $635.8 million.
The bank's balance sheet weakened for the same period, with cash and cash equivalents falling by 3.5% to $30 billion and combined short and long-term debt growing by 6% to $271 billion.
The key event that impacted BBVA's profitability is that, like its Spanish peer Banco Santander , it was required to increase its loan loss provisions, which doubled QoQ to $1.3 billion. This is a reflection of the growing deterioration in the bank's loan portfolio resulting from worsening conditions in the Spanish real estate sector from a deteriorating macro environment. Yet despite this deterioration, asset quality for BBVA"s Spanish business still remains high.
Despite the problems in Spain overall asset quality remains high
Despite the difficult operating environment BBVA's overall asset quality has remained consistently high. The bank's group wide non-performing loan ratio (NPL), a key measure of asset quality, remained steady at 4% for the last 3 quarters. This as the chart illustrates, is substantially lower than the Spanish national banking and finance industry average, which has continued to rise as the country's economy has continued to worsen.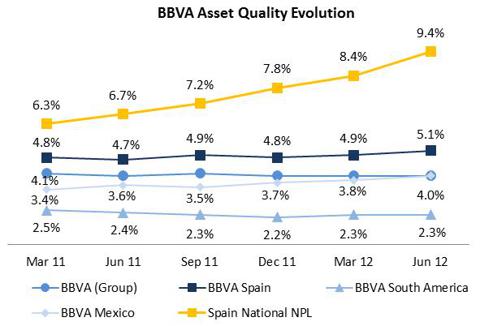 Source data: BBVA Quarterly Report January - June 2012, Banco de Espana
BBVA's NPL ratio at group level of 4% also compares favorably to its Spanish peer Banco Santander, but it is almost double that of its international competitors Citigroup and Scotia Bank as the chart below shows.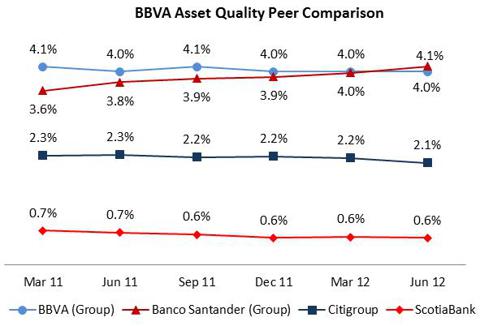 Source data: BBVA, Scotia Bank, Citigroup, Banco Santander Quarterly Reports March 2011 to July 2012
Another pleasing aspect of BBVA's asset quality is its acceptable NPL coverage ratio of 66% as illustrated by the chart below. This ratio is lower than what I would consider desirable but is well within the acceptable range and can be attributed to the economic crisis in Spain, with the deterioration of BBVA's Spanish loans, with Spain having a coverage ratio of 50%. In contrast both BBVA's Mexican and South American operations have coverage ratios of over 100%, which is well above the accepted industry minimum.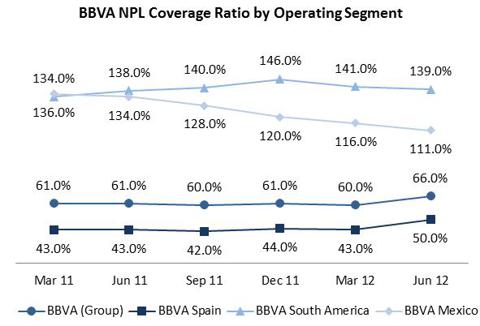 Source data: BBVA Quarterly Report January - June 2012
However, BBVA's coverage ratio is not as strong as some of its peers including Scotia Bank and Citigroup and once again this can be attributed to the issues concerning its Spanish loan portfolio. But as the chart below illustrates its NPL coverage ratio is comparable to its main Spanish and Latin American competitor Banco Santander.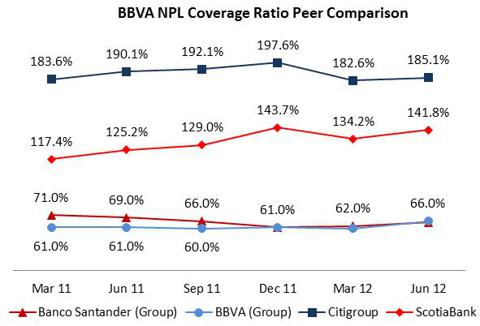 Source data: BBVA, Scotia Bank, Citigroup, Banco Santander Quarterly Reports March 2011 to July 2012.
Despite the ongoing issues in Spain that are affecting the quality of loans, it is clear that BBVA's asset quality is well within acceptable parameters and with the exception of its Spanish loan portfolio, is quite high. Furthermore, despite the difficulties being experienced in Spain both with the collapse of the property market, rising loan defaults and the ongoing contraction of the economy, both its Spanish and group wide non-performing loan and coverage ratios are well within acceptable levels.
Liquidity and capital adequacy are within acceptable ranges
Another aspect of BBVA that is appealing, is its solid capital adequacy and high liquidity. Currently, the bank has a tier one capital ratio of almost 11%, which is well above the required minimum of 6% and marginally higher than the 10% or better that investors should be seeking when investing in a bank. It also closely matches that of its Spanish peer Banco Santander as the chart illustrates.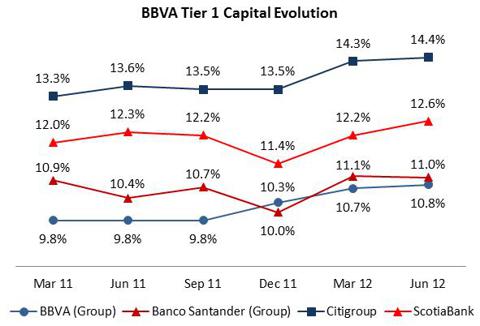 Source data: BBVA, Scotia Bank, Citigroup, Banco Santander Quarterly Reports March 2011 to July 2012.
BBVA's tier one capital is lower than many of its global peers such as Scotia Bank and Citigroup. It has, however, met the deleveraging requirements set out by the European Central Bank (ECB) in this respect by ensuring that its tier one capital ratio was well over the minimum 9%, required by 30 June 2012. Based on these results it is clear that BBVA is well capitalized and above the minimum acceptable standard.
Another indicator of BBVA's strong balance sheet is the bank's group wide loan-to-deposit ratio of 83% as illustrated by the chart below.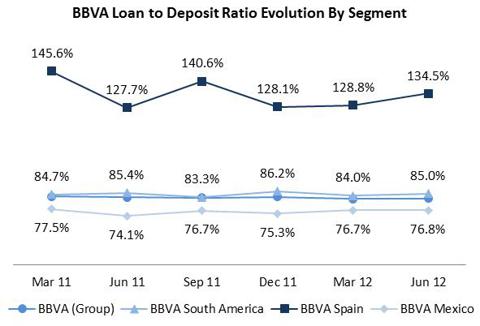 Source data: BBVA Quarterly Report January - June 2012.
However, this loan-to-deposit ratio is outside what is considered to be the optimal range of 95% to 105%, where a bank is able to generate the maximum benefit from its deposit base while ensuring sufficient liquidity to cope with extraordinary events.
But this can be attributed to BBVA creating additional liquidity, to allow it to more effectively manage any further extraordinary events resulting from the Spanish economic crisis. It also reflects, along with increasing tier one capital, the ongoing deleveraging process being followed by Spanish banks in order to stabilize the banking system and make them more resistant to any future shocks.
Such a low loan-to-deposit ratio also indicates that the bank is less reliant upon wholesale funding minimizing its exposure to short-term interest rate movements and the effect this can have on funding costs. Impressively, it has been able to consistently keep its loan-to-deposit ratio within the optimal range indicating that management are focused on building sustainable business with a strong appreciation for risk.
BBVA's loan-to-deposit ratio is also superior to many of its peers, most notably Banco Santander as the chart below illustrates.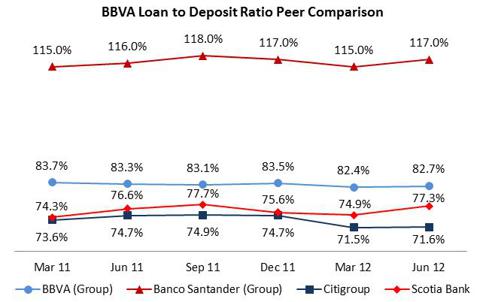 Source data: BBVA, Scotia Bank, Citigroup, Banco Santander Quarterly Reports March 2011 to July 2012
I also believe that it is superior to the loan-to-deposit ratios of both Citigroup and Scotia bank despite both of those banks having lower ratios. I have formed this view because with a higher ratio BBVA is able to generate a greater return on the deposits it is holding and offset some of the economic cost associated with not utilizing all available funds.
Overall, it is clear that despite the current financial crisis in Europe and Spain's deepening economic crisis, BBVA is well positioned, with its key asset quality, risk and liquidity indicators well within acceptable boundaries. This reduces the risk faced by both the bank and its investors while leaving it well positioned to either weather any further worsening in the macro-environment, or take advantage of any uptick in economic activity.
However, the bank's ability to grow profitability in such an environment and deliver value for investors is not solely dictated by the quality of its assets, whether it is operating within acceptable risk parameters, nor its level of liquidity. This is determined by its ability to control costs, grow new business and generate superior returns, while reducing risk. As a result, in the second part of this series of articles, I will examine in detail BBVA's operating metrics and its opportunities to grow and generate new business through expanding its deposit base and lending activities.
>>> Click Here for Part 2
Disclosure: I am long SAN. I wrote this article myself, and it expresses my own opinions. I am not receiving compensation for it (other than from Seeking Alpha). I have no business relationship with any company whose stock is mentioned in this article.
Additional disclosure: I currently have no position in BBVA but may initiate a long position in the next 24 hours.