It took about a month, but on Monday the market seems to have decided that QE 3 is going to be very bad for the mREIT sector. Or is it? It depends on if you looked at the mREITs early Monday morning or at the close of trade. After a weak opening, the mREITs as a whole, like Annaly (NYSE:NLY), American Capital Agency (NASDAQ:AGNC), Two Harbors (NYSE:TWO), American Capital Mortgage (NASDAQ:MTGE), and CYS Investments (NYSE:CYS), all took a plunge around 10:30, before recovering later in the day. As the chart below shows, a sharp drop was seen throughout the sector, including the ETF MORT, although the drop was sharpest in AGNC, MTGE, and TWO.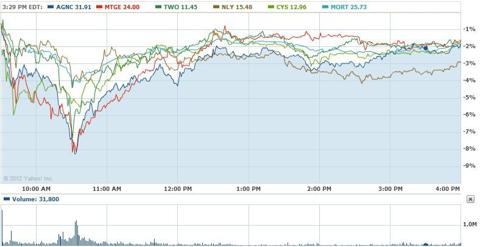 AGNC traded as low as $29.62, off 9%, and just above the $29.41 book value it reported in August. MTGE traded as low as $22.41, down 8.3% and also just above the most recently reported book value of $22.08. TWO dropped down to $10.77, a loss of 7.6% but still well above the book value of $9.94 reported in August. All three names saw large volume spikes at the bottom, and all three closed down less than 2% on Monday, well off the lows.
So what explains the drop and subsequent rebound? There was no news on American Capital Agency, American Capital Mortgage, or American Capital (NASDAQ:ACAS), which founded and owns large stakes in both, nor was there news on Two Harbors or Annaly. CYS was downgraded to hold at Wunderlich before the bell, but I don't think that move would cause the whole sector to panic this morning. Barron's reiterated that QE 3 has been bad for the sector, but that story printed at 11:40, over an hour after the drop in the shares. I also do not think it makes sense that the drop was based on the deteriorating fundamentals of the business, since the stocks snapped back very sharply.
What I think is most likely is that either a large holder of the stocks decided today was the day to liquidate, and that triggered some stop losses that forced the names down, or this was a "fat finger" type of error. This is not the first time names like these have seen a day of excessive volatility. On July 29, 2011, AGNC dropped a terrifying $5.50 in the first 30 minutes of trading, with NLY dropping $2.70. As I wrote at the time, those moves were insane, and were great opportunities for anyone who picked up shares. At the time, the yield curve was steep, mREITs were still trading around book value, and QE 3 wasn't even a thought.
Today, however, the yield curve is flatter, the Fed is buying mortgage bonds, compressing the spread mREITs can earn, and most are trading at a premium to book value. At this time, given the uncertainty surrounding the industry and the confusion around the yesterday's move, I would recommend that investors take a wait and see approach. I am personally waiting for the earnings release and conference call from AGNC October 29 and 30 to get a better feel for the state of the industry. I have not sold any of my position in AGNC, and picked up some calls with the stock down 7% as a trade. I do think that any opportunities to pick up AGNC close to book value offer a compelling risk/reward, as it is my favorite name in the space. The conference call should provide insight into whether or not to stick with the name and the industry, or move on.
Disclosure: I am long AGNC, ACAS. I wrote this article myself, and it expresses my own opinions. I am not receiving compensation for it (other than from Seeking Alpha). I have no business relationship with any company whose stock is mentioned in this article.
Additional disclosure: Also long AGNC Calls. Chart from Yahoo Finance