Transdigm Group Inc. (NYSE:TDG) recently obtained $550 million of debt from private investors. The aircraft parts supplier has borrowed billions and acquired assets that it now estimates have significantly boosted its earnings, presenting its finances in the best rather than the most conservative light.
On October 3, Transdigm asked its senior lenders to reset certain unspecified terms in its agreement with them on short-term debts. On October 10, the company said it would use the $550 million of debt due in 2020, as well as another $150 million in additional incremental term loans and cash on hand, to fund a stock dividend in the range of $450 million to $850 million and other purposes.
Some might argue that Transdigm's CEO Nick Howley and his team could think about cutting back on spending. Even before this development, Transdigm had more than $3.6 billion in debt as of June 30, or nearly 3.3 times more than its equity versus the industry median of holding only 67% as much debt as equity. They have been pouring money on acquisitions such as the commercial aircraft parts maker Harco Laboratories, Inc. in mid-December 2011 for around $84 million and the safety and restraint equipment supplier AmSafe Global Holdings, Inc. on February 15, 2012 for around $750 million. They don't seem ready to stop yet, either, as CEO Howley said on a conference call in August that he was still "actively looking at opportunities."
Transdigm said that it paid more than $3 billion for its acquisitions than they were worth on the books as of June 30, or 57% of its total assets. Meanwhile, its intangible assets - in other words what Transdigm believes its trademarks, trade names, trade secrets, license agreements and technology must be worth - amounted to more than $1.1 billion as of June 30, or 21% of total assets. The median company in Transdigm's industry peer group has less than 20% of assets in intangibles and goodwill, which are not as concrete as assets such as aircraft batteries. (Examples of other companies with high proportions of goodwill include the defense company Raytheon Co. (NYSE:RTN), which we discussed in this article, and Boston Scientific Corp. (NYSE:BSX), which we added to our risk list in February.) Transdigm warns in its annual filing that it may never realize the full value of its estimated assets, and that if it determined that they were impaired, it would have to revise its estimations of them. That kind of move, of course, would hit earnings and investors.
The need to revise estimates downward won't necessarily happen if CEO Howley's acquisition strategy works and improves Transdigm's performance as expected. Indeed, he said this August that his team bought proprietary aerospace firms that have a lot of content that can sell to the market for spare parts. "We have been able to acquire and improve proprietary aerospace businesses through all phases of the cycle," he said. Now Transdigm's sales are primarily generated by proprietary products, around three quarters of which come from products for which the company is the sole source provider. This has helped to boost the company's profits, he said.
Under CEO Howley's watch, Transdigm has managed to grow profits every year since at least 2006 and every quarter since April 2011, helped in part by his teams' estimations of how well the company's string of acquisitions have gone. Even as this particular measure of improved sales or efficiency dazzles, others raise questions. Since at least September 2009, Transdigm has never managed to generate more than 33 cents of revenue for each dollar it estimates it possesses in assets, whereas the industry median for this metric has always been to generate at least 93 cents per dollar of assets.
In part due to such red flags, Transdigm's financial statements reflect an Accounting and Governance Risk (AGR ®) score of 8, indicating higher accounting and governance risk than 92% of comparable companies.
Before CEO Howley and his team start paying out dividends and spending more money, they might focus on doing more to improve their existing businesses.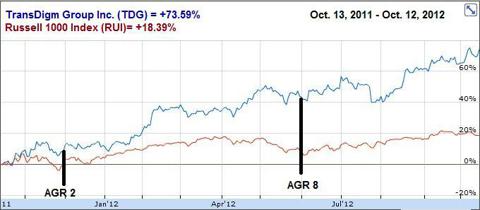 Region: North America
Country: United States
Sector: Industrials
Industry: Aerospace / Defense
Market Cap: $ 7,300.4 mm (Large Cap)
ESG Rating: D
AGR Rating: Very Aggressive (8)

Disclosure: I have no positions in any stocks mentioned, and no plans to initiate any positions within the next 72 hours.
Business relationship disclosure: The article has been written by a financial reporter at GMI. The reporter has no business relationship with any company whose stock is mentioned in this article. Nobody paid GMI to write this article on his or her behalf.