Each earnings season, we spend time researching the top growth and value combinations of reporting companies to find what companies might see the best price increases during the quarter. Today, we have provided you with some of our top picks and trading ideas for this earnings season. You can view last quarter's picks here.
We select these stocks based on hours of researching the companies that offer the best combination of growth and value in the upcoming earnings season. We are looking for companies that are growing sales and earnings heavily, along with still offering good value in the marketplace.
Here are our top selections: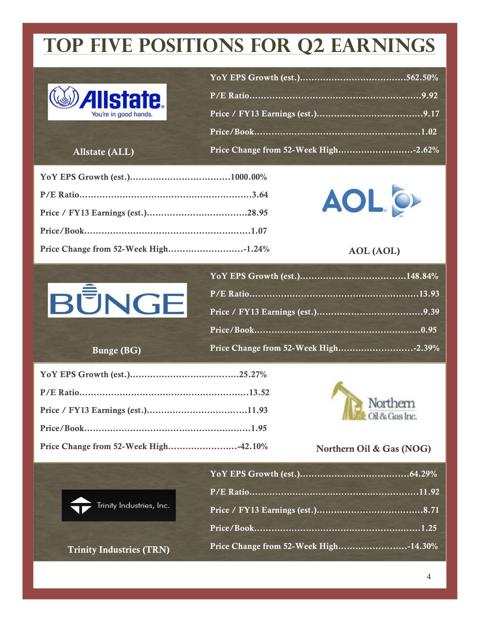 Allstate (NYSE:ALL) -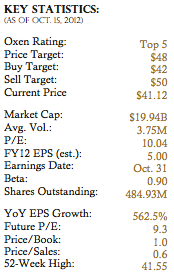 Allstate is our top pick for earnings season. Insurance companies are all seeing much better profitability in the coming quarter. Catastrophe losses have been low, allowing the company to have reduced claims and lower expenses. The company is not seeing a ton of revenue growth, but we expect a great round of earnings.
Despite the company's current valuation near a 52-week high, the stock is cheap with a 10 PE. Look at it this way: the company should be seeing a move of about 0.90 in EPS, which will bring EPS to 5.00 for the TTM. 5.00 x 10 = 50. We believe pre-earnings we should see a move to the 43-44 range and a potential move to around 50 by the end of the year based on this earnings report.
The company's rival, Progressive (NYSE:PGR), just reported excellent earnings that were above expectations on similar reasoning. These companies were dogged at the beginning of the year with a lot of risk in the market, but the longer defaults and risk comes off the market, the better their valuations should become. With current value very strong, we believe ALL is about to make a very nice move.
Additionally, the company operates at a discount to peers with a forward PE well below the 12+ average, which also attracts us. Allstate combines the perfect balance of value and growth that makes it a great pick for earnings season.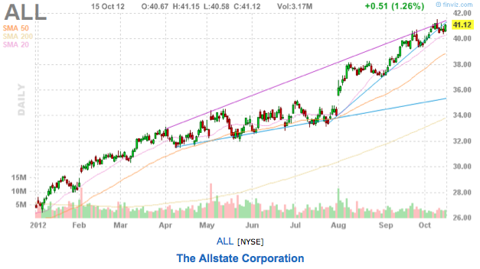 AOL (NYSE:AOL) -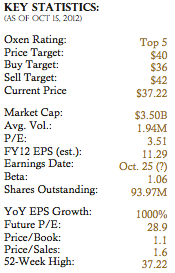 AOL?! Really! The fledgling online company that no one uses anymore? Yes. We like AOL a lot heading into this earnings season. The company's last quarterly report showed that it is moving in the right direction again and took the stock up about 40% from report to date to currently. What's so great about AOL?
The company is making a nice comeback on the back of CEO Tim Armstrong's turnaround. Armstrong has turned AOL into an advertising web portal with news that people are interested in ever since acquiring Huffington Post and ramping up its blogs "TechCrunch" and "Engadget." While the company is definitely still seeing a sales slump overall, the company is taking a lot of positive steps that investors are buying. It is using money from Microsoft (NASDAQ:MSFT) patents to reinvest in its dividend and share buybacks.
So, does the stock have any more juice? We believe that the company will continue to forecast well and could start to see growth again in 2013. Costs are coming down, and that is being seen by EPS growth this quarter, which is expected to rise from -0.02 to 0.18. The increase in EPS from loss to in the black will attract investors into and out of earnings, and we believe the company is a few steps away from returning back to a solid name in the Internet space.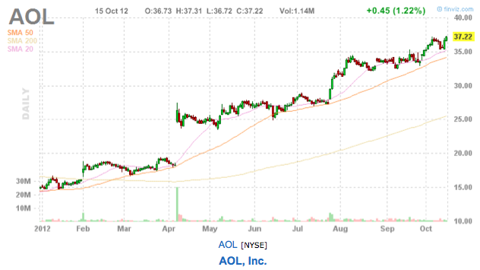 Bunge (NYSE:BG)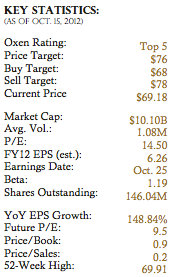 Our second pick for large-cap stocks is Bunge. Farming companies look solid as well for this quarter, and BG, in the farming and food businesses industry, is looking at a strong quarter of growth that we believe will translate into higher prices. First, the company is slated to see tremendous revenue and earnings growth with 150% growth expected in EPS as well as 14% growth in sales.
What's behind this surge?
The company is seeing a lot of growth in emerging markets like Argentina and Brazil, but the shortage of crops this summer led to record prices, which has helped companies like BG make margins move much higher than sales growth. The company's main line of business in soybeans, wheat, and corn gives it a nice diversification to those price hikes. Further, we like the company's fertilizer exposure as higher prices mean higher production. That trend is also giving weight to the earnings hike for BG.
Value is definitely there for this farming company. Just look at the 9.5 future PE, which is showing a lot of opportunity in the stock. The estimated 6.26 EPS for the year multiplied by the current 14.5 PE yields a price target of $90. Even 12.5 yields 78. We believe this stock is primed for a nice move, and agriculture is a great way to play this earnings season.
Despite BG being at a 52-week high, we still believe a lot of value and upside is available in this name.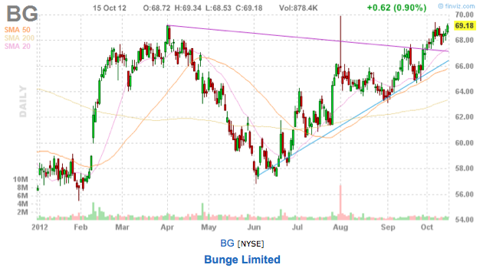 Northern Oil & Gas (NYSEMKT:NOG)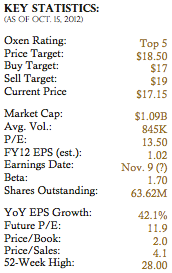 NOG is looking very solid right now and is our top small-cap play for this earnings season. We are attracted first off to the company's nearly 100% revenue growth YoY. The small energy company is starting to churn out some solid earnings and revenue, and we believe it could be ready to take off from these levels.
NOG is a great play on the "at home" production of crude oil and natural gas, and we believe the company is a great value play with solid growth that is now occurring for two quarters and helping to put in a bottom for the stock right now. The stock lost some 40% from its highs, but it has rebounded off the $15 levels and held up well since its last report.
Right now revenues are really starting to explode, and the company is seeing a lot of success in the Bakken region where it does business with 170,000 acres available. The company has a lot of potential to continue to develop that land and has had a ton of success with wells in the region.
Looking at the numbers, NOG is expected to increase EPS by 0.08 in the coming quarter, pushing EPS to 1.35 for the TTM. That number multiplied by current PE at 13.5 would give the stock a valuation at 18.50. 13.50 is extremely cheap for a high growth stock, so look for that level to remain.
Finally, we believe NOG is a great takeover candidate. The company is attractive for its growth, financial health, and recently had its president step down. It could announce a takeover at any time.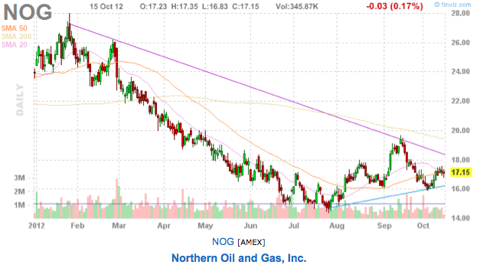 Trinity Indsutries (NYSE:TRN) -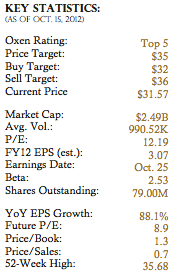 Our second mid-cap pick is TRN. The railroad company was one of our top 15 picks last quarter, and the stock made quite a move in its last earnings. The stock has rallied nearly 20% since that report, but we believe it could have another sizeable gain on its way for this report.
The company operates in the railroad industry, which has seen resurgence in 2012 but has been weaker since a strong start. Railroad stocks suffered after a great 2011, but they have become great values. Further, we believe TRN will be a solid play in the coming quarter amongst a stronger industry as the company is expected to show 88%+ EPS growth along with 25% growth in revenue.
The company is seeing growing backlogs and improved rail trends that we believe are translating into strong sales/earnings that will be reported in the coming quarter.
Taking a look at the numbers, the company should see EPS for the TTM improve to 2.96. Taking that number multiplied by the 12 PE gives us a $36 price target. The company is already a great value, and we believe those levels are achievable. Value can also be seen in the 0.7 price/sales ratio.
With over $3B of backlog, business is booming and should continue to translate into higher share prices from here.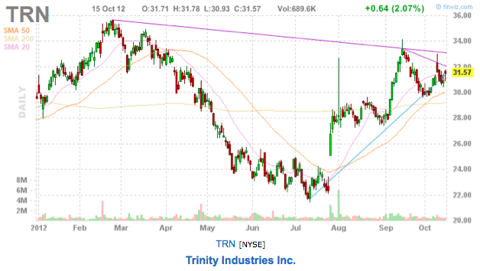 Our top large-cap picks are ALL and BG as well as BB&T (NYSE:BBT), DIRECTV (NYSE:DTV), and SunTrust (NYSE:STI).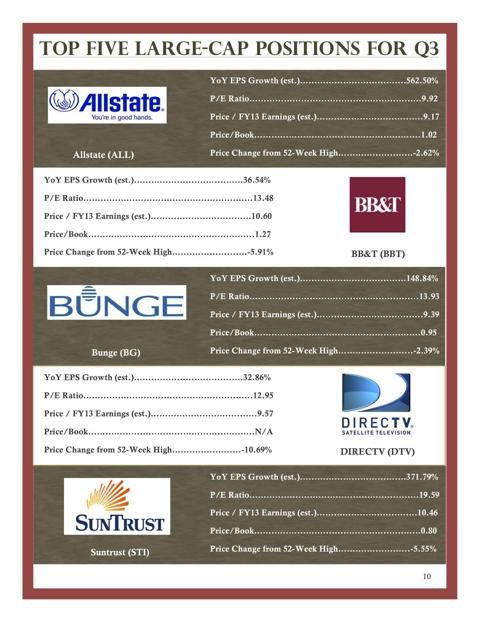 Our best mid-cap picks are AOL and TRN as well as CapitalSource (NYSE:CSE), DR Horton (NYSE:DHI), and Kodiak Oil/Gas (NYSE:KOG).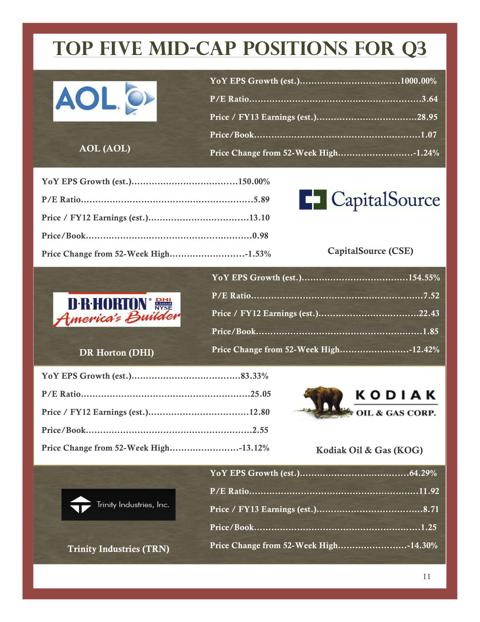 Our best small-cap picks are NOG as well as Ion Geophysical (NYSE:IO), Ryland (NYSE:RYL), Susquehanna Bancshares (NASDAQ:SUSQ), and Titan International (NYSE:TWI).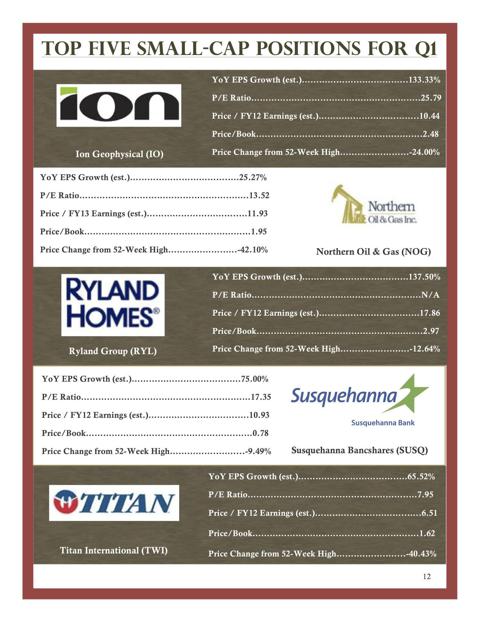 Disclosure: I have no positions in any stocks mentioned, and no plans to initiate any positions within the next 72 hours.
Business relationship disclosure: The Oxen Group is a team of analysts. This article was written by David Ristau, one of our writers. We did not receive compensation for this article (other than from Seeking Alpha), and we have no business relationship with any company whose stock is mentioned in this article.